SAPA TRAVEL GUIDE 2023 - All you need to know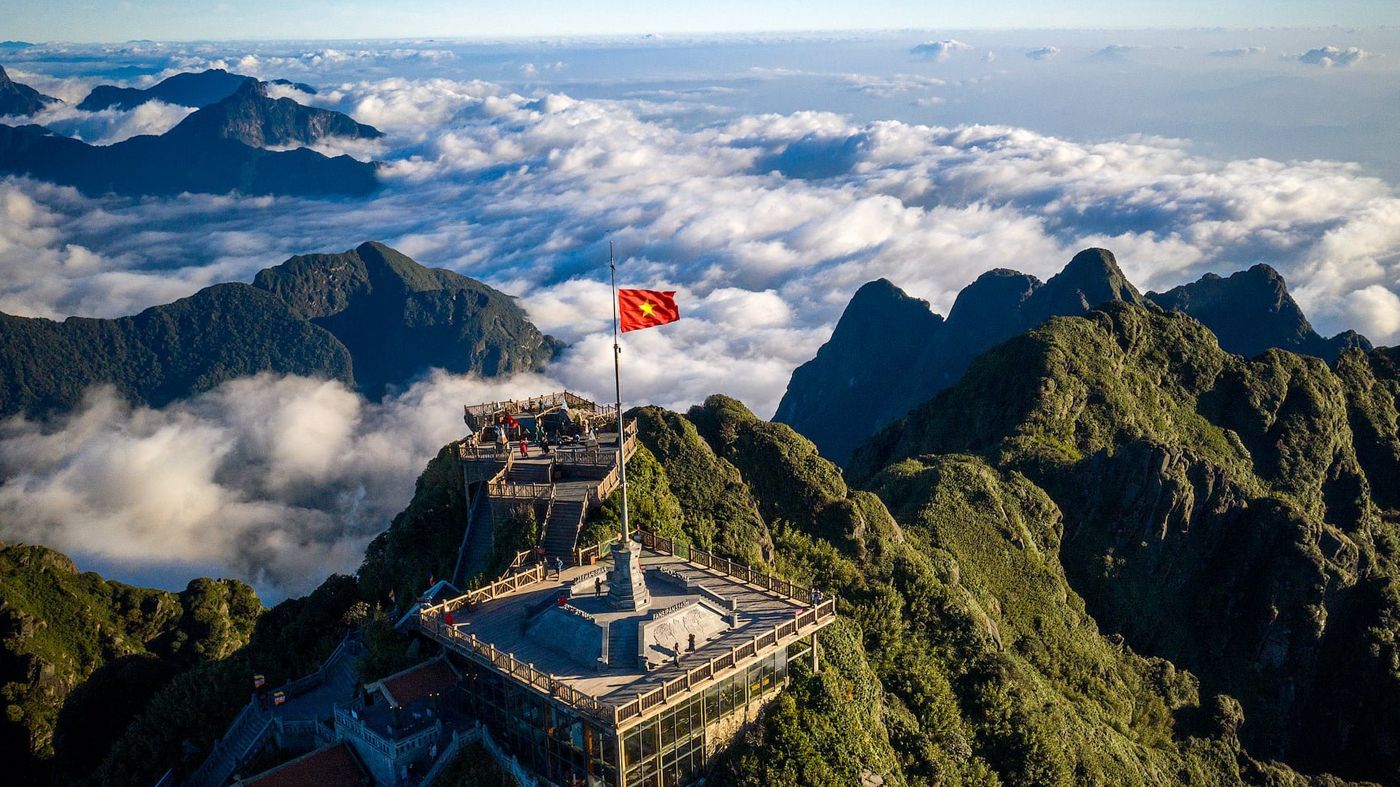 Nestled in the majestic Northwest region of Vietnam, Sapa beckons travelers with its awe-inspiring landscapes and warm-hearted locals. Whether you seek captivating vistas, cultural immersion, or thrilling escapades, this cloudy destination has it all. Engage in exhilarating treks through terraced rice fields where you'll come across thriving hill tribe settlements. With the assistance of our in-depth Sapa travel guide, you can discover the allure of cascading waterfalls, secret valleys, and lush forests. Let Vietravel, Vietnam's Largest Aviation & Tourism Corporation, be your trustworthy guide in revealing the secrets of the amazing romantic town.
Tap for more information about Vietnam travel guide 2023
I. When is the best time to visit Sapa? – Sapa travel guide
Notably, enter an ethereal realm where time and nature dance in unison. Sapa, blessed with a cool embrace all year, reveals its true splendor during the rice terrace season. The paddy field landscapes experience a symphony of color from March to May and from September to November. Delicate blossoms adorn the fields in April and May, creating a picture-perfect backdrop for photographers. As September approaches, golden waves of fully matured rice sway in the light breeze, enchanting town. Take advantage of in these moments, for they are the epitome of nature's mystique, beckoning those who yearn for the exquisite.
Also read: Hanoi Travel Guide
II. Where are the best places to visit in Sapa?
Surrounded by dramatic gorges and stepped rice terraces, the landscapes around this impressive site are some of northern Vietnam's most striking. But hold onto your hats, because Sapa not only has breathtaking sceneries, this lovely town even unveils a cultural tapestry woven over a dozen hill tribes, making it a haven of diversity and authenticity. For those seeking to delve into ethnic traditions, and bask in the splendor of nature, then buckle up and let Vietravel be your guide in our Sapa travel guide. Check out the top 8 must-see attractions below.
Read more: Ninh Binh Travel Guide
1. Fansipan Mountain
First up, we're taking you on a wild ride above the clouds to the summit 3,143m above sea level, where the majestic "Roof of Indochina" awaits you with astonishing wonders. Lose yourself in misty valleys, and take in the splendor of high peaks. Whether you choose to trek or take the exhilarating cable car, Fansipan Mountain promises an unforgettable adventure filled with spectacular views and a sense of triumph over Mother Nature's impressive heights.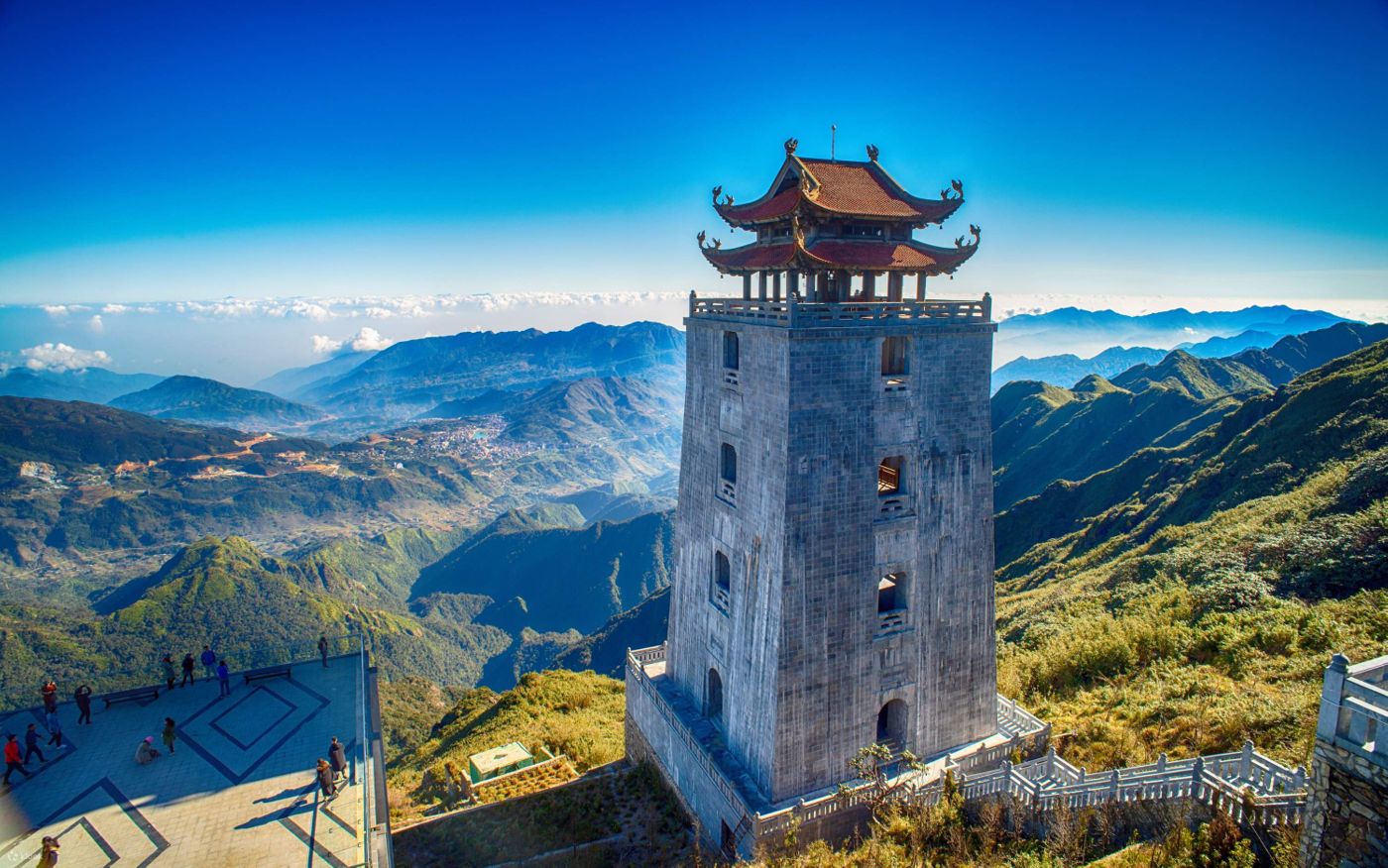 2. Cat Cat Village
Second, located at the foot of the mesmerizing Muong Hoa Valley, Cat Cat Village invites you to step into a bygone era. Explore the ancient settlement, where the sprightly color cultures of the H'Mong and Dzao people have thrived for centuries that'll make your heart skip a beat. Just 3 km from the glamorous town, embark on a trekking adventure amidst breathtaking vistas of terraced rice fields, cascading waterfalls, alluring water mills, and meandering streams. Are you ready to let Cat Cat Village seduce you and transport you to a world of timeless beauty?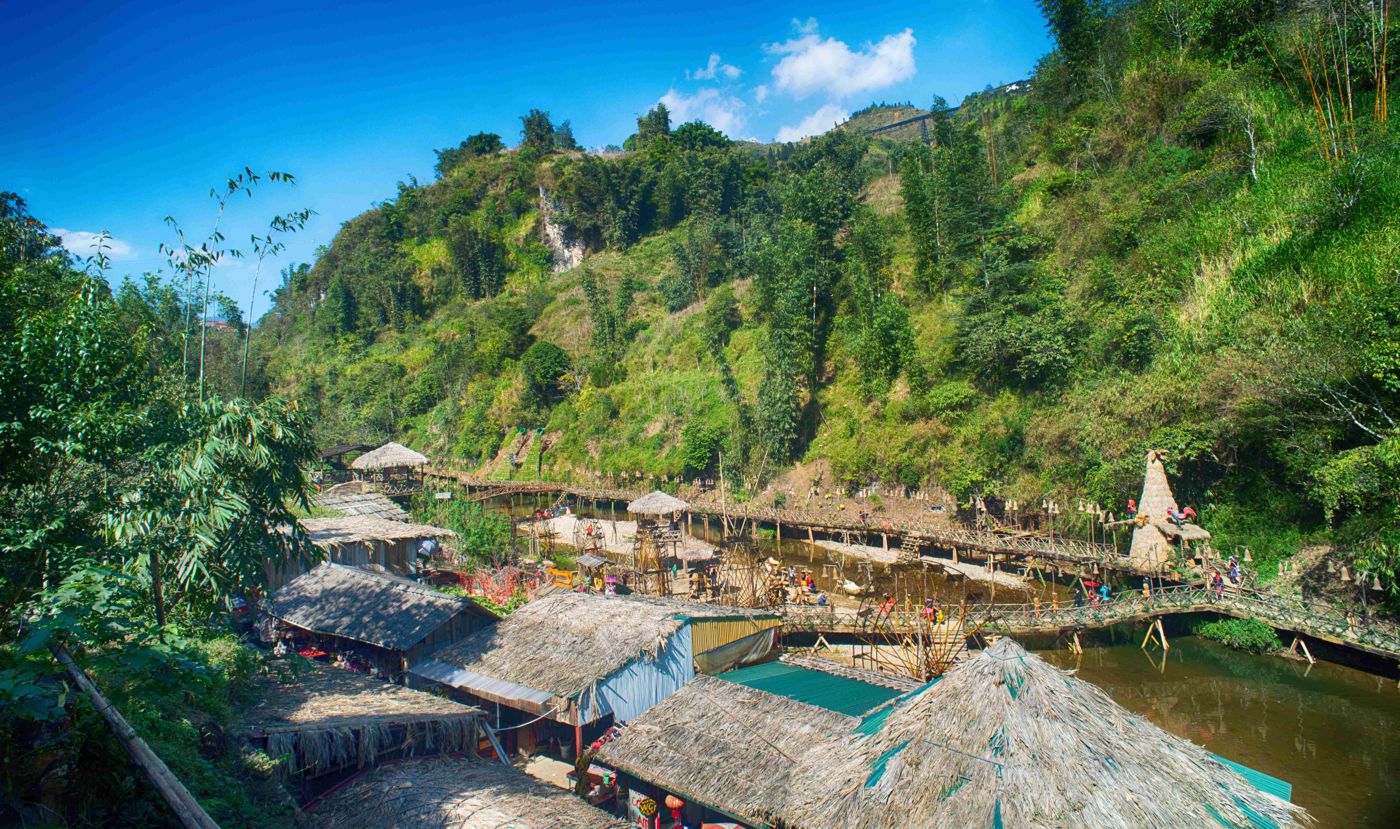 3. Muong Hoa Valley
Then, prepare to be spellbound by the enchanting Muong Hoa Valley, which is only 10 kilometers from Sapa downtown. Here, emerald-green hills roll gently, offering incredible panoramic views. Immerse yourself in the rich tapestry of cultures as the H'Mong, Ta Van, and Tay communities share their traditions along the 15-kilometer path traced by the meandering Muong Hoa stream right before your eyes.
4. Sapa Market
As well as, just 1.5 km from the famous Stone Church the lively Sapa Market awaits, a sensory wonderland where vibrant colors and intricate brocade products honor cultural heritage. And let's not forget to enjoy a culinary journey filled with a bounty of fresh fruits, vegetables, and savory spices. Particularly, as the sun sets on a Saturday night, you will have a chance to witness the appealing town's Love Market, where young hearts from far-off villages come together in search of genuine connection.
5. Ham Rong Mountain
Similarly, nestled at the heart of Sapa, Ham Rong Mountain beckons with its mystical allure. Its peak, resembling a dragon's jaw, conceals a secret waiting to be discovered. As you ascend the steps, a serene and refreshing sanctuary unfolds, offering panoramic views of Sapa's stunning landscape.
6. Silver Waterfall
Get ready to be mesmerized by the awe-inspiring beauty of Thac Bac Waterfall, also known as Silver Waterfall. As you embark on the winding road north of Sapa, where you'll be treated to astounding vistas of rice terraces and the brilliant Fansipan peak. From the distance, the waterfall resembles a celestial white dragon, gracefully cascading from the heavens above. It's like nature's very own masterpiece, and you're about to witness it in all its glory.
7. Heaven's Gate
Additionally, begin a celestial journey to Heaven Gate, nestled between captivating Lai Chau and Lao Cai provinces. Just 18 kilometers from romantic Sapa downtown, be mesmerized by the splendid panorama of verdant valleys and iconic terraced rice fields. Conquer the rugged path of O Quy Ho Pass, unveiling northern Vietnam's illustrious peaks. Brace for an awesome encounter with nature's extraordinary forces.
8. Ta Phin Village
Finally, a getaway to a world where time stands still and ethnic minority groups' traditions come to life. Ta Phin Village provides a truly authentic and immersive experience. Allow the locals' vibrant colors and warm smiles to guide you through the charming village. It's like stepping into a whole new world, where traditions are honored and cherished.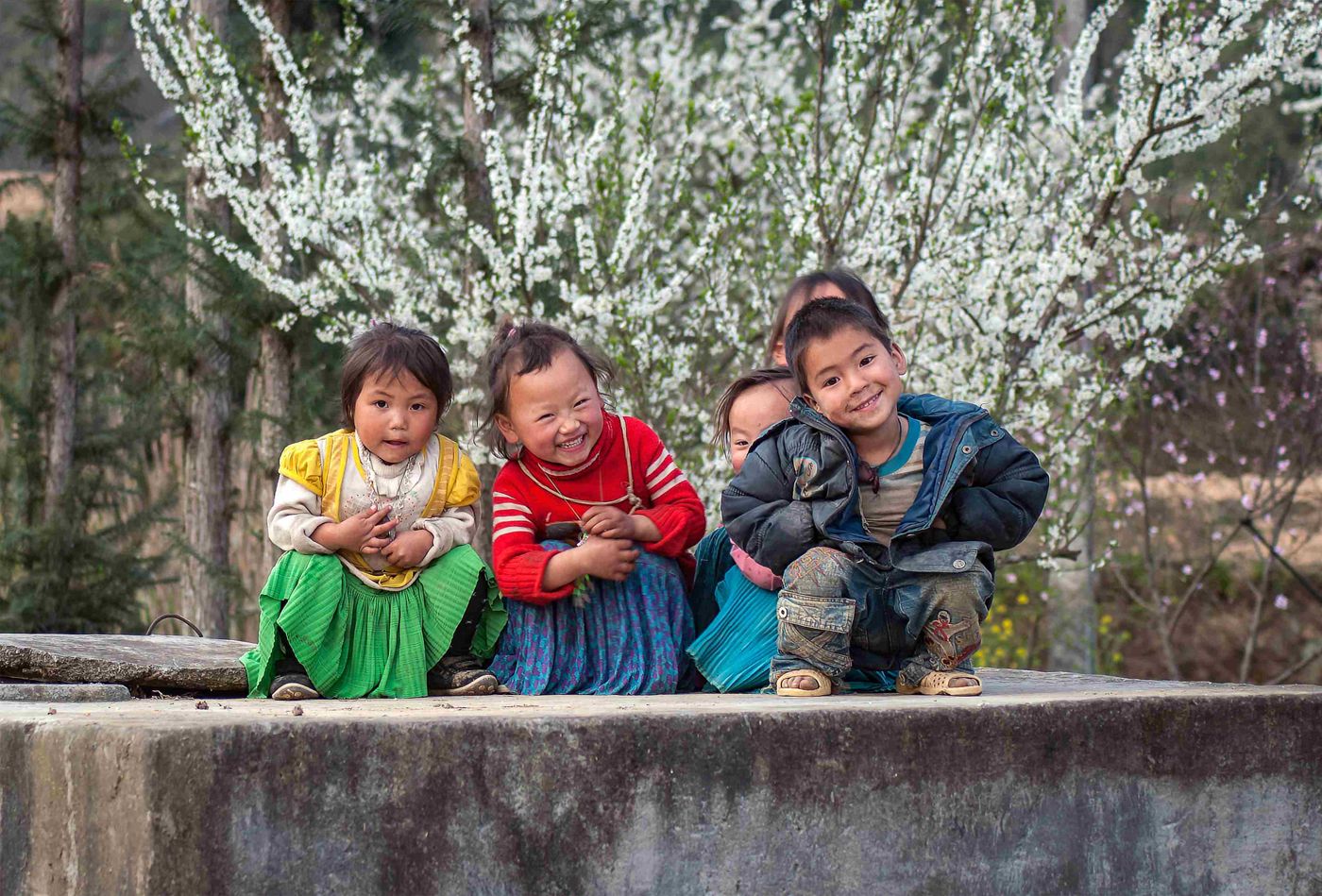 Let Vietravel be your friendly companion on your Sapa odyssey here. As you seize the opportunity to unlock the myriad wonders of this quintessential land.
III. How to travel to Sapa? – Sapa travel guide
Getting to the awe-inspiring region is a piece of cake. Thanks to the comprehensive guidance offered by Vietravel's Sapa travel guide, you'll have all the deets you need to make your way to this epic destination and start your incredible adventure. Keep going for more essential information.
Currently, Sapa does not have an airport, which means there are no flights directly to the area. But fear not, my fellow traveler! Lao Cai city is only 38 kilometers away, while Hanoi is 376 kilometers away from scenic Sa Pa town. As a result, many travelers prefer to travel to Sapa by bus or train, both of which are popular modes of transportation for accessing this spectacular destination.
Check out Vietravel Airlines's flight tickets to Hanoi here
Also read: Hue Travel Guide
1. By Train
First off, let's talk about the classic option. When it comes to traveling to this mountainous site, many people favor the convenience and time-saving advantages of hopping on a train. However, just keep in mind that trains can only take you as far as Lao Cai Station, requiring you to continue your journey to the enchanting town via a bus, private car, or taxi. Yeah, it's a little extra legwork, but trust us, it's totally worth it. Traveling by train is considered safe and offers a comfortable experience for those exploring the astonishing beauty of Sapa.
Check out all train routes from Hanoi to Sapa here
Tap here for more information about Vietravel Airlines' ticket to Hanoi.
2. By Bus
Next up, if you're all about affordability and efficiency, just selecting a suitable bus service, you can easily reach Sapa from Hanoi. Buses offer a more seamless experience and faster travel times than trains. The best part? It will take you directly to the charming town. Discover the breathtaking scenery en route, which takes about 5 to 6 hours. To book bus tickets from Hanoi to Sapa, click here.
3. By Vietravel's private car/coach
Now, if you're looking to take your travel experience up a notch, why not go for Vietravel's private car or coach service? We will provide a luxurious and personalized journey to Sapa. Picture yourself experiencing the utmost comfort and satisfaction as you travel through picturesque landscapes. Our skilled drivers and well-equipped vehicles ensure a smooth and enjoyable ride. So, don't wait another minute - contact us to book your private car or coach with Vietravel today.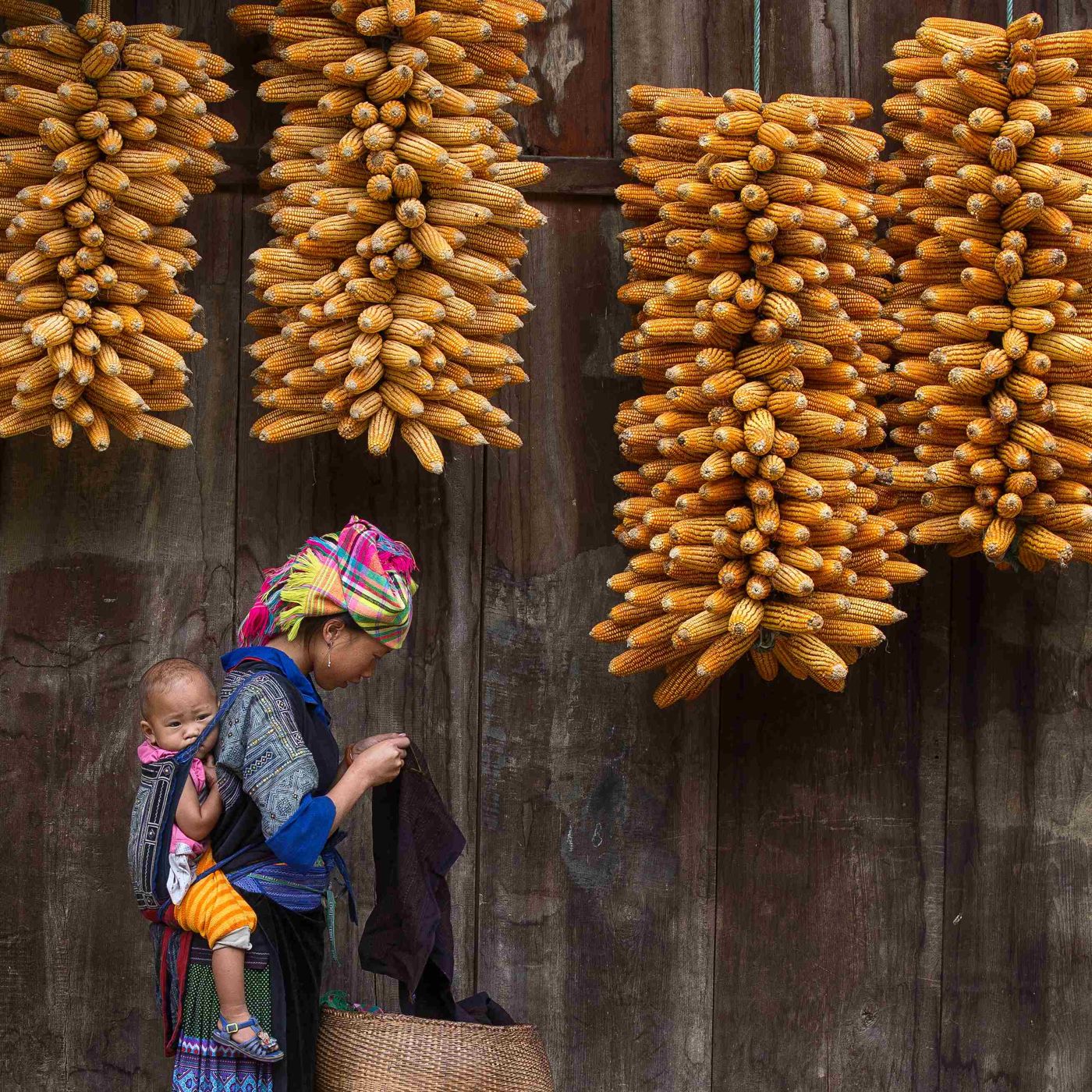 Check for: Da Nang Travel Guide
IV. How to get around Sapa? – Sapa travel guide
Exploring Sapa is an exhilarating expedition. This mountainous land beckons you to a world of amazing adventures, where you surrender to the mesmerizing allure of its poetic vistas and cascading emerald terraces. But how do you navigate this wonderland? Fear not, because I've got you covered with some kickass ways to get around Sapa.
1. Getting around Sapa on foot
First things first, because of its small size, exploring the adorable town on foot is a breeze. The magnificent landscapes of terraced mountains and lush jungles await, whether you choose a leisurely stroll or an adventurous trek. Make sure you have comfortable shoes, plenty of water, and the endurance to fully enjoy a glamorous journey. And hey, if you're feeling extra adventurous, consider a multi-day guided trek to discover hidden treasures and receive expert guidance along the way.
2. Motorbike
Next, if you're up for some two-wheeled excitement, just rent a motorbike and let the open road lead you through Sapa's alluring sceneries. Feel the thrill as you ride through winding mountain paths, capturing stupendous views of terraced rice fields, and remote villages. If you prefer a guided experience, hop on the back of a motorbike with an experienced guide who will reveal the secrets of this mesmerizing region.
3. Vietravel's private car/coach:
Particularly, use the private car or coach service from Vietravel to enjoy and comfortably explore Sapa. Sit back, relax, and let us take care of the details. Our knowledgeable drivers and guides will accompany you on an unforgettable journey to discover the true essence of this extraordinary destination.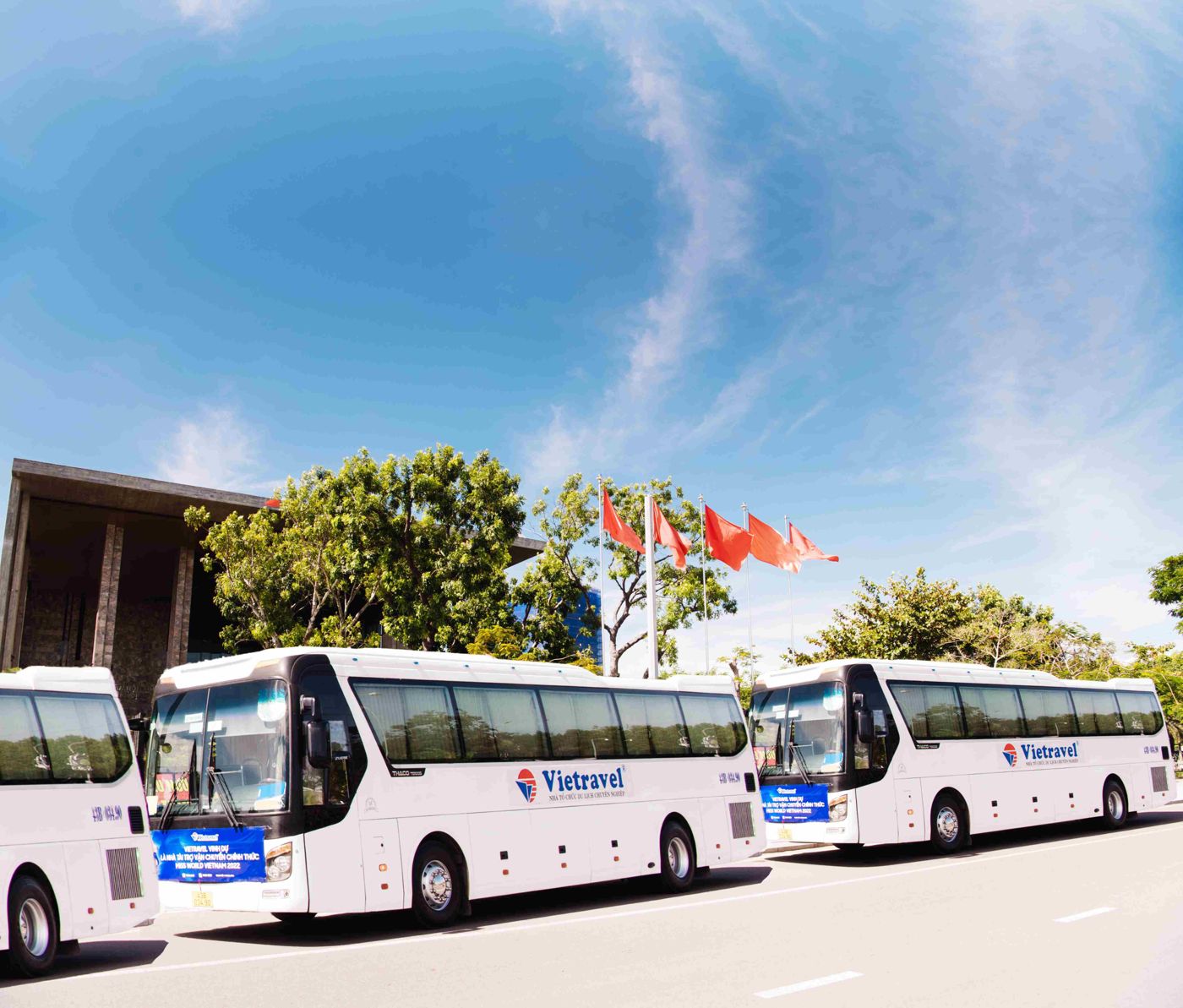 Click here for Hoi An Travel Guide
4. Taxis
Need a quick and hassle-free way to get around Sapa? Many reputable taxi services are readily available. Consider well-known companies such as Sapa Taxi, Sapa Green Taxi, and Phan-xi-pang Taxi, which offer cozy vehicles and reasonable metered fares. Whether you're traveling alone or with a group, these dependable taxis provide a smooth ride, allowing you to easily and conveniently explore the pristine town.
Use the helpful advice in our Sapa travel guide to get around this poetic land. Find nature's hidden treasures and move through its hills like a seasoned traveler.
V. What to eat in Sapa? – Sapa travel guide
A gastronomic adventure in this foodie haven, where the tantalizing flavors of the Northwestern region burst forth like flavor explosions. Sapa travel guide from Vietravel will reveal a mouthwatering array of must-try dishes and the finest dining destinations. Don't delay any longer, it's time to dive in and satisfy your cravings. Let's check it out.
1. Com Lam (Bamboo Sticky Rice)
Firstly, experience the essence of Sapa through Com Lam, a catchy dish of sticky rice cooked inside bamboo tubes. The harmonious blend of pure water, fragrant bamboo, and tender rice creates an irresistible treat. With its alluring aroma and tender texture, it's a must-try culinary gem. Don't miss the opportunity to discover the smoky smell and delightful senses of Com Lam at renowned restaurants like A Quynh, Cau May Sapa, and Red Dao House. Trust us, your taste buds will thank you.
2. Thang Co
Secondly, enjoy the distinctive flavors of Thang Co, a typical Sapa Hmong food. In a large skillet, this flavorful soup is like a party in your mouth, blends horse meat, pork, buffalo, and a combination of over 20 botanical herbs. Thang Co, formerly reserved for exceptional occasions, has become a must-try dish in this wonderland. For a truly traditional dining experience, try it at local stalls or well-known eateries like Thang Co A Quynh, Thang Co A Phu, or Hai Lam Restaurant.
3. Salmon Hotpot
Especially, the chilly temperature at this mountainous destination promotes the growth of fresh and delectable salmon. The solid and tasty salmon, which is high in nutrients, is served in a hot pot with a sour broth and fresh veggies and mushrooms. On a cold day in Sapa, this dish is the perfect comfort food to warm your soul. Visit Hao Dao restaurant at 48 Le Van Tam Street to savor this exquisite specialty. Don't miss the opportunity to experience the unique taste of Northwest fresh vegetables paired with this scrumptious salmon hotpot. It's a match made in culinary heaven.
4. Thit Trau Gac Bep (Dried Buffalo Meat)
Uniquely, indulge in the savory delight of Thit Trau Gac Bep, a delicacy that embodies the Black Thai ethnic group's culinary traditions. This renowned dried meat, made from buffalo, showcases the ingenuity of the local people in preserving their food. Hanging above kitchen firewood for up to 18 months, the marinated meat develops a unique aroma and taste. The greatest Thit Trau Gac Bep can be found at the Sapa Grilling Area or at the Fansipan Restaurant on 25 Cau May Street.
5. Corn Wine
Last but certainly not least, explore the intriguing flavor of Sapa's Corn Wine, a traditional alcoholic beverage produced from the region's cool temperature and fertile terrain. This excellent beverage, also known as Ban Pho wine, has significant cultural value for the Dao and H'Mong ethnic populations. To truly experience this specialty, head to the bustling Bac Ha Market, a vibrant center of ethnic culture. Get ready for a taste sensation that'll leave you wanting more.
These are just a few of the delectable delicacies available through our extensive Sapa travel guide. So, what are you waiting for? Book your trip to the remote town with Vietravel today and discover a world of delicious delights and amazing culinary experiences. Set out on a culinary adventure right now.
VI. Conclusion
Ultimately, Sapa Travel Guide is your go-to companion for a wonderful journey through the spellbinding region. With Vietravel's wealth of knowledge and expertise, you can confidently embark on a trip filled with extraordinary landscapes, fascinating cultural discoveries, and thrilling adventures. Allow Vietravel to be your dependable guide, ensuring a seamless and enriching experience from beginning to end. Take advantage of Sapa's tranquility to make memories that will linger long after your trip is over.
Plan your Sapa adventure here.
As the Largest Aviation-Tourism corporation in the country, Vietravel consistently provides high-standard services at the most competitive prices so that you can discover the beauty of not only Vietnam but all of Southeast Asia.
Please contact us for more information
Vietravel – Asia's Leading Tour Operator
Hotline: (84) 35 235 61 61
Email: [email protected]: www.vietravelasia.com
#VietravelAsia #Vietravel #Vietnam