Ninh Binh Travel Guide: All You Need to Know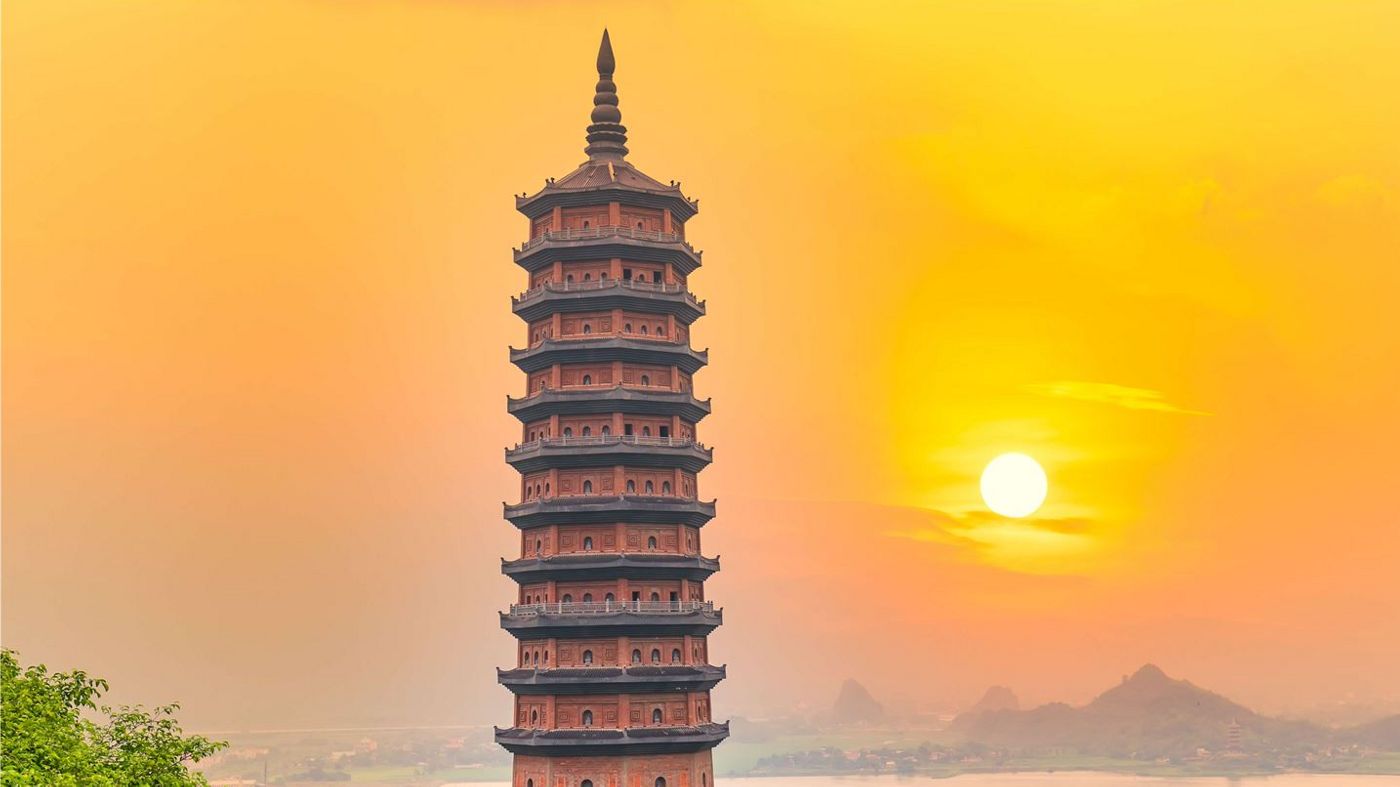 If you're a nature and culture lover, Ninh Binh - a UNESCO World Heritage Site is a must-visit destination. From towering limestone karsts that reach for the heavens to winding rivers and a wealthy cultural legacy, this place is a true gem. Our in-depth Ninh Binh travel guide will unveil mystical caves, breathtaking rice paddies, and gorgeous temples. Let Vietravel, Vietnam's Largest Aviation & Tourism Corporation, be your reliable accompany in unlocking the secrets of this historic and culturally rich destination.
Also read: Vietnam Travel Guide
I. When is the best time to visit Ninh Binh? – Ninh Binh travel guide
The favorable time to visit one of the most authentic rural sides of Northern Vietnam is from May to early July when the rice fields turn to endless golden silk. If you're all about pleasant weather, November to April brings cool and dry vibes, but don't forget to pack some cozy gear. On the contrary, keep an eye out for the rainy season from May to October, when the humidity is cranked up and showers pop in unexpectedly.
Would you like to delve into the local culture? February to March is the ideal time to rock with festivals and mind-blowing cultural experiences. Mark this note on your calendar right away for the upcoming trip. If you are a flower lover, don't miss May to June when vibrant blooms like lotus and water lilies dazzle the scene.
Get your adventure game on and enjoy the best time to explore this stunning destination!
Also read: Hanoi Travel Guide
II. Where are the best places to visit in Ninh Binh?
Prepare to be astounded by a spectacular tapestry of natural wonders and
historical marvels. Our enlightening Ninh Binh travel guide is your key to
unlocking the mysteries of this enthralling destination. Get started on your impressive
adventure today - the bewitching world is waiting for you!
Read more: Da Nang Travel Guide
1. Trang An Scenic Landscape Complex
In the beginning, explore concealed caves, stumble upon sacred temples, and get lost in the mesmerizing charm of this UNESCO World Heritage Site. Indeed, Trang An Complex is known as an astonishing wonderland where emerald rivers flow through majestic limestone formations. Let the whispers of nature be your guide as you unravel the mysteries of this timeless land, where each step reveals a new enchantment and the ancient secrets of a legendary world.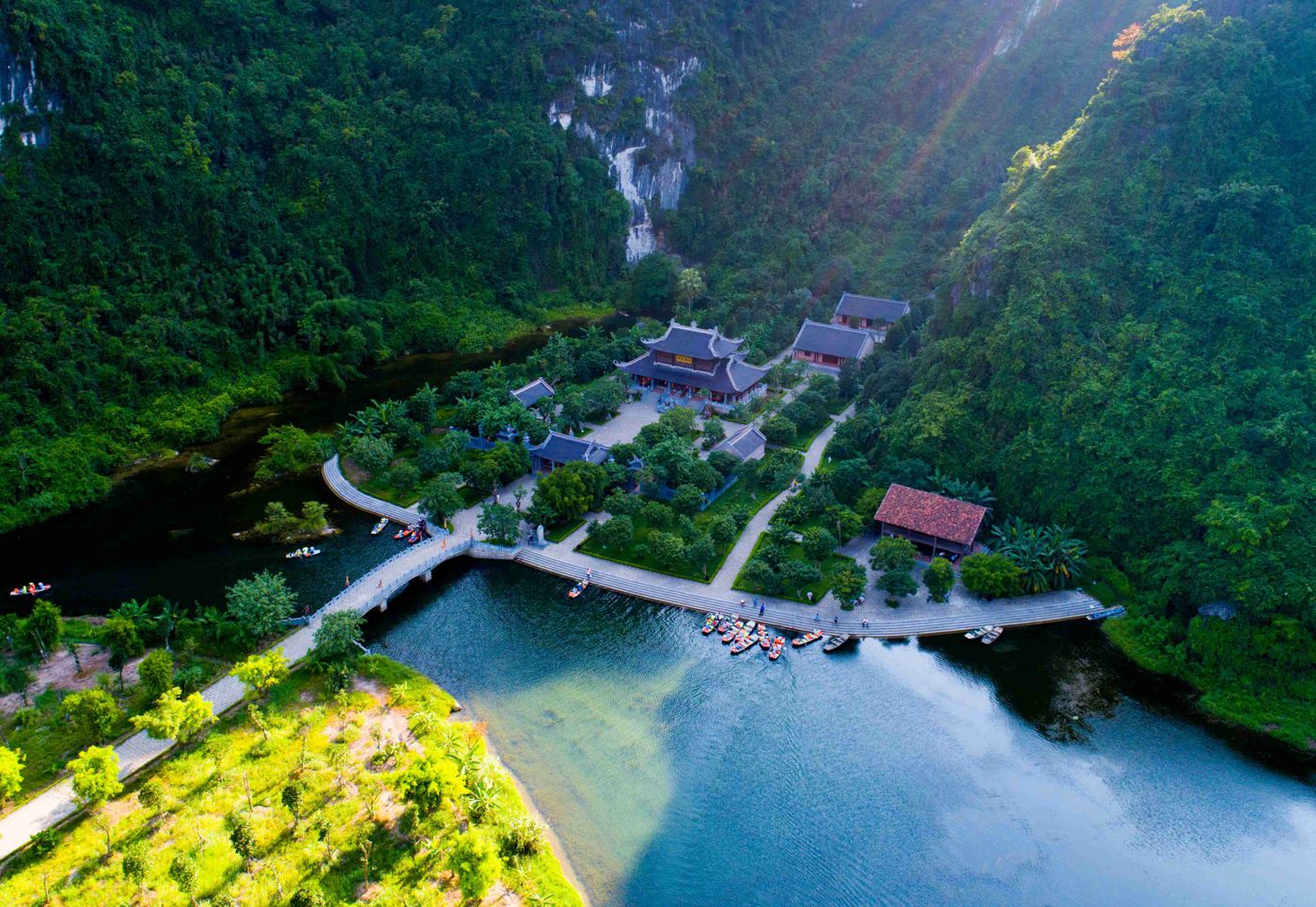 2. Tam Coc - Bich Dong
Then, uncover the mind-blowing wonders of Tam Coc - Bich Dong, a magical paradise hidden between high cliffs and lush foliage. As you glide through breathtaking caves and along a tranquil river, while nature's melody dances in your ears. Climb up to Bich Dong Pagoda, balanced precariously on a rocky hill, and let its endless allure steal your heart. It's a journey you won't want to miss!
3. Bai Dinh Pagoda
Additionally, enter a magnificent sanctuary that combines spirituality and splendor. Wander through the enormous complex that is decorated with numerous Buddha statues, intricate carvings, and echoing bells that harmonize with the divine. You will be completely enthralled by a mesmerizing sight as you ascend the 13 stories of the watchtower.
4. Van Long Nature Reserve
Continue to explore the captivating features of Van Long Nature Reserve, a real hidden gem tucked away in Ninh Binh. Step into a haven of pristine beauty, where emerald waters intertwine with brilliant limestone cliffs. Mother Nature reveals her fascinating mysteries in every spectacular moment as you float along the peaceful river, surrounded by lush vegetation and a symphony of bird songs.
5. Cuc Phuong National Park
This time-honored refuge teeming with natural wonders should be on your buck list when coming to Ninh Binh. Let the forest's melody serenade your senses with old trees and the lively tapestry of biodiversity. Cuc Phuong beckons, inviting you to forge a timeless connection with the wild.
Tap for more information about Sapa Travel Guide.
6. Hoa Lu Ancient Capital
Uniquely, prepare to be transported back in time when you visit the fascinating Hoa Lu Ancient Capital, where history breathes and echoes through its imposing ruins and attractive landscapes. Follow in the footsteps of immemorial emperors as you explore the ruins of royal palaces, old temples, and revered pagodas. Are you ready to have your mind blown by the epic tales of this bygone era?
7. Mua Cave
If you are an adventurous lover, Mua Cave should be on your bucket list. A world of breathtaking beauty unfolds before your eyes as you ascend the 500 steps. From the pinnacle, immerse yourself in panoramic vistas of majestic karst mountains and verdant countryside. Explore the intricate rock formations hidden within the depths of this archaic cave and let the enchanting wonders of nature captivate your senses.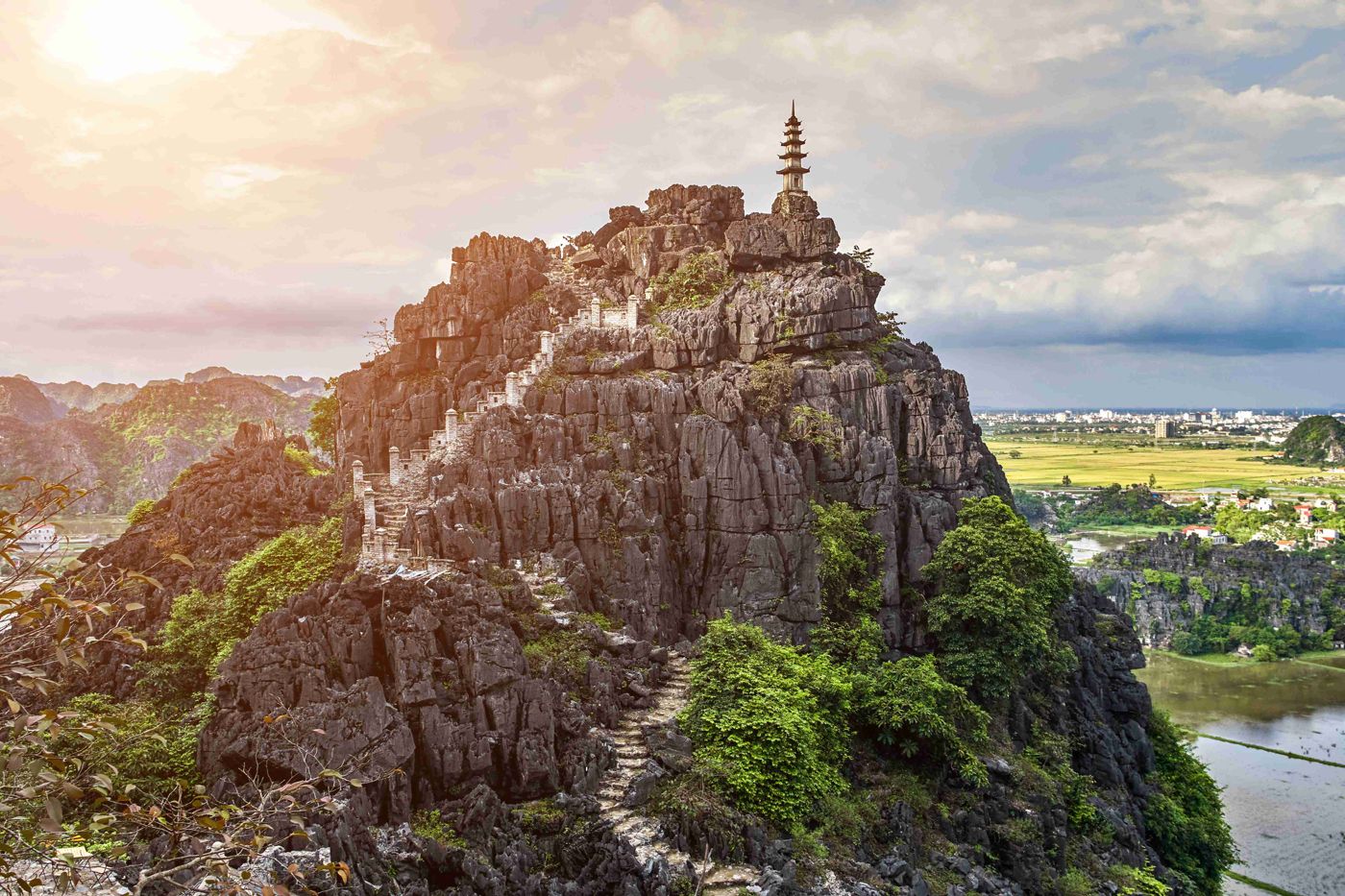 8. Thung Nham Bird Garden
Last but not least, whether you're a landscape enthusiast, a bird lover, or simply seeking a serene escape, Thung Nham Bird Garden promises a celebration of nature's fascinating world. As you walk through lush landscapes, be mesmerized by the symphony of birdsong and witness the graceful dance of colorful feathered creatures. The ethereal beauty of lotus ponds, archaic caves, and captivating limestone formations give this avian sanctuary a touch of magic.
With Vietravel by your side, discover Ninh Binh's secret treasures. Don't miss out on the opportunity to book your epic Ninh Binh day trip right here.
III. How to travel to Ninh Binh? – Ninh Binh travel guide
Getting to Ninh Binh is a piece of cake. With its prime location just 90km from Hanoi and the North-South railway passing through, there are numerous ways to reach this amazing province. Check out Vietravel's Ninh Binh travel guide for all the deets and kick-start your epic adventure!
Also read: Hoi An Travel Guide
1. By Air
To begin with, Ninh Binh does not have its own airport. However, Noi Bai international airport in Hanoi is 120 kilometers away. As a result, if you get to this stunning site by plane, you must take a direct bus or minivan for a 3-hour ride filled with anticipation.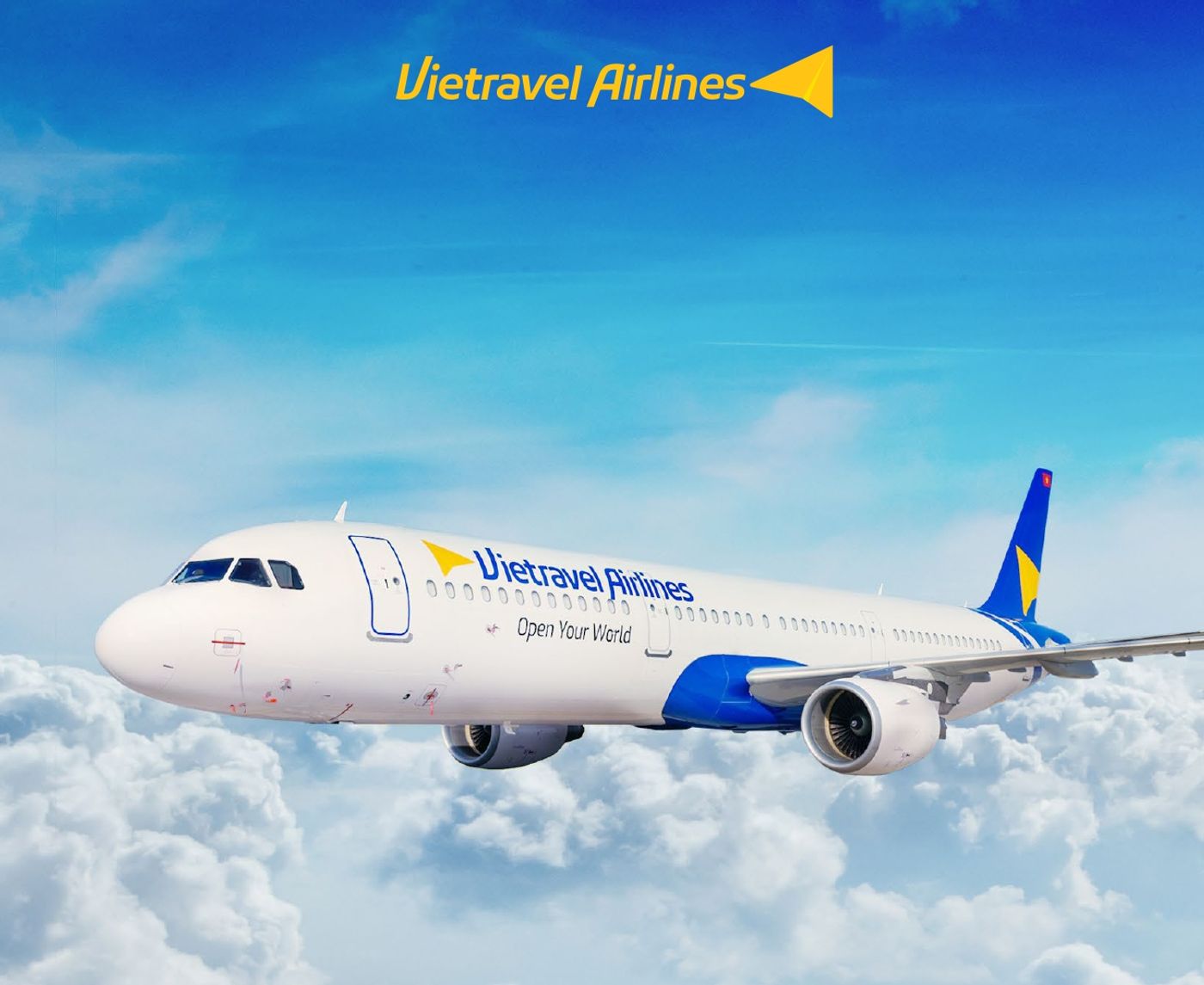 Besides, Tho Xuan Airport in Thanh Hoa is the nearest airport to Ninh Binh. It is 100 kilometers away, but the journey will take two hours. Another drawback is that it is not an international airport, only serving domestic flights.
Feel the excitement build as you traverse the scenic routes, each passing moment bringing you closer to Ninh Binh's secret gems.
Check out Vietravel Airlines's flight ticket here.
2. By Train
Second, when it comes to traveling to this astonishing destination, hopping on the train is a popular choice among visitors. Ninh Binh is easily accessible from Hanoi, Ho Chi Minh City, or any other province via various train stations such as Ninh Binh, Cau Yen, Dong Giao, and Ghenh. Whether you choose a comfortable seat or a luxurious cabin, the train becomes your ticket to discovering Vietnam's picturesque voyage. Prepare for a scenic journey through the heart of the country.
Secure your train tickets through reputable tour operators, and travel companies, or simply hop online and book a ride on the Vietnam Railway website. Don't miss out on this golden opportunity to lock in your seat!
3. By Bus or Vietravel's private car/coach
Third, take a whimsical bus ride to Ninh Binh and let the magic unfold as you travel through the beautiful scenery. This mode of transportation allows for easy access from major cities such as Hanoi, Sapa, and Ha Long. Indeed, embrace the magic of the journey while relaxing in the comfort of sleeper buses with flexible schedules, ideal for budget-conscious travelers. Keep in mind that this popular option can become quite crowded.
Alternatively, treat yourself to the luxurious comfort of Vietravel's private cars or coaches, where every moment becomes a personalized odyssey. Right now, find the best deals on chauffeured private cars from Vietravel - Asia's Leading Tour Operator.
IV. How to get around Ninh Binh? – Ninh Binh travel guide
Feel the mystical vibes as immemorial echoes whisper through the air and tranquil waterways flow like veins of pure beauty. The peaceful jewel of Northern Vietnam calls upon you to unveil its hidden treasures and well-kept secrets. Let our Ninh Binh travel guide be your trusty compass, guiding you through this mesmerizing world.
1. Bicycle
First off, the best way to get around Ninh Binh is by bicycle, which is frequently available for free at the lodging. The majority of the attractions are close together, making cycling easy and enjoyable. Let the path guide you to treasured memories.
2. Motorbikes/ Scooters
Next, getting around this enthralling destination on a motorbike or scooter is one of the signature transportation types. Among intrepid travelers, renting a motorbike is a popular choice as it offers the freedom to roam at your own pace and discover secret gems off the beaten path. However, before hitting the road, make sure you have a valid international driver's license and wear a helmet for safety.
3. Bus or Vietravel's private car/ coach:
Furthermore, buses are a convenient and cost-effective mode of transportation in Ninh Binh. There are numerous buses that zip you between the major towns and attractions throughout the province.
But if you want to take your travel experience up a notch, take into account Vietravel's private car/coach services for a more individualized. You can take advantage of the comfort of a chauffeured vehicle that will take you to your desired locations in Ninh Binh when you book with Vietravel, Vietnam's largest aviation and tourism corporation. Whether you're traveling solo or with a group, our private cars and coaches ensure a comfortable and enjoyable journey. Buckle up and let the adventure begin!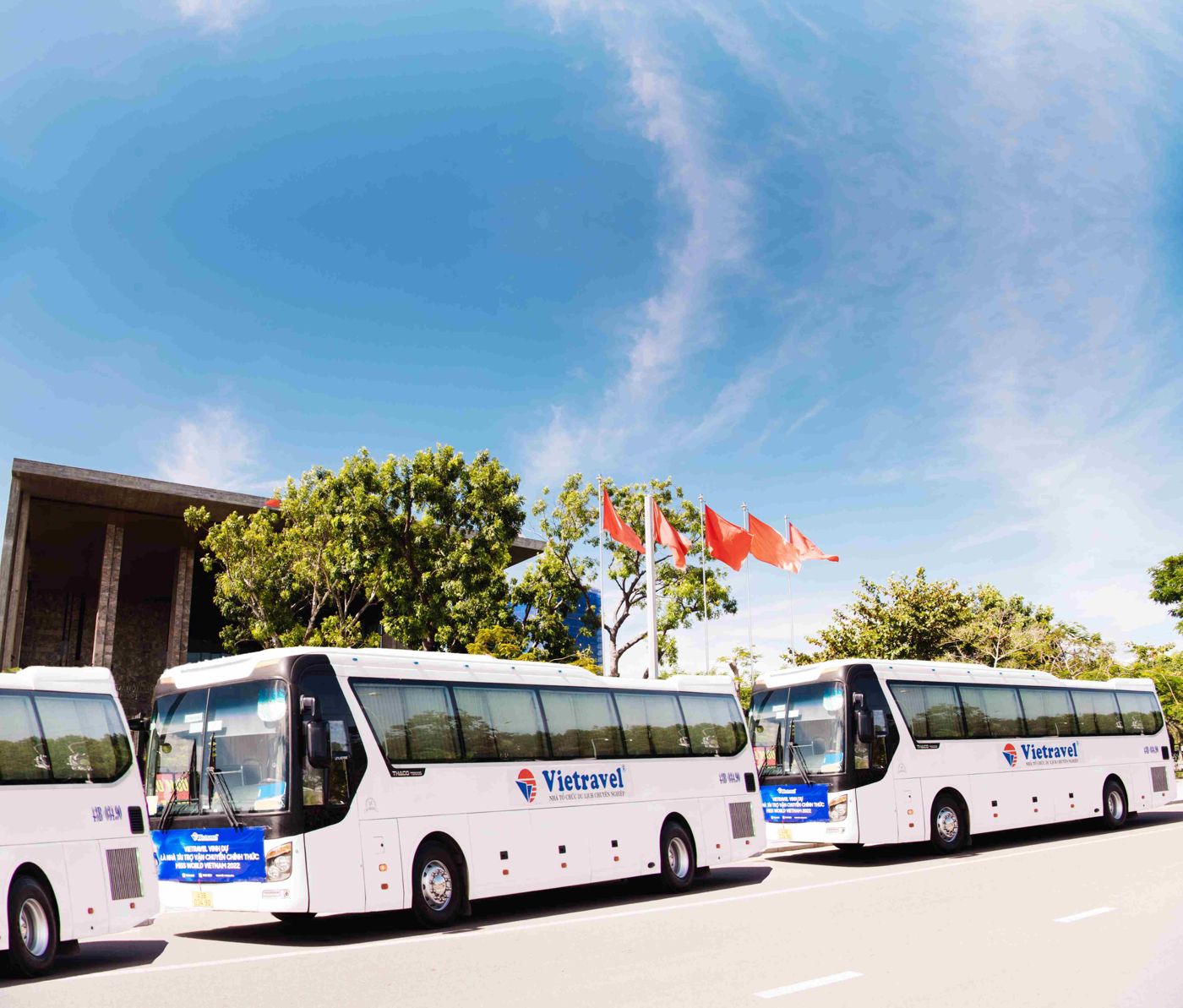 4. Taxis
Similarly, when exploring Ninh Binh's picturesque streets, taxis are your trusty sidekick. You've got some solid options to choose from when it comes to reliable taxi brands like Mai Linh Taxi, Thanh Ha Taxi, Ninh Binh Taxi, Hoa Lu Taxi, etc. Depending on the distance you're traveling and the taxi company you choose, the cost can vary. It's a good idea to check with the taxi company directly to stay in the loop with the latest rates. So, hop in a cab, sit back, and let the wheels take you on a ride through energetic streets.
We've got all the insider tips to help you uncover the city's hidden gems and navigate its bustling streets with confidence. Get ready to conquer this impressive city like a seasoned traveler with our ultimate Ninh Binh travel guide.
Click here for Ho Chi Minh City Travel Guide
V. What to eat in Ninh Binh? – Ninh Binh travel guide
If you're visiting this unique feudal capital for the first time, get ready for a culinary adventure like no other with Vietravel's Ninh Binh travel guide. Indulge in an authentic experience that encapsulates gastronomy in the enthralling land. Scroll down to tempt your taste buds and discover the vibrant flavors of this food paradise. Let the feast begin!
1. Com Chay Ninh Binh – Rice crust in Ninh Binh
Firstly, rice crust, known as "Com Chay" in Vietnamese, is a specialty of Ninh Binh that is beloved by both locals and visitors. This crispy and flavorful dish is made by frying leftover rice until it turns golden brown and develops a delightful crunch. It is often served with a variety of toppings such as stir-fried beef, pork floss, or dried shrimp. The combination of crumbly food and savory seasonings creates a mouthwatering culinary experience.
Where to eat Ninh Binh Rice Crust
Burn - Rice Hoa Lu – Vo Thi Sau, Dong Thanh, Ninh Binh
2. Thit De Ninh Binh - Ninh Binh goat meat
Secondly, sink your teeth into the succulent and tender goat meat that Ninh Binh is famous for! Locally known as "Thit De Ninh Binh," this delightful delicacy is a result of the region's lush pastures and ideal weather. Be prepared to be astounded by the array of grilled, stewed, and stir-fried goat meat dishes. Don't pass up the opportunity to experience the natural flavors and aromatic delight of this specialty.
Where to eat Ninh Binh Goat Meat
Duc De Restaurant: No. 29 Doan Ket, Ninh Phong Ward, Ninh Binh.
Huong Mai Restaurant: No. 12 Tran Hung Dao, Ninh Binh.
3. Nem Yen Mac – Fermented pork roll
Thirdly, let us talk about Nem Yen Mac, a pork roll that will and make your taste buds do a happy dance! The juiciest pork, marinated in a secret blend of herbs and spices, then fermented to perfection. The end result? A flavor explosion that's savory, tangy, and slightly sweet. It's like a party in your mouth so you won't want to end!
Where to eat Fermented Prok Roll
Tuan Binh restaurant in Hamlet 4, Dong Son, Yen Mac, Yen Mo, Ninh Binh.
Nem Chua Yen Mac Trung Kien: House number 70, street 11, Van Giang ward, Ninh Binh.
4. Xoi Trung Kien (Sticky rice with ant eggs)
Additionally, a wild culinary adventure awaits you with Xoi Trung Kien, the infamous sticky rice including ants eggs! You'll fall in love with the unique flavor from the first bite thanks to the exquisite combination of sticky rice, fried shallots, and ant eggs. You'll keep coming back for more as you enjoy the crispy flavors melting in your mouth. Just a heads up, though, this delicacy comes with a hefty price tag ranging from 50,000 to 100,000 VND per dish. But trust us, it's worth every penny for this one-of-a-kind experience!
Where to eat Fermented Prok Roll
Nho Quan town, Nho Quan district, Ninh Binh
5. Nho Quan Can Wine
Last but not least, you shouldn't leave Ninh Binh without trying the fabled Can wine from Nho Quan! Here, the Muong ethnic minority has its own distinctive brewing process. They prepare cooked cracked milled glutinous rice, add some yeast, and allow it to ferment for at least three months in an "ang" container. This beverage will leave you craving for more as a subtle aroma and a delightful sweetness. It's like a secret potion that bewitches the taste buds. So, if you're up for an adventure, grab a glass of this Can wine and let the magic unfold! Cheers!
Where to drink Ruou Can Nho Quan
Nho Quan town, Ninh Binh, on the intersection of Highway 12B and provincial road 479, is about 31km from Ninh Binh city center.
Overall, don't miss out on this gastronomic odyssey after accompanying our extensive Ninh Binh travel guide! Book a thrilling journey with Vietravel today and prepare to indulge in a palate-pleasing feast that will leave you craving for more.
VI. Conclusion
In a nutshell, wrap up your escapade with a flourish, as this charismatic destination unveils a medley of awe-inspiring natural marvels, historical valuables, and immersive cultural encounters. Behold our comprehensive Ninh Binh travel compendium, where a congenial local guide awaits you to the tranquil tapestry. As your intrepid companion, Vietravel's erudite tour guides, coherent transportation, and meticulously curated itineraries will leave you with priceless memories.
Plan your Ninh Binh adventure here.
As the Largest Aviation-Tourism corporation in the country, Vietravel consistently provides high-standard services at the most competitive prices so that you can discover the beauty of not only Vietnam but all of Southeast Asia.
Please contact us for more information
Vietravel – Asia's Leading Tour Operator
Hotline: (84) 35 235 61 61
Email: [email protected]
Website: www.vietravelasia.com
#VietravelAsia #Vietravel #Vietnam