Lan Ha Bay Travel Guide 2023 - All you need to know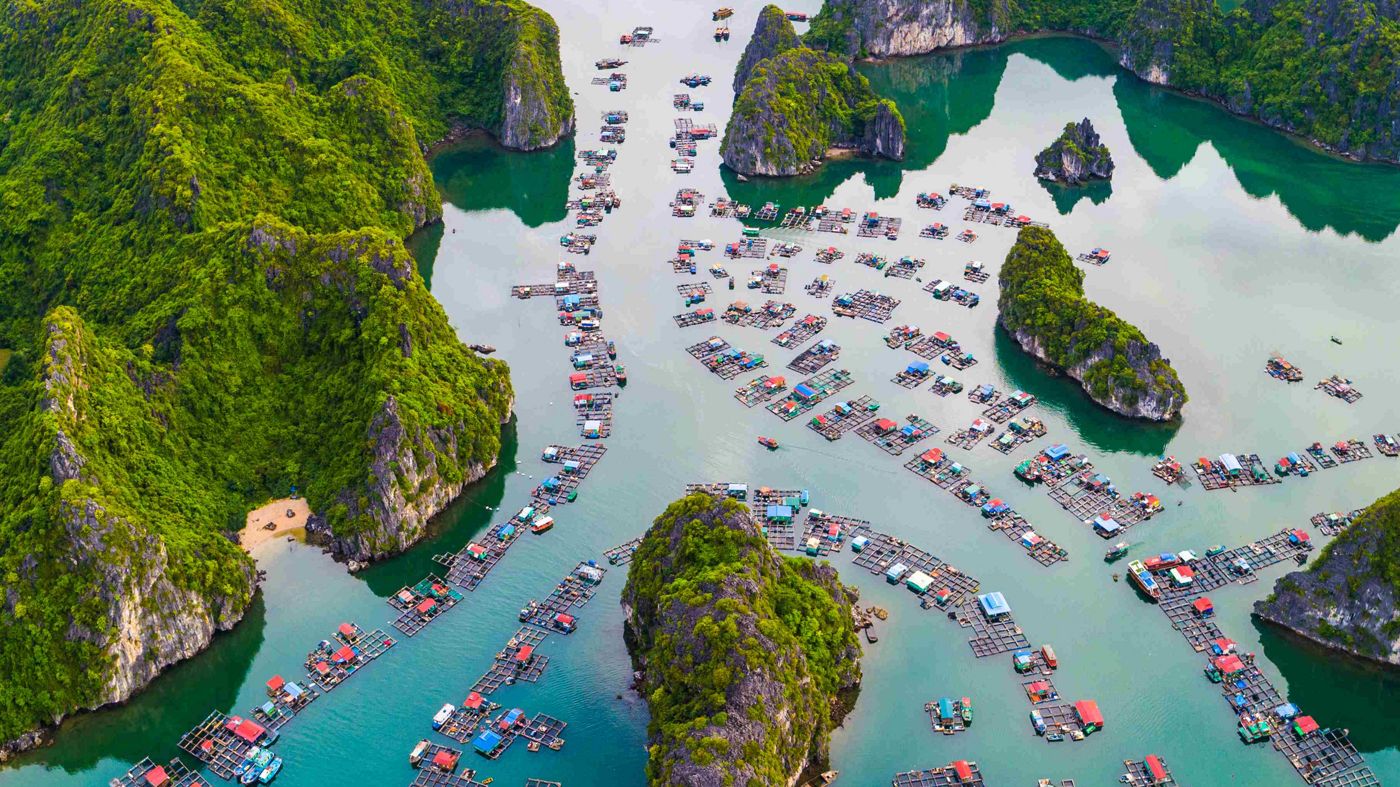 Discover the serene lagoon's breathtaking beauty with the ultimate Lan Ha Bay Travel Guide from Vietravel - Vietnam's Largest Aviation and Tourism Corporation! Immerse yourself in a postcard-perfect setting, surrounded by crystal-clear waters, peaceful beaches, and a magical landscape of over 400 captivating islands and islets. Let's get started!
Tap for more information about Vietnam Travel Guide
I. When is the best time to visit Lan Ha Bay? – Lan Ha Bay Travel Guide
The ideal time to drop anchor in Lan Ha Bay is between March and June or October and November. Picture: crystal-clear skies, gentle sun-kissed breezes, and just the right amount of sunshine to keep you feeling groovy without melting like an ice cream cone on a hot summer day. Keep in mind that this time is super popular among local tourists, so expect a bustling atmosphere and a party vibe as everyone flocks to this coastal haven.
Once June rolls in, the weather gets a bit wilder. Mother Nature might throw in some typhoons and tropical storms, just to keep you on your toes. So, if you're up for a bit of adventure and don't mind the occasional rain dance, it could still be a blast!
Tap for more information about Hanoi Travel Guide
II. Where are the best places to visit in Lan Ha Bay?
Hunting for the must-visit spots to explore in this isolated paradise? Dive into Vietravel's Lan Ha Bay Travel Guide to unveil the hidden gems in the stunning bay!
1. Cat Ba Island
Firstly, hold on tight because you're about to embark on an epic adventure to the enchanted realm of Cat Ba Island! Nestled within the embrace of Lan Ha Bay, it emerges as a stunning centerpiece, the largest among the 367 islands that form the Cat Ba Archipelago. Imagine a buzzing hub, packed with daring explorers who unveil the distinct allure, and abundant biodiversity of this mind-blowing bay.
2. Viet Hai Village
Secondly, stands as a unique gem in Northern Vietnamese culture, Viet Hai village unveils an enchanting tapestry of local life and authentic customs. Nestled within the embrace of Cat Ba's majestic mountains and lush national park forests, this village lies a mere 10 kilometers. Embracing a remarkable rice culture and warm hospitality, it emerges as a captivating ecological haven.
3. Monkey Island
Thirdly, swing into adventure on Cat Dua Island, aka the groovy Monkey Island! It's a double whammy of fun with its playful monkeys and jaw-dropping bay views. Climb to the peak for the ultimate vista of Lan Ha Bay – it's a short trek, but the reward is totally worth it!
4. Cai Beo Floating Fishing Village
Next, explore the enchanting world of Lan Ha Bay, where time-honored culture and traditions float gracefully on the waters of the Cai Beo floating village. It's like diving into a living history book, where the locals have been casting their nets and sailing through limestone mountains for generations. Go right now!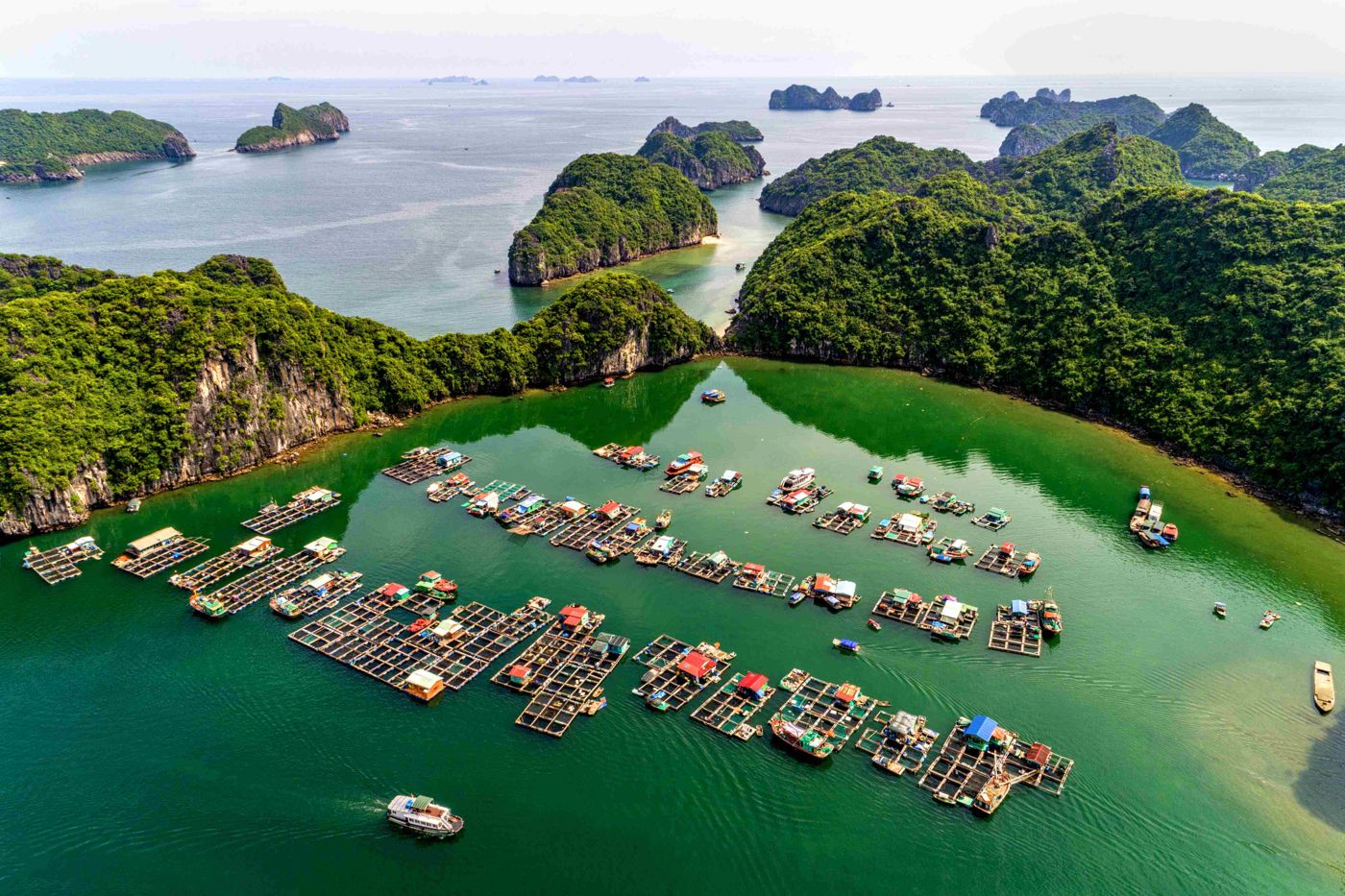 5. Cannon Fort
Moreover, if you want to catch an astonishing view, Cannon Fort is your ticket to paradise! This bad boy sits up high like a watchful parent, keeping an eye on the bay. Climb up its 177-meter-high hilltop, and you'll be treated to a mind-blowing panoramic sight that'll leave you speechless. So, get your cameras ready, 'cause you won't want to miss this amazing scene!
6. Luon Cave
Additionally, dive into the mystical world of a total diamond nestled on Bo Hon Island in Lan Ha Bay. This destination has got it all – jaw-dropping natural beauty, an explorer's dream come true! Once inside, it's like stepping into a chill oasis – cool air, tranquil waters, and pure serenity. Oh, and keep your eyes peeled for some cheeky monkeys playing hide and seek – they're the cherry on top of this awesome cave cake! So, what are you waiting for? Let's set sail on a wild adventure inside Luon Cave!
7. Trung Trang Cave
Finally, embark on an epic underground journey! It's like stepping into the very heart of Mother Nature's secret stash, where ancient stalactites and stalagmites come together in a wild dance of beauty and mystery. Prepare to be amazed as you wander through this natural wonderland and feel the earth's power pulsing through every inch of Trung Trang Cave.
Unlock the wonders of this quintessential land with your trusted companion, Vietravel! Don't hesitate to book your Lan Ha Bay day trip here.
III. How to travel to Lan Ha Bay?
Ready to set sail to the stunning gem? Vietravel's Lan Ha Bay travel guide will unveil some ways to get there:
1. By Air
First and foremost, embark on a journey to the mystical Lan Ha Bay. Get your wings ready, 'cause we're flying right into Cat Bi Airport! Once touched down, hop into a taxi or shuttle, and boom! You're on your way to the breathtaking Lan Ha Bay. Let's get this epic trip started!
Check out Vietravel Airlines's flight ticket here.
2. By Ferry/ Boat
Besides, the quickest and easiest route is by hopping on a ferry from the mainland. Catch those ferries at Got Harbor – Cat Hai Island – Hai Phong, and they'll whisk you away to the enchanting Cat Ba Island. From there, just hop in a taxi or shuttle, and you're all set to sail into the magical world.
Tap for more information about Hue Travel Guide
IV. How to get around Lan Ha Bay? – Lan Ha Bay Travel Guide
Welcome, wanderers, to the spellbinding place! Our extensive Lan Ha Bay travel guide has got a bag full of secrets just waiting to be unraveled, and with every step, it's like peeling back the layers of a fascinating mystery, leaving you craving more. So, get ready to be enchanted!
1. Kayaking
First, prepare for some up-close nature exploration! Kayaking is the way to go – access hidden spots tours can't reach. Ba Trai Dao Island, Tra Bau, and Ba Ham Lake are top picks for their picturesque scenery and sheltered spots. Let's paddle into paradise!
2. Cruise
Next, ready to set sail and cruise around the outstanding Lan Ha Bay? But hold your horses, 'cause you gotta plan ahead, especially when it's peak season! Check out some top-notch cruises like Indochina Sails, Orchid Cruise, and Bhaya Cruises. You can read its reviews like a pro and pick the one that'll make your adventure the best ever.
V. What to eat in Lan Ha Bay? – Lan Ha Bay Travel Guide
Are you ready to dive into a culinary adventure like no other? With Vietravel's Lan Ha travel guide, we'll hook you up with the most mouthwatering seafood dishes you gotta try. Get your taste buds ready for an unforgettable feast! Let's dig in!
1. Tom Hum Dut Lo Sot Trung (Grilled lobsters)
First of all, embark on a flavor-packed journey through the tantalizing world of lobsters! Wait, there's more! The locals have their own special trick up their sleeves – grilling these lobsters with egg sauce, creating a delicious symphony of flavors! Let's get crackin'!
2. Cua Rang Muoi (Oven-roasted crabs with salt)
Secondly, among the delectable seafood offerings, one delicacy stands out - oven-roasted crabs with salt. This ain't your average crab food – oh no, it's a juicy and savory delight that'll have you craving for more. Seasoned to perfection with salt, garlic, and all the good stuff, these crabs are the real deal. Trust us, one bite and you'll be hooked!
3. Tu Hai Hap (The steamed geoducks)
Next, immerse yourself in a world of flavor with a favorite treat – geoduck! These bad boys are steamed to juicy excellence, keeping all that scrumptious goodness intact. But wait, it gets better – they're infused with citronella for an aromatic and healthy twist. Add a kick of chili and pineapple, and you've got a flavor explosion that'll make your taste buds do the happy dance!
4. Vem Nuong Mo Hanh (Green mussel grilled with spring onions)
Now, have your taste buds blown away by the irresistible flavors of Vem! These little morsels are the grilling champs, sizzling with spring onions and peanuts, creating a mouthwatering symphony of flavor and aroma that'll have you drooling from a distance.
5. Sam Trung (Horseshoe crab)
Last but not least, hold onto your taste buds, folks, 'cause we're diving headfirst into the wild world of horseshoe crab dishes in Lan Ha Bay! Picture this: the succulent crab egg, grilled, served with tangy grapefruit, zesty vinegar-soaked radish, aromatic basil, crunchy fried peanuts, crispy fried onions, and the grand finale – a lip-smacking sweet and sour fish sauce that ties it all together like a flavor explosion in your mouth!
Where to eat seafood in Lan Ha Bay:
•Aroma Cat Ba Seafood Restaurant: No. 175A, Street 1/4, Cat Ba, Vietnam
•Dolphin Restaurant: No. 4 Nui Ngoc Street, Cat Ba, Vietnam
•Le Pont Cat Ba Bar & Restaurant: The way to Cat Co 3 beach, Cat Ba Island, Hai Phong
From savory seafood dishes to delightful delicacies, Lan Ha Travel Guide unveiled the gastronomic treasure that awaits you. Don't miss out on these scrumptious treats – book a tour with Vietravel now and let your taste buds go wild!
VI .Conclusion:
In conclusion, if you're itching to dive into the beauty of this hidden gem but feeling a bit unsure, worry not! Our ultimate Lan Ha Bay travel guide has got your back. With Vietravel as your trusty sidekick, you'll have friendly guides, smooth transportation, and carefully curated itineraries to make your journey a breeze and a blast. So, let's leave hesitation behind and get ready for an unforgettable escapade!
Plan your Lan Ha Bay adventure here
Check out our comprehensive Ha Long Bay Travel Guide
As the Largest Aviation-Tourism corporation in the country, Vietravel consistently provides high-standard services at the most competitive prices so that you can discover the beauty of not only Vietnam but all of Southeast Asia.
Please contact us for more information
Vietravel – Asia's Leading Tour Operator
Hotline: (84) 35 235 61 61
Email: [email protected]
Website: www.vietravelasia.com
#VietravelAsia #Vietravel #Vietnam