HA LONG BAY TRAVEL GUIDE 2023 - All you need to know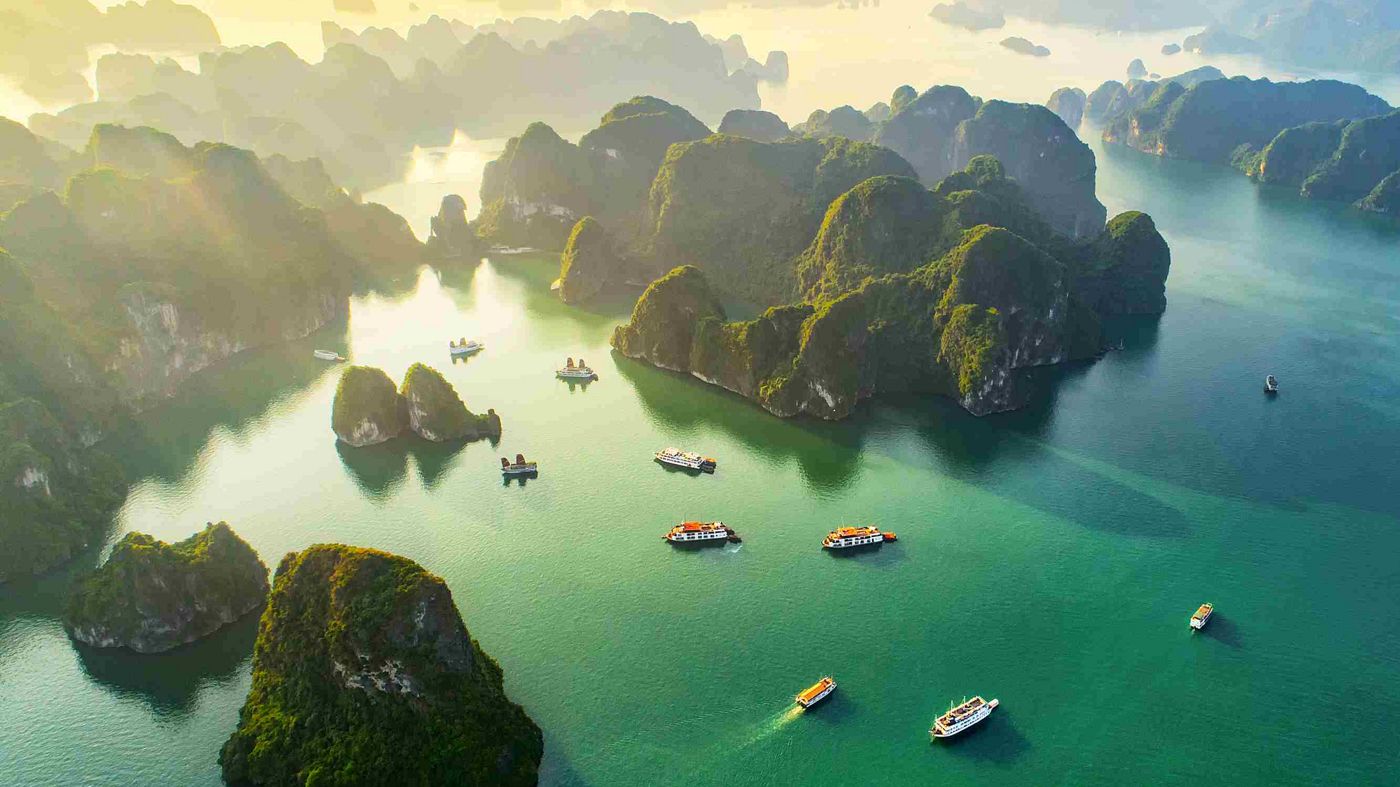 Welcome to the enthralling beauty of Ha Long Bay, which is located off the coast of Northern Vietnam. With its iconic limestone formations rising from emerald waters, the Bay of Descending Dragons enchants visitors with its astounding characteristic. Recognized as a UNESCO World Heritage Site in 1994 and featured among the New Seven Natural Wonders of the World in 2012, Ha Long is guaranteed a dream holiday to do without waiting. In truth, this geological marvel features stunning scenery, idyllic islands, mystical caves, and vibrant fishing villages. Absolutely everything you need to know about visiting this marvelous natural wonder will be unveiled in our definitive Ha Long Bay travel guide by Vietravel - Vietnam's Largest Aviation and Tourism Corporation. Let's check it out!
Also read: Vietnam Travel Guide
I. When is the best time to visit Ha Long Bay? – Ha Long Bay travel guide
Discover the ever-changing poetry of Ha Long Bay, where nature's verses unfold with each passing season. In the gentle embrace of September to November or the lyrical dance of March to May, immerse yourself in the symphony of favorable weather and tranquil waters. Moreover, these months offer a dry climate and pleasant temperatures for enjoyable activities and sightseeing. If you're on a budget, May to September are ideal, with significant discounts on cruise trips. However, be on the lookout for sporadic storms in July and August. Despite this, let the rhythm of Halong Bay's enchanting beauty guide your poetic journey through this celestial masterpiece.
Also read: Hanoi Travel Guide
II. Where are the best places to visit in Ha Long Bay?
There are numerous attractive sites to visit in our ultimate Ha Long Bay Travel Guide. Therefore, if you have enough time, none of them should be skipped. Below is a detailed list of the best spots to explore this astonishing work of art.
Also read: Sapa Travel Guide
1. Cat Ba Island
In the first place, designated as a World Heritage Site and biosphere reserve, Cat Ba National Park is a sanctuary for diverse wildlife. The island's picturesque white sand beaches and majestic limestone cliffs will leave you in awe. Climb Hon tilt, trek through the National Park, or scale unprotected cliffs for thrilling adventures. Additionally, don't forget to snorkel for marine wonders and create your own Cat Ba experience.
2. Sung Sot Cave
Then, prepare to be enchanted by the legendary Sung Sot Cave, an iconic gem of Ha Long Bay. Unlike the grandeur of Phong Nha - Ke Bang, this cave entrance beckons visitors with 100 stone steps, unveiling a realm of geological wonders. Admire the splendor of brilliant colors and the enthralling beauty of stalactites and stalagmites. Without a doubt, Sung Sot Cave is a highlight of any journey through Ha Long Bay, offering breathtaking views of nature's artistry.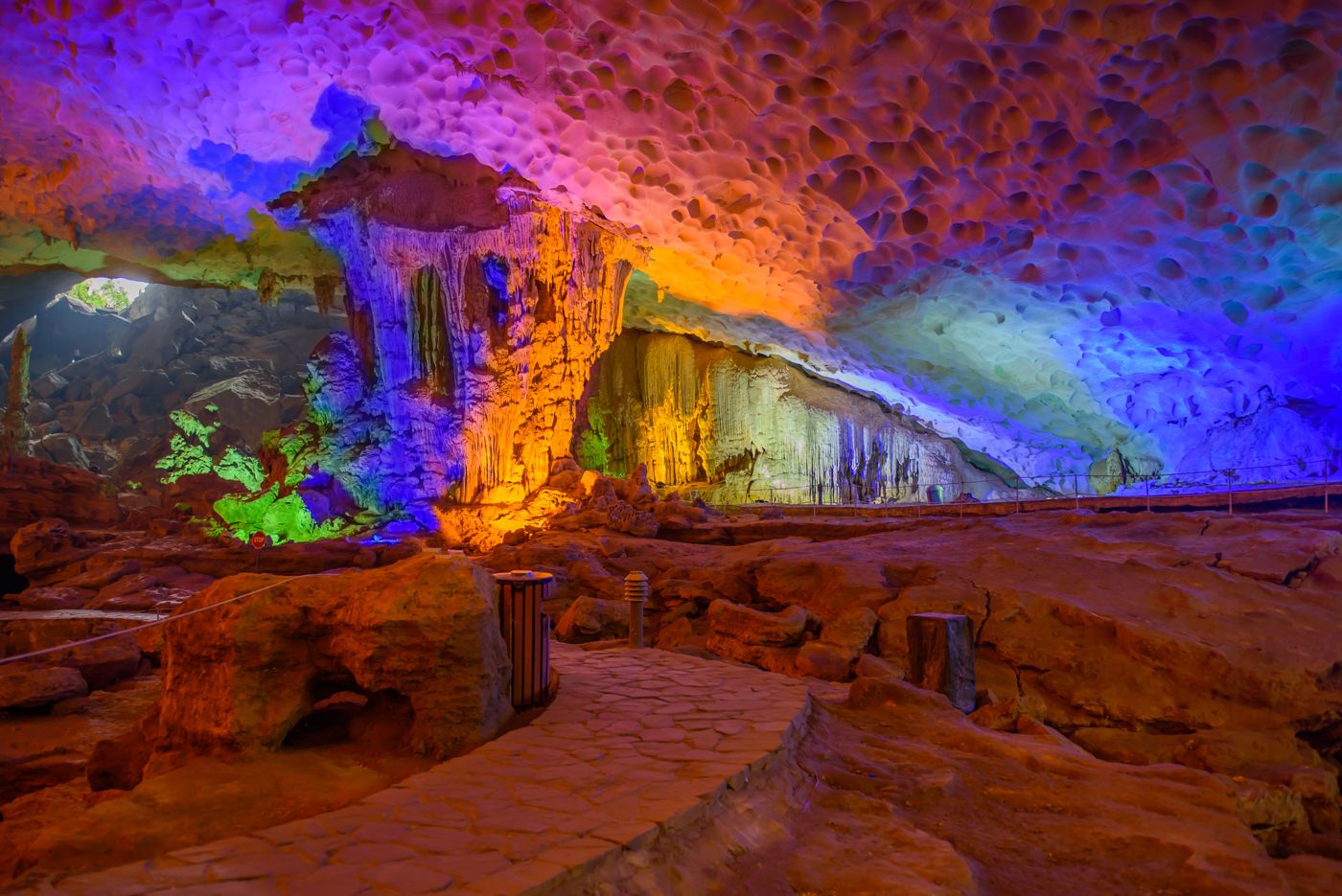 3. Ti Top Island
Besides, a small paradise adorned with pristine white sands and calm turquoise waters - Ti Top Island awaits you. Dive into exhilarating water sports, paddle through the glistening bay on a kayak, kayak through the glistening bay, and snorkel among the vibrant marine life. Ascend the 427 steps to the mountaintop gazebo for incredible panoramic vistas that will steal your breath away.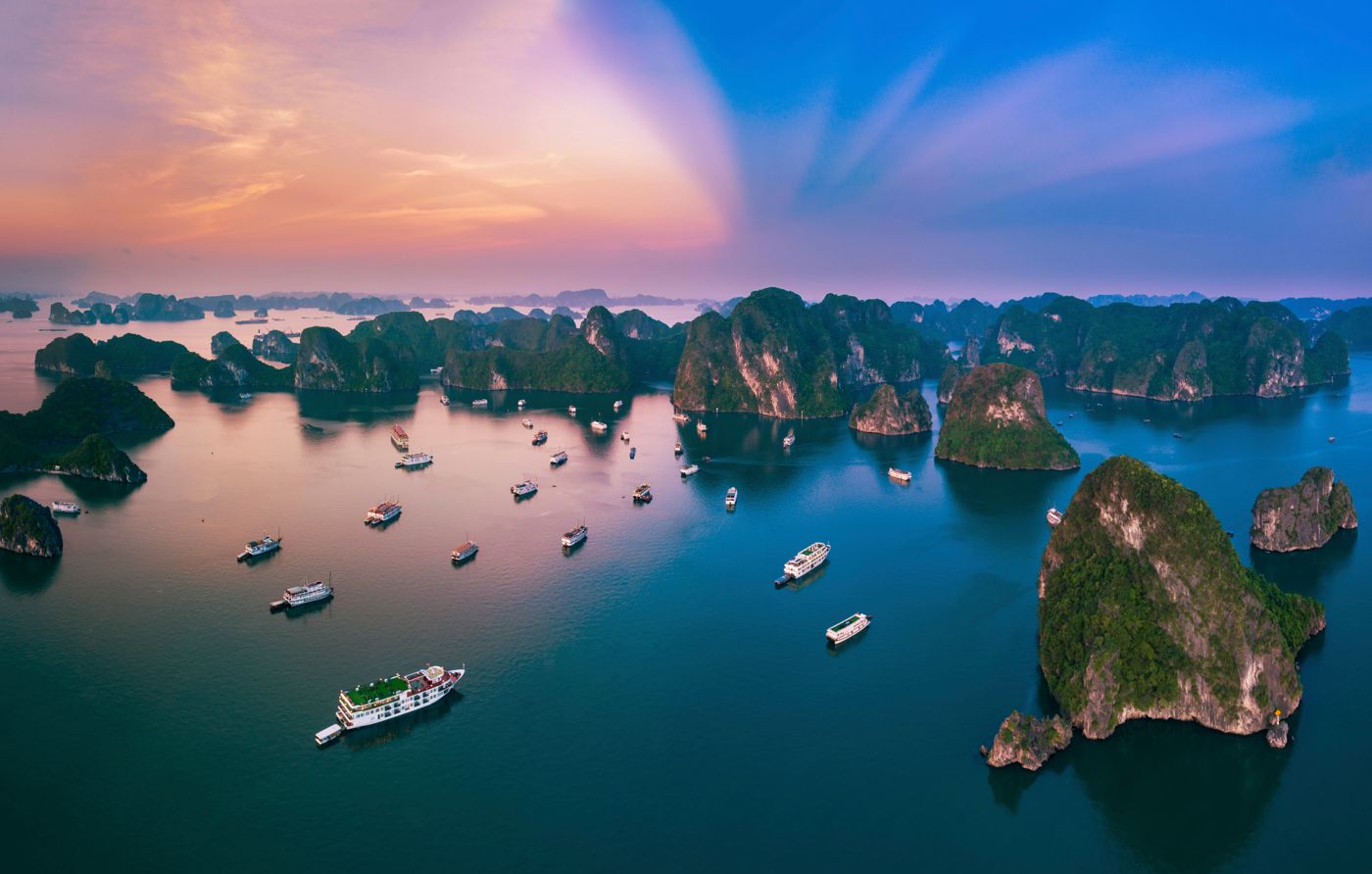 4. Thien Cung Cave
Moreover, nestled in the southwest corner of Ha Long Bay, Thien Cung Cave makes an impression on visitors with its spectacular formations of stalagmites. You will be astounded by the vivid panoramic view and distinctive system of stalactites as you enter the mystical cave, also known as Heavenly Palace Cave.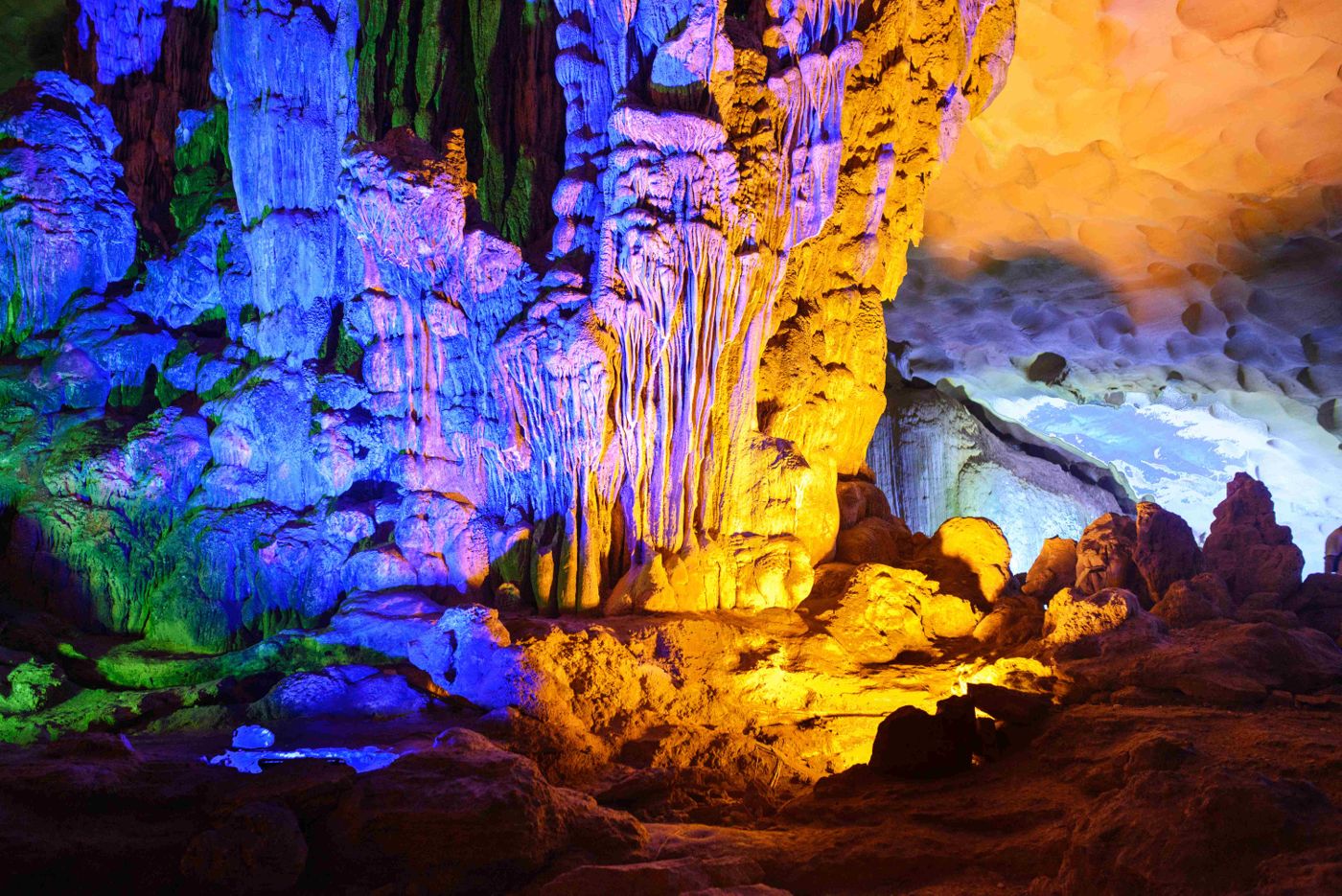 5. Monkey Island
Get lost in the captivating allure of Monkey Island, which is tucked away within the stunning scenery of Ha Long Bay. Meet the playful monkeys that live on this island and get a close-up look at them in their habitat. Relax on pristine beaches, and take in magnificent views of Monkey Island.
6. Dark & Light Cave
Especially, discover the enthralling beauty of Dark & Light Cave, an extraordinary gem nestled on the eastern side of Cat Ba Island in Ha Long Bay. This unique cave system, accessible only by boat or kayak, provides two distinct experiences. Navigate the dimly lit passages of the mysterious Dark Cave, illuminated by flashlights. Then enter the bewitchment of the Light Cave, where natural light filters through crevices to create a celestial sanctuary. Please keep in mind that, while the Light Cave is open all year, but the Dark Cave may be submerged during high tides, adding to its drawing and mystery.
7. Cua Van Fishing Village
Renowned as one of the most prominent fishing communities in the region, the charming Cua Van village is nestled in a tranquil sea. Witness the breathtaking oceanic scenery beneath your boat, resulting in a priceless travel experience. In fact, Cua Van is one of the world's top 16 most beautiful ancient villages. It provides a glimpse into the enduring culture of the local fishermen, with colorful houses, and rustic fishing nets.
8. Ba Trai Dao Beach
Last but not least, escape to the romantic paradise of the Ba Trai Dao Islets and Beach. This hidden gem, which is only 22 kilometers from Ha Long City, but features three majestic islets that resemble enormous peaches. Enjoy the gentle waves of the calm sea, which reveal fascinating marine life and crystal-clear waters throughout the year.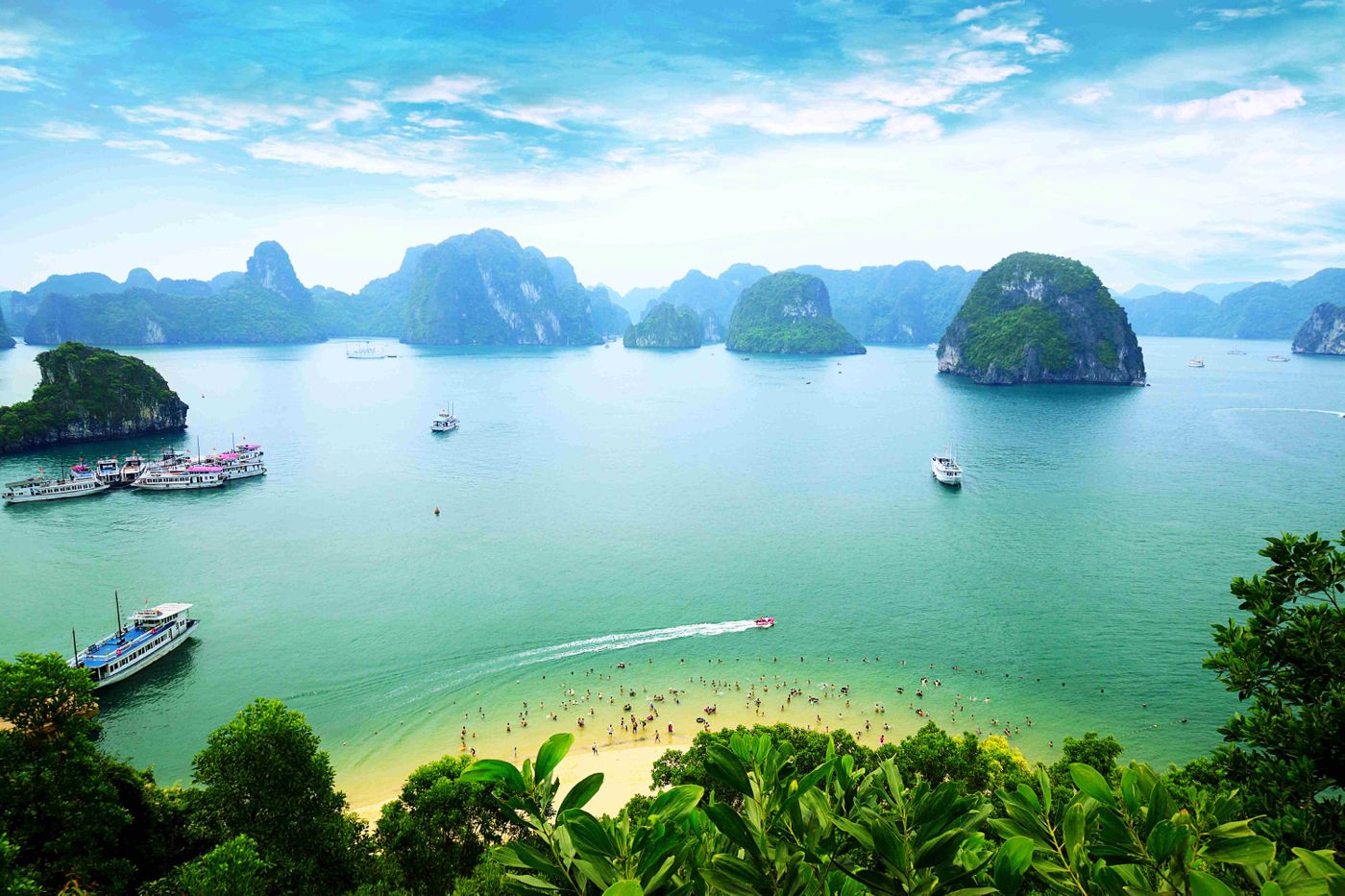 Let Vietravel guide you on a journey filled with awe-inspiring landscapes and cherished memories that will last a lifetime. To experience the astonishing view of this renowned New Seven Natural Wonders of the World, plan your day trip right now. Tap here.
III. How to travel to Ha Long Bay? – Ha Long Bay travel guide
Getting to the magnificent emerald waters of the Gulf of Tonkin is easier than expected. Thanks to the comprehensive guidance offered by Vietravel's Ha Long Bay travel guide, you'll find everything you need to know to get here and start your incredible adventure. Keep going for more essential information.
1. By Air
First, to get to Ha Long Bay by air, fly to Van Don International Airport, which is the closest airport to the area. Following that, you must arrange a transfer or take a taxi to the bay, which is approximately 50-60 kilometers away. The flight duration from major Vietnam's cities like Da Nang or Ho Chi Minh City to Van Don Airport is approximately 2 hours.
Alternatively, you can fly to nearby airports such as Cat Bi International Airport (Hai Phong) or Noi Bai International Airport (Hanoi) and then transfer to Ha Long Bay.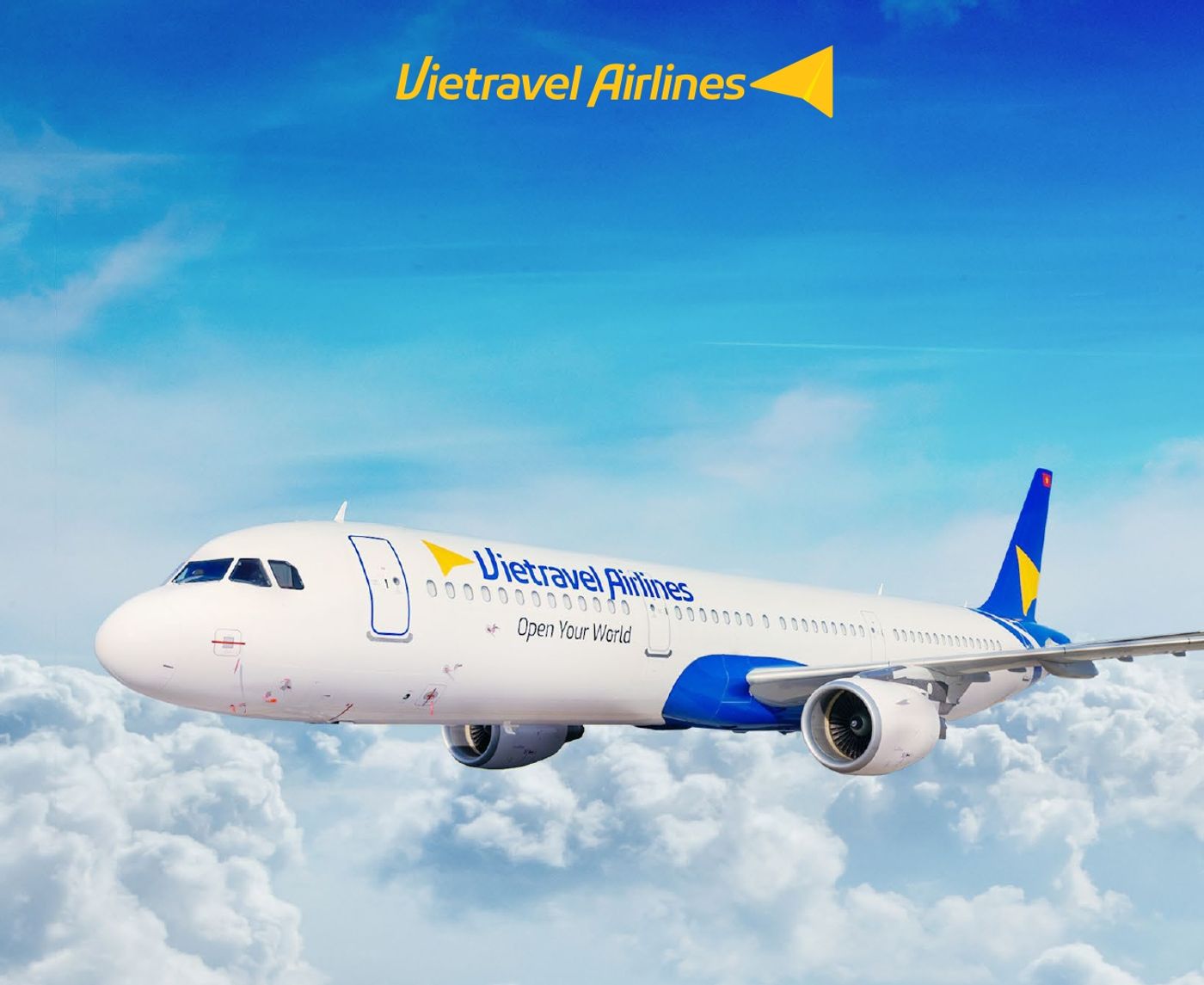 Check out Vietravel Airlines's flight tickets to Hanoi here.
2. By Train
Particularly, if you look for a budget-friendly but interesting way to get to Ha Long Bay, taking the train is an ideal option. Despite its longer duration and basic amenities, this safe and affordable mode of transportation offers spectacular scenic views. There are 2 choices for traveling by train, which takes about 6-7 hours. You can either take a direct train from Hanoi to Ha Long or a train from Hanoi to Hai Phong and then a shuttle bus to this jaw-dropping tourist attraction in Southeast Asia.
Tap here to check the train route from Hanoi to Ha Long.
3. By Bus or Vietravel's private car/coach
Third, for an affordable and convenient option, consider traveling to Ha Long Bay by bus or Vietravel's private car/coach services. Buses, with flexible schedules, provide a budget-friendly choice, although the travel duration may be longer. On the other hand, for a customizable and hassle-free experience, Vietravel offers private car or coach services. Explore the best deals on chauffeured private vehicles from Vietravel, Asia's leading tour operator via www.vietravelasia.com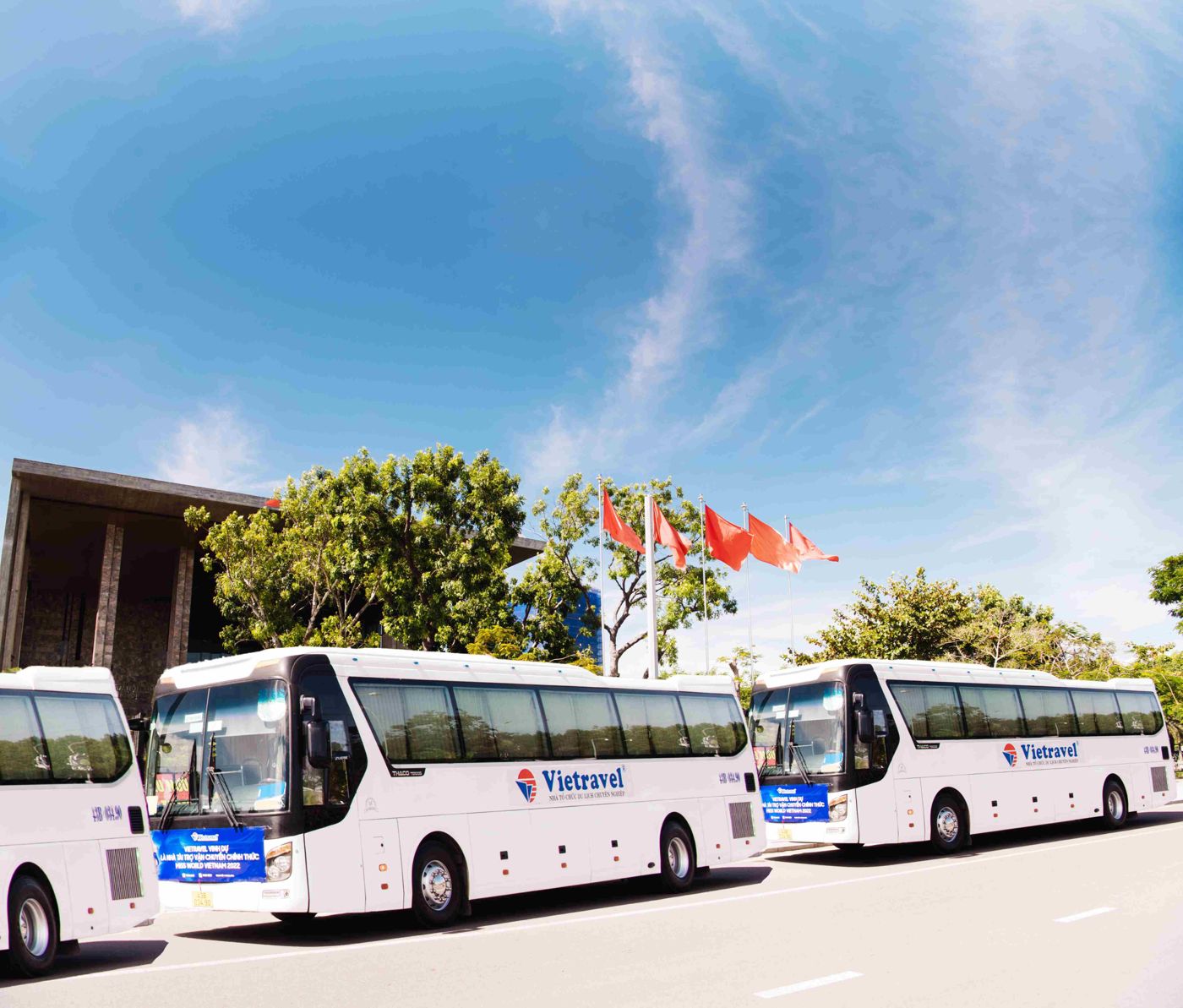 Check for: Hue Travel Guide
IV. How to get around Ha Long Bay? – Ha Long Bay travel guide
With a variety of transportation options to suit every traveler's taste, getting around Ha Long Bay is a breeze. Explore the natural wonders of the magical UNESCO World Heritage Site as you surf its mystical waters. Whether by boat, kayak, or seaplane, this remarkable destination beckons you to embrace its splendid characteristic
1. Boat/ Cruise
First up, the best way to admire the stunning Ha Long Bay is by boat or cruise. Choose from traditional junk boats, luxury cruises, or private charters within one-day cruises or multi-day excursions. Experience the essence of tranquility as you navigate the turquoise waters, capturing the splendor spirit of the legendary bay. Don't miss the chance to explore the tranquil allure of this astonishing destination.
2. Kayak
By kayaking, you can navigate between limestone karsts, find hidden lagoons, and explore enigmatic caves. Whether you're a novice or a seasoned player, this leisure water sport in Ha Long Bay promises life-changing experiences.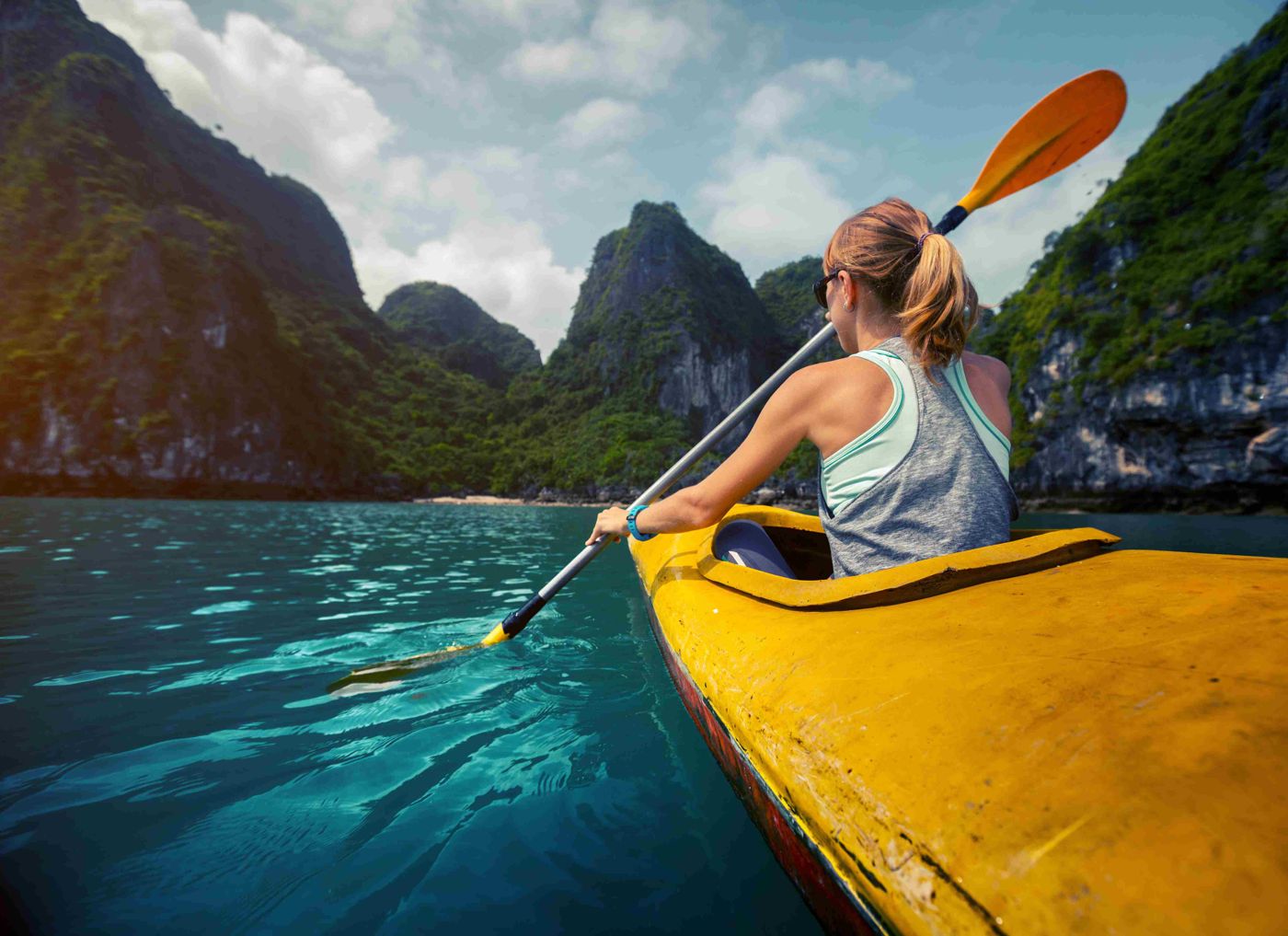 As Vietnam's Largest Aviation and Tourism Corporation, Vietravel sincerely hopes that the tips in our Ha Long Bay travel guide help you navigate this poetic land with ease.
V. What to eat in Ha Long Bay? – Ha Long Bay travel guide
Renowned as the best of Northern Vietnamese cuisine without being pretentious, Ha Long Bay's cuisine is a combination of fresh seafood and skillful processing techniques. Hence, don't miss out on the following specialties in our comprehensive Ha Long Bay travel guide. To tantalize your taste buds, scroll down!
1. Cha Muc (Grilled chopped squid)
To begin, a must-try food when exploring this magnificent bay is the irresistible flavors of Cha Muc. This local delicacy is known for its exceptional taste and is made from finely minced squid, expertly shaped into delectable circles, and grilled to perfection. Pair it with steamed sticky rice or regular steamed rice for a mouthwatering combination. Quang Phong Restaurant, located at C112A Block, Old Quarter Area, Ha Long City, is a recommended spot to savor the scrumptious dish.
2. Chao Ha (Acorn Barnacle Porridge)
Second, taste the mouthwatering flavors of Chao Ha, an iconic masterpiece in this famous destination. The porridge is a delightful blend of sweetness and nutty richness made from the succulent acorn barnacle. Before being added to the cooked rice, the fresh barnacle is stir-fried with onion after being marinated with pepper and fish sauce. This savory treat is widely available in Ha Long restaurants for a reasonable price, enabling you to easily savor its delights.
3. Sam (Horseshoe Crab)
Notably, if there's one specialty that showcases Ha Long seafood, that's Sam. It is used in a variety of dishes, from horseshoe crab salad to stir-fries, and served with sticky rice, all of which are made with lemongrass and other aromatics. Since the horseshoe crab is a local delicacy, it is accessible and reasonably priced. There's no doubt this is an authentic delicacy!
4. Sa Sung (Sipunculus)
Moreover, a local dish found only in the majestic bay is Sa Sung. These sandworms are transformed into amazing taste when stir-fried with savory sauces, herbs, and vibrant vegetables. Visit the seafood market in the region to purchase fresh or dried Sa Sung. Besides, for an exquisite dining experience, venture to Van Don Seafood 399, located at 399 Le Anh Tong, Cai Rong town, Van Don district, Quang Ninh.
5. Ruou Nep Ngam Hoanh Bo (Hoanh Bo soaked wine rice)
In particular, a distinctive wine found in Ha Long Bay is Ruou Nep Ngam Hoanh Bo. This one-of-a-kind libation is made from locally grown glutinous rice and goes through a meticulous fermentation process. Infused with the essence of Hoanh Bo forest leaves, it offers a harmonious balance of sourness and sweetness. Enjoy this refreshing elixir, which is ideal for invigorating the senses and aiding digestion, especially in the summer.
These mentioned above are just a few of the many tantalizing delicacies that our Ha Long Bay travel guide offer. Book your trip to this legendary destination today with Vietravel and unlock a world of tantalizing delights and unforgettable gastronomic experiences.
VI. Conclusion
In a nutshell, ditch the doubts and dive into the marvelous Natural Wonders. Behold our extensive Ha Long Bay travel guide, where a local buddy awaits to soak in the serenity. Vietravel offers warm camaraderie, savvy guides, top-notch rides, and thoughtfully curated adventures for a memorable trip.
Plan your Ha Long Bay adventure here.
As the Largest Aviation-Tourism corporation in the country, Vietravel consistently provides high-standard services at the most competitive prices so that you can discover the beauty of not only Vietnam but all of Southeast Asia.
Please contact us for more information
Vietravel – Asia's Leading Tour Operator
Hotline: (84) 35 235 61 61
Email: [email protected]
Website: www.vietravelasia.com
#VietravelAsia #Vietravel #Vietnam