Pho, a must-try dish in Ha Noi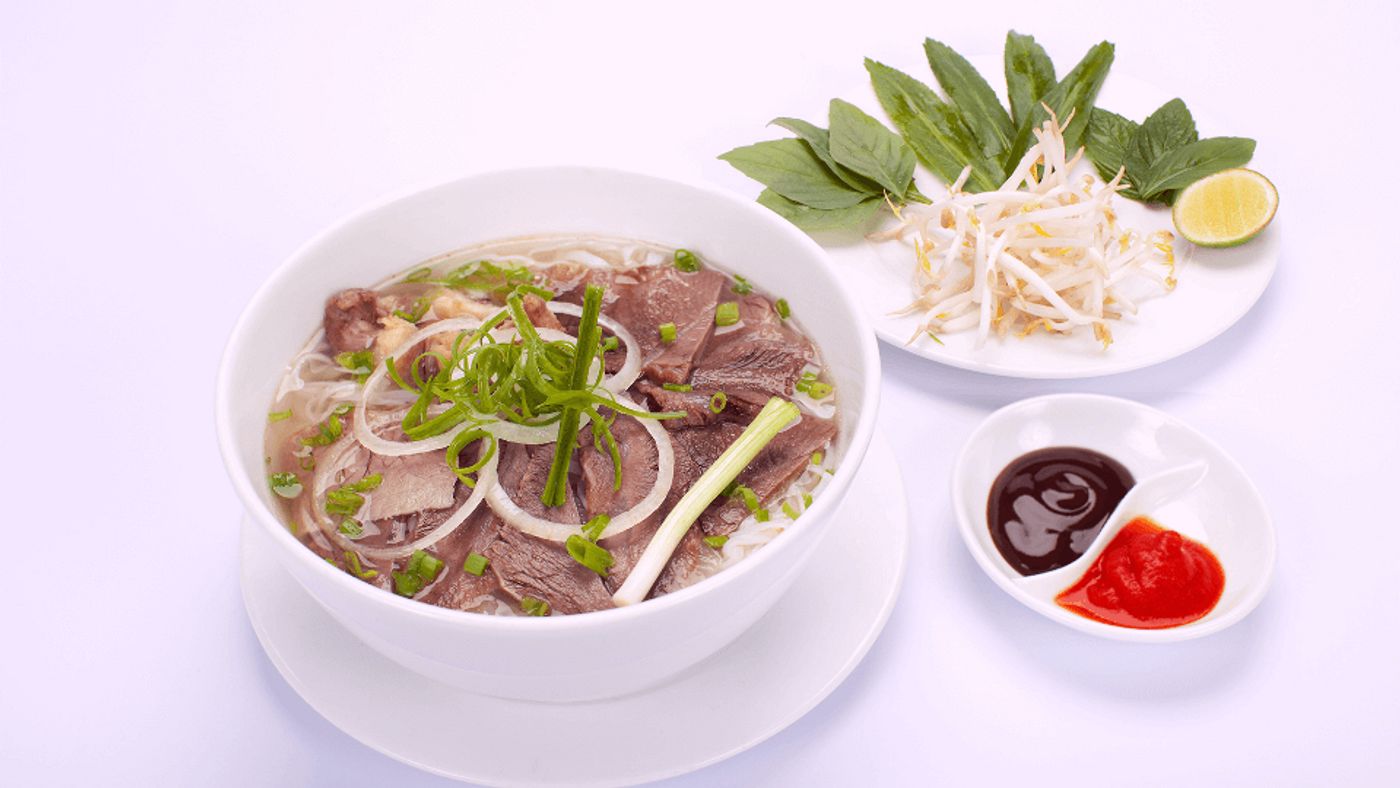 Pho, for a very long time until now, has been considered the delicacy of Ha Noi cuisine and known as one of the best food in the world. It is always an irresistible attraction to any traveler who would like to discover the Hanoian eating culture.
Here is the guide for best pho in Ha Noi, so you can truly taste authentic pho like a local.


Gia Pho Bat Dan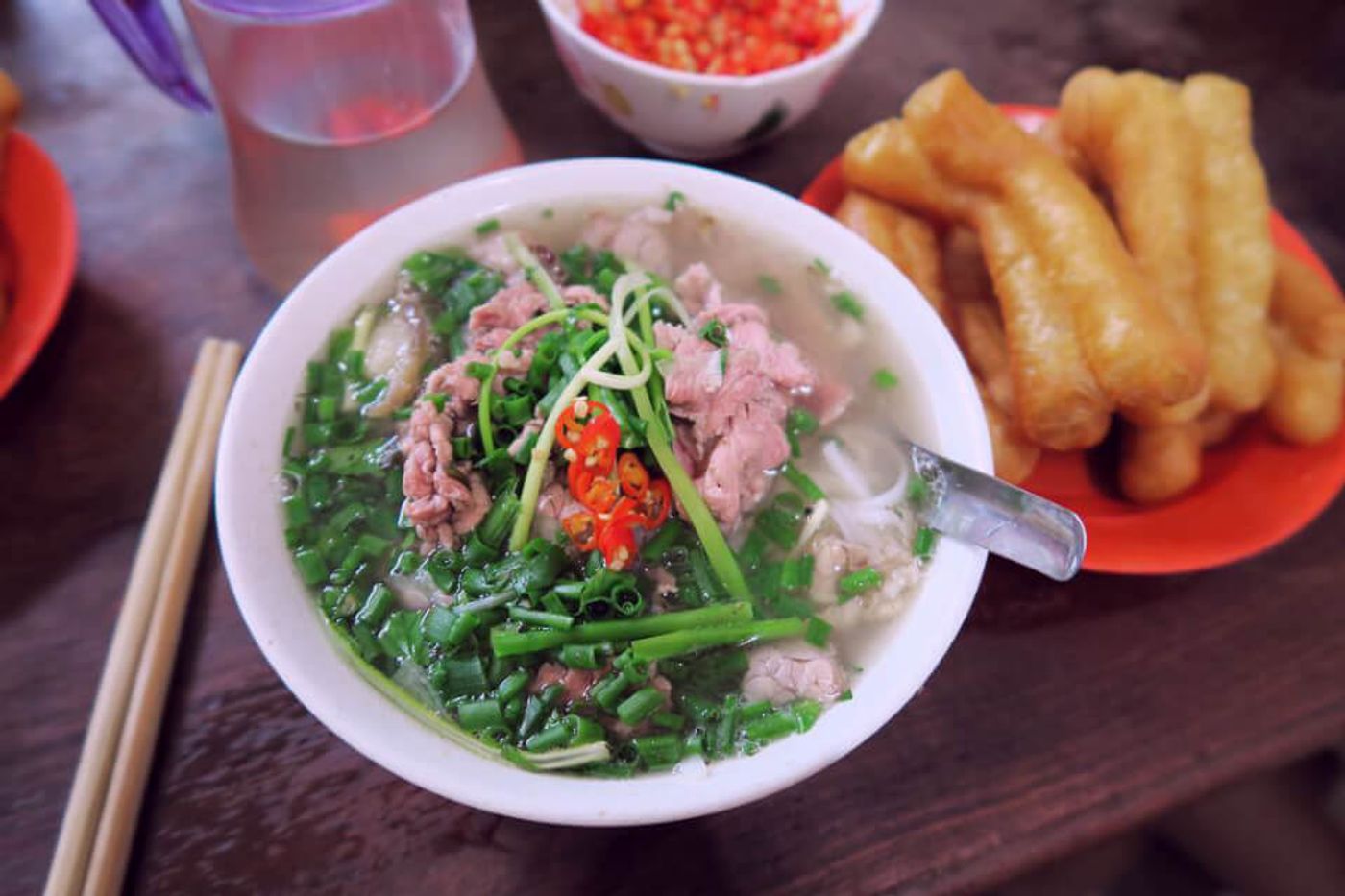 To experience the real Ha Noi culture of pho, this is a definite go-to place. Gia Pho Bat Dan has one of the best broths at a reasonable price in Vietnam. Open for breakfast, lunch, and dinner, you could stay there or come back for its signature pho throughout your trip.
Come early as the restaurant tends to get crowded with lines in the streets. However, the chefs are very quick to prepare your order. Enjoy an authentic pho broth with tender beef.
Address: 49 Bat Dan Street, Hoan Kiem District, Ha Noi


Pho Gia Truyen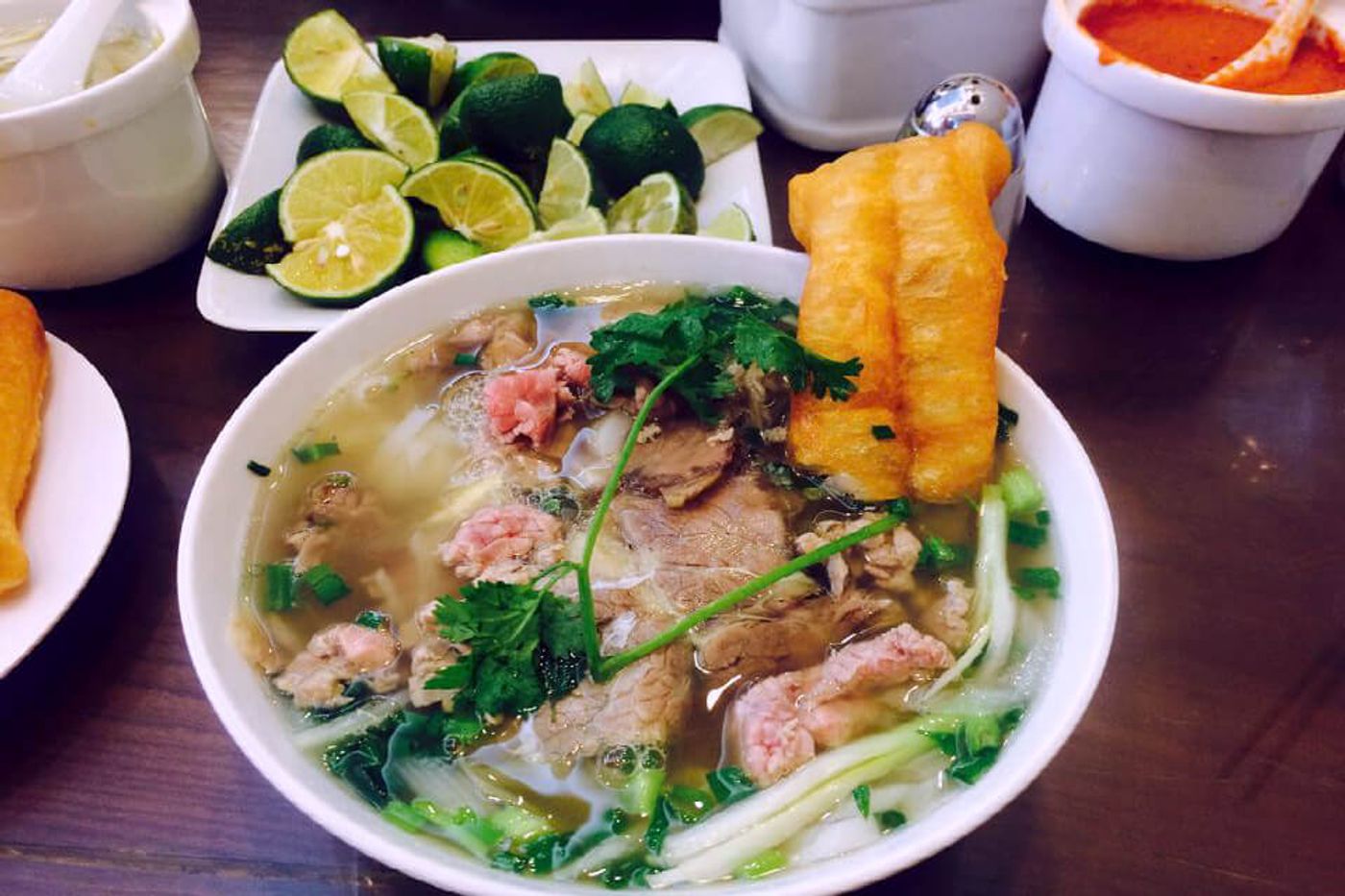 This rundown shop is located at the heart of the old quarter. Do not be discouraged by the little stools and basic tables, this is the best pho joint in all of Ha Noi and has been there since the '60s, saving the same, consistent recipe that has remained unchanged since. You can tell you have arrived at the right spot when you see half of Ha Noi queuing outside to get a fix, and, when table space runs out, people eat perched up on their bikes.
The only thing on the menu is beef noodles, and the broth here is clear and rich with a subtle blend of many flavors. The beef is the right amount of tender and soft with a glowing pink hue, and no matter how many times you ask what their secret to the best bowl of pho is, they will not tell you!
Address: 49 Bat Dan, Cua Dong, Ha Noi


Pho Thin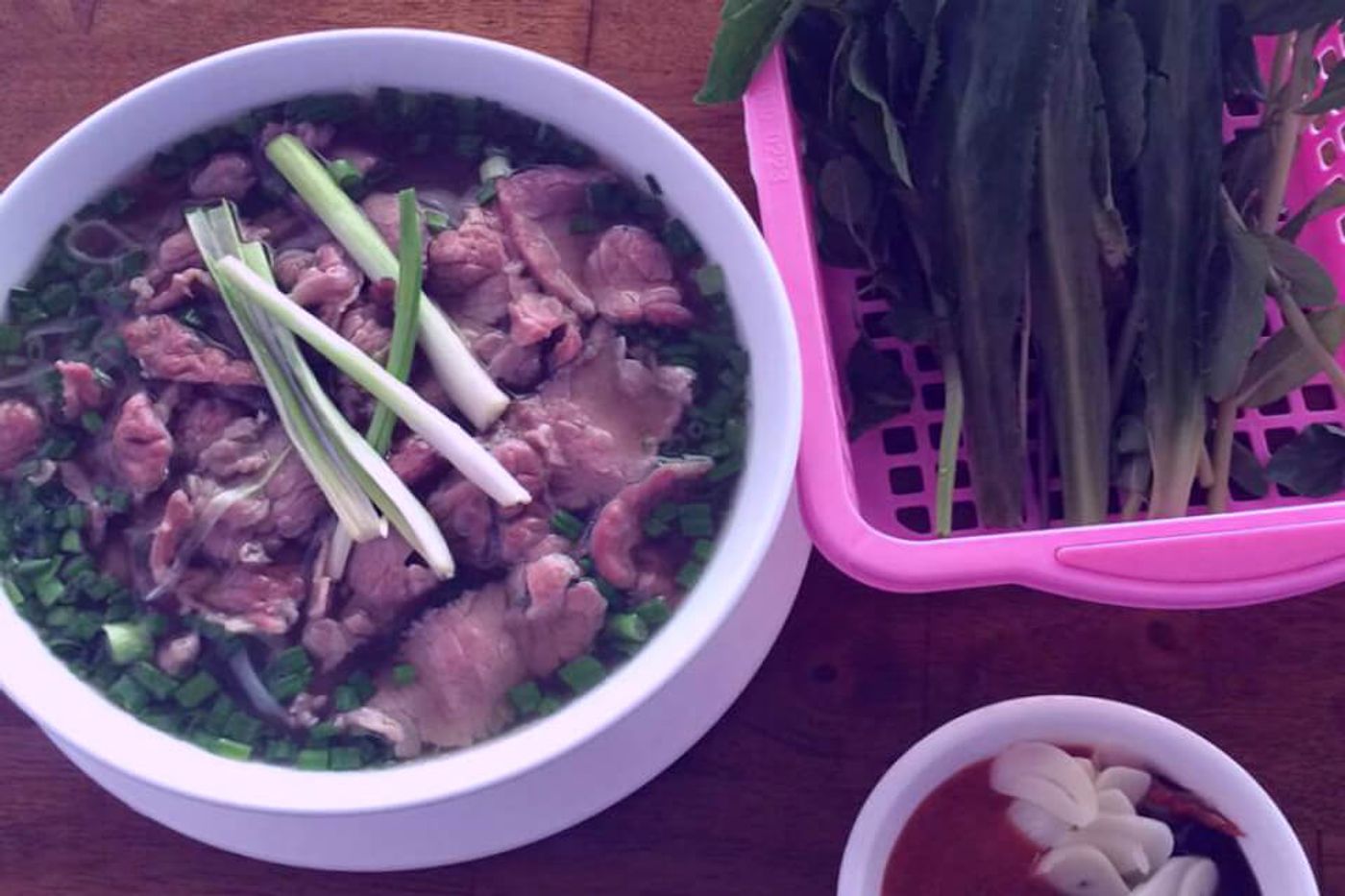 Pho Thin is a little ways away from the center of Ha Noi Old Quarter, but many people still make this journey, sometimes on a daily basis, just to have a bowl of pho here. Serving their loyal and new customers for over 30 years, every bowl of pho served here is consistent and never fails to delight its patrons.
Pho Thin stands out from other pho restaurants because the recipe uses stir-fried beef instead of raw beef. Do not forget to order yourself some "quay," dough sticks to dip into the broth and eat along with the noodles.
Address: 13 Lo Duc, Ngo Thuy Nham, Ha Noi


Pho 10 Ly Quoc Su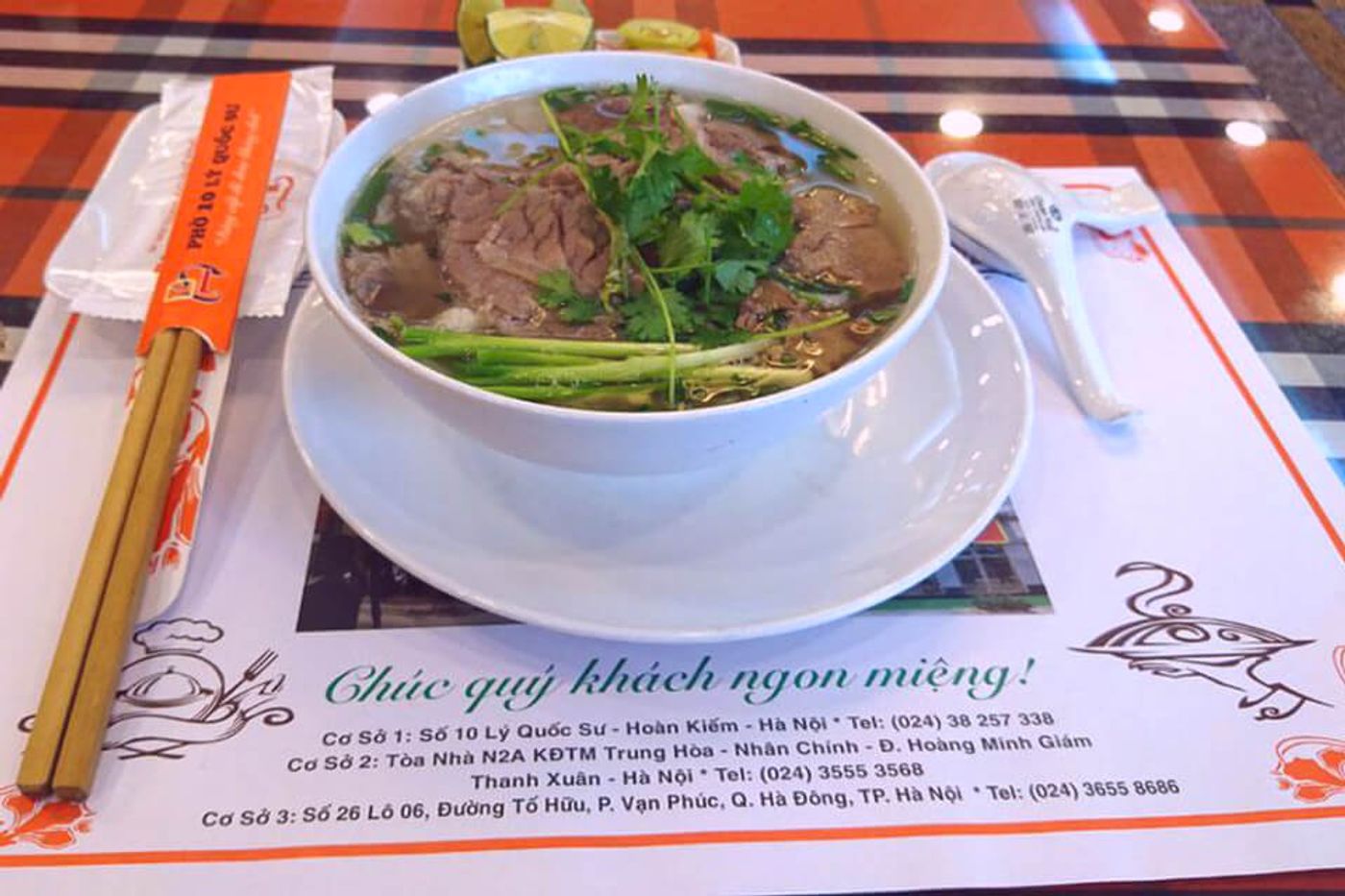 Due to its popularity and pho goodness, this restaurant now has three locations in Ha Noi. The best one is still the original location down Ly Quoc Su Street and, as usual, the pho bowls here are cooked to perfection. The broth is subtle with no one flavor overpowering the others; the noodle perfect and the meat tender.
There are six different kinds of pho here, all with beef, and prepared in different ways. Go easy on the spicy Sriracha sauce you find on every table; you do not want to end up crying as you eat your meal.
Address: 10 Ly Quoc Su Street | corner of Chan Cam St, Ha Noi




Pho Suong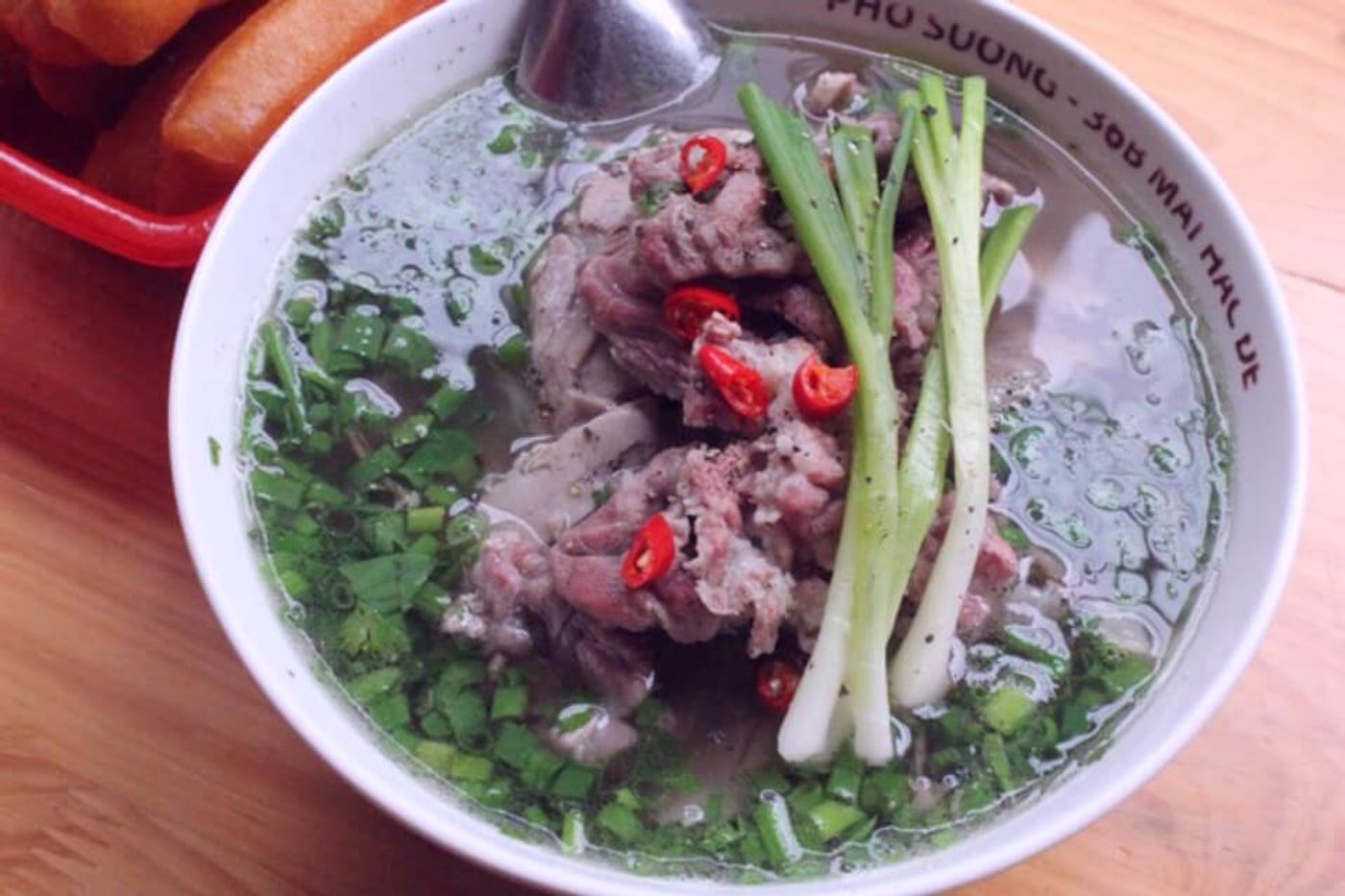 Walking off from the lake, wandering into Dinh Liet Street where plenty of scarfs, souvenirs and paintings are sold, you can find a tiny alley called Trung Yen where Pho Suong is located. Like many other popular places, this little shop has been here for many years. The broth here is famous to be light but still retains the sweetness of meat and bone marrow. Beef is sliced in big chunk but is definitely still very tender and succulent in your mouth. The shop may be a little small but the owners are friendly and always delighted to serve you.
Address: 24B Ngo Trung Yen, Dinh Liet, Hang Bac, Hoan Kiem, Ha Noi
Source Internet