Michelin Guide honors 103 restaurants and eateries in Vietnam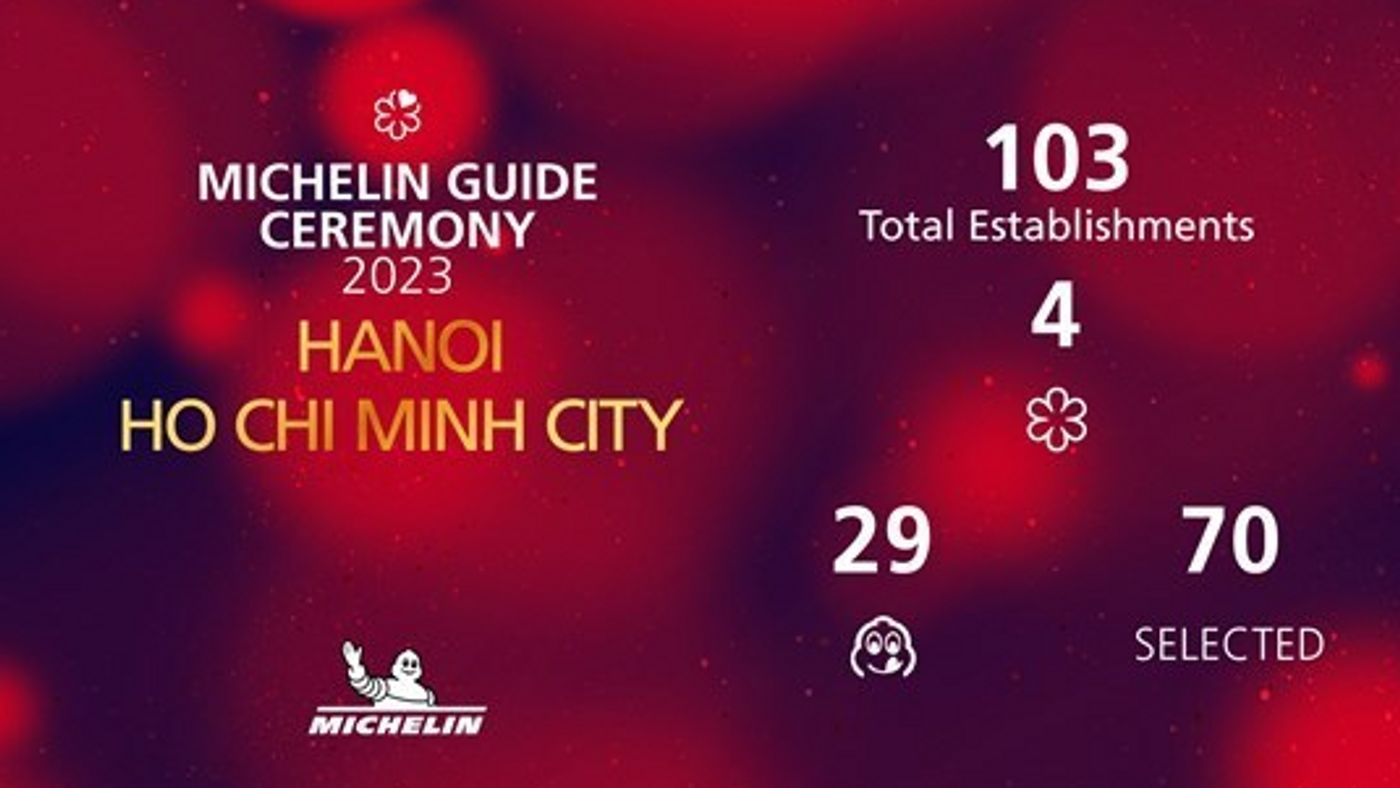 For the first time, 103 restaurants and eateries in Vietnam have been honored by Michelin Guide, and four of them were awarded a prestigious Michelin Star at a ceremony on June 6 night.
Over the past year, Michelin inspectors rigorously evaluated these culinary gems, considering factors such as the chef's artistry, flavor harmonization, cooking techniques, ingredient quality, and menu consistency. In the Michelin system, one star denotes a remarkable dining experience, two stars represent outstanding cuisine that merits a detour, and three stars signify extraordinary gastronomy worth embarking on a special journey for.
Four restaurants in Hanoi and Ho Chi Minh City (HCMC) have received Vietnam's first-ever Michelin stars, including Hibana by Koki, Gia, and Tam Vi in Hanoi, and Anan Saigon in Ho Chi Minh City, which follows its recognition earlier this year as one of the top 50 restaurants in Asia. Gia, the culinary realm of chef Sam Tran, was also acknowledged by the Michelin Guide. Meanwhile, Hibana by Koki, an exquisite Japanese dining destination, resides within a luxurious 5-star establishment in Hanoi, and Tam Vi captivates with its authentic Vietnamese flavors at an affordable price.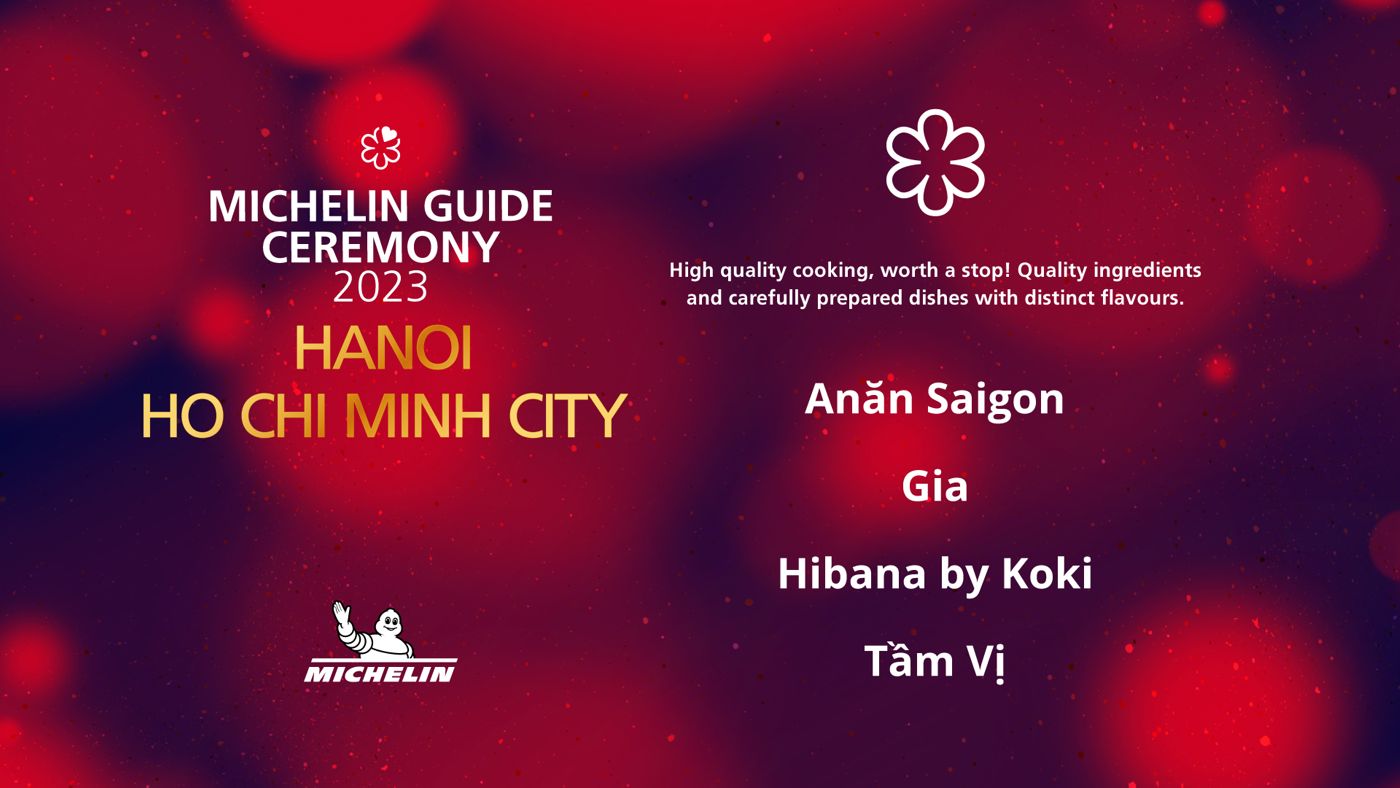 Alongside the four distinguished Michelin-starred establishments, a remarkable 103 eateries in Hanoi and HCMC have secured their places in other esteemed categories, such as Michelin Selected, Michelin Guide Special Awards, and the Bib Gourmand.
During the ceremony, the coveted Bib Gourmand distinction was awarded to 29 establishments, with 13 located in Hanoi and 16 in HCMC. The Bib Gourmand recognizes eateries within the Michelin Guide selection that offer exceptional quality cooking at moderate prices. What's particularly inspiring is that more than half of these Bib Gourmand recipients specialize in Vietnamese cuisine or street food, showcasing the deep-rooted popularity of street food in local culture.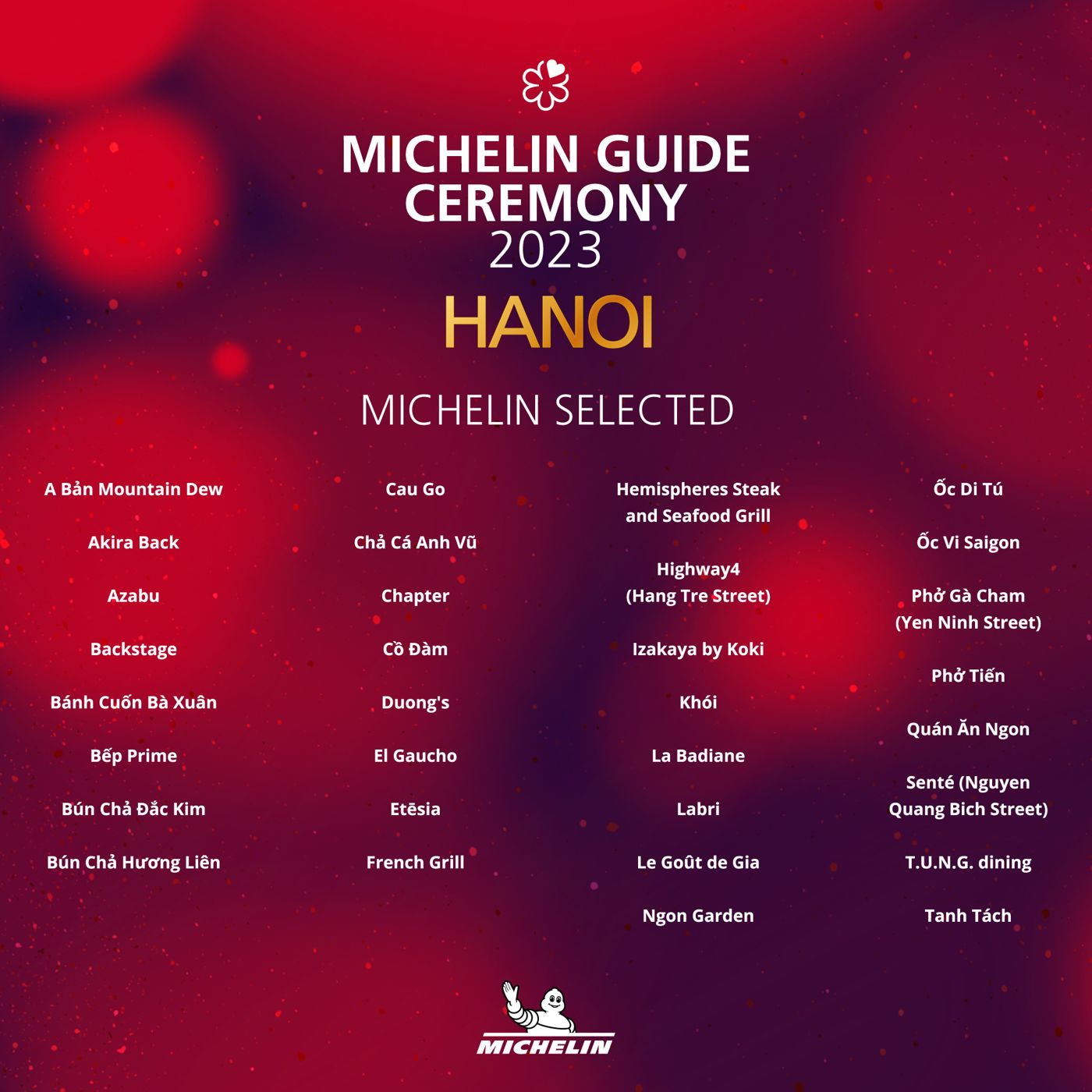 Additionally, a total of 70 other eateries, with 32 in Hanoi and 38 in HCMC, were welcomed into the esteemed Michelin Selected eateries for Hanoi and Ho Chi Minh City 2023. Vietnam's rich culinary tapestry is brilliantly displayed, featuring renowned names such as Cha Ca Anh Vu, Bun Cha Huong Lien, A Ban Mountain Dew, and Pho Ga Cham among the 70 local eateries listed in the Michelin Selected
group. The Bib Gourmand selection comprises 29 exceptional establishments, including the likes of 1946 Cua Bac, Bun Cha Ta, Cha Ca Thang Long, and Chao Ban.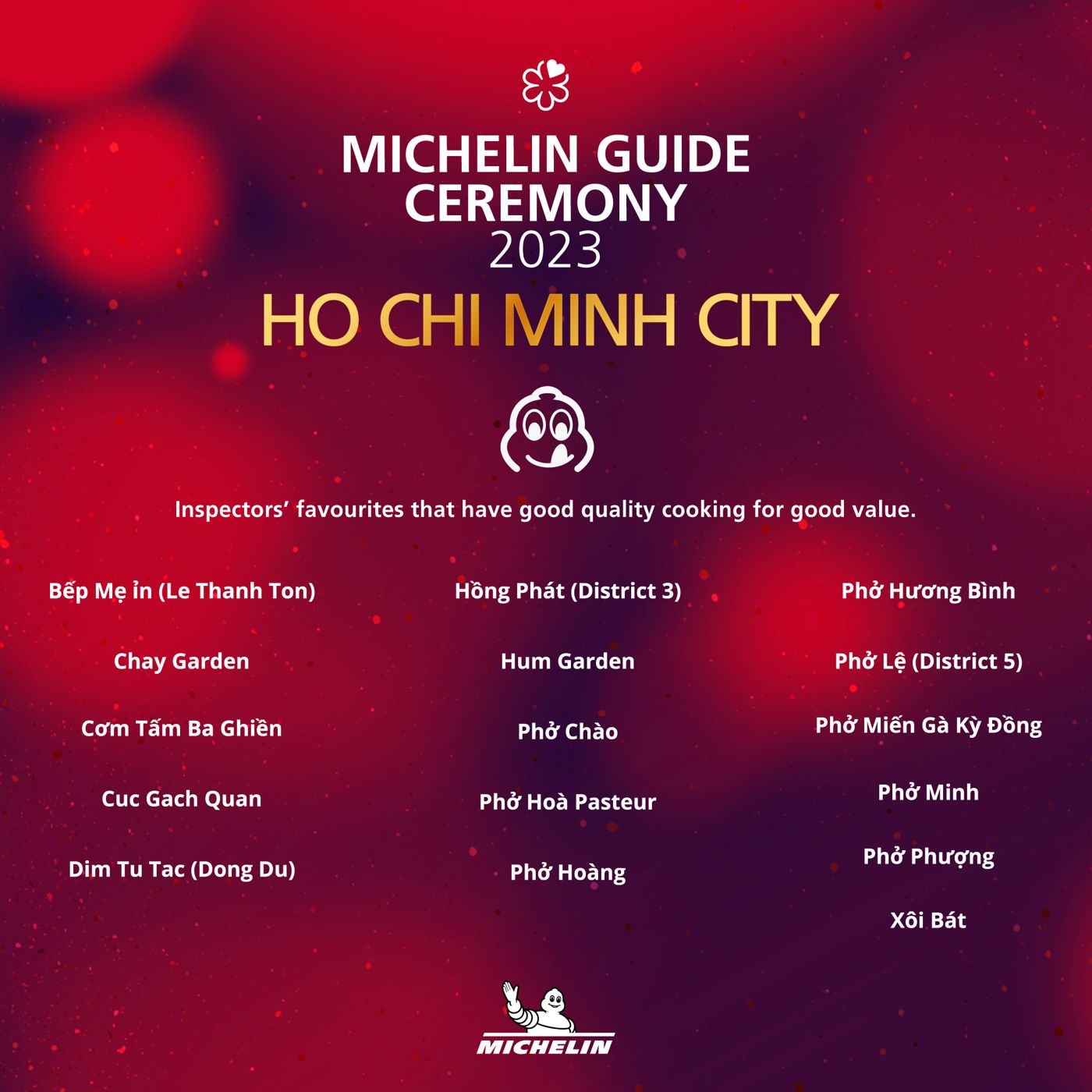 Among the distinguished selections are some noteworthy culinary experiences. La Badiane in Hanoi, for instance, is a charming French restaurant that delights in fusion cuisine, while Truffle in Ho Chi Minh City offers a contemporary French dining experience. T.U.N.G dining in Hanoi and The Monkey Gallery Dining in Ho Chi Minh City present European contemporary cuisine at its finest. Akira Back in Hanoi showcases exquisite Japanese dishes, Octo in Ho Chi Minh City serves delectable Spanish cuisine, and Quan An Ngon in Hanoi proudly presents traditional Vietnamese delicacies.
In a tribute to exceptional individuals, three Michelin Guide Special Awards were presented. Yu Yamamoto, from the Michelin Selected restaurant Lua in Ho Chi Minh City, was honored with the prestigious Sommelier Award, recognizing his remarkable skills, knowledge, and passion within the
industry. The Service Award was bestowed upon Chef Nguyen Thi Nu of Vietnam House, acknowledging her outstanding contributions, while Chef Sam Tran of Gia was recognized with the Young Chef Award, celebrating his remarkable talent and potential.
These accolades highlight the dedication, expertise, and creativity of these culinary professionals, inspiring others to strive for excellence in their respective fields. Yu Yamamoto's Michelin Sommelier Award, for instance, serves as a testament to the skills and passion he brings to Lua in Ho Chi Minh City.
"We're very proud to finally present the first restaurant selection in Vietnam, with a total of 103 restaurants in the Guide, highlighting four restaurants awarded with one Michelin Star," said Gwendal
Poullennec, International Director of the Michelin Guide.
"This is just the beginning of the Michelin Guide's journey in Vietnam, and our inspectors have been more than pleased to have discovered many gastronomic spots in Hanoi and HCM City, and I am sure, many more in the coming years."
As Vietnam joins the esteemed league of countries with Michelin-starred restaurants, it solidifies its position on the global culinary map. With over 3,000 Michelin-starred restaurants in nearly 40 countries,
according to the Michelin Guide website, the country's gastronomic achievements serve as a testament to its vibrant and diverse culinary heritage. Prepare to embark on a gastronomic adventure like no other as Vietnam's culinary quintessence captivates and delights discerning palates from around the world.
As the Largest Aviation-Tourism corporation in the country, Vietravel consistently provides high-standard services at the most competitive prices so that you can discover the beauty of not only Vietnam but all of Southeast Asia.
Please contact us for more information
Vietravel – Asia's Leading Tour Operator
Hotline: (84) 35 235 61 61
Email: [email protected]
Website: www.vietravelasia.com
#VietravelAsia #Vietravel #Vietnam