Info for travellers on Covid-19 in Vietnam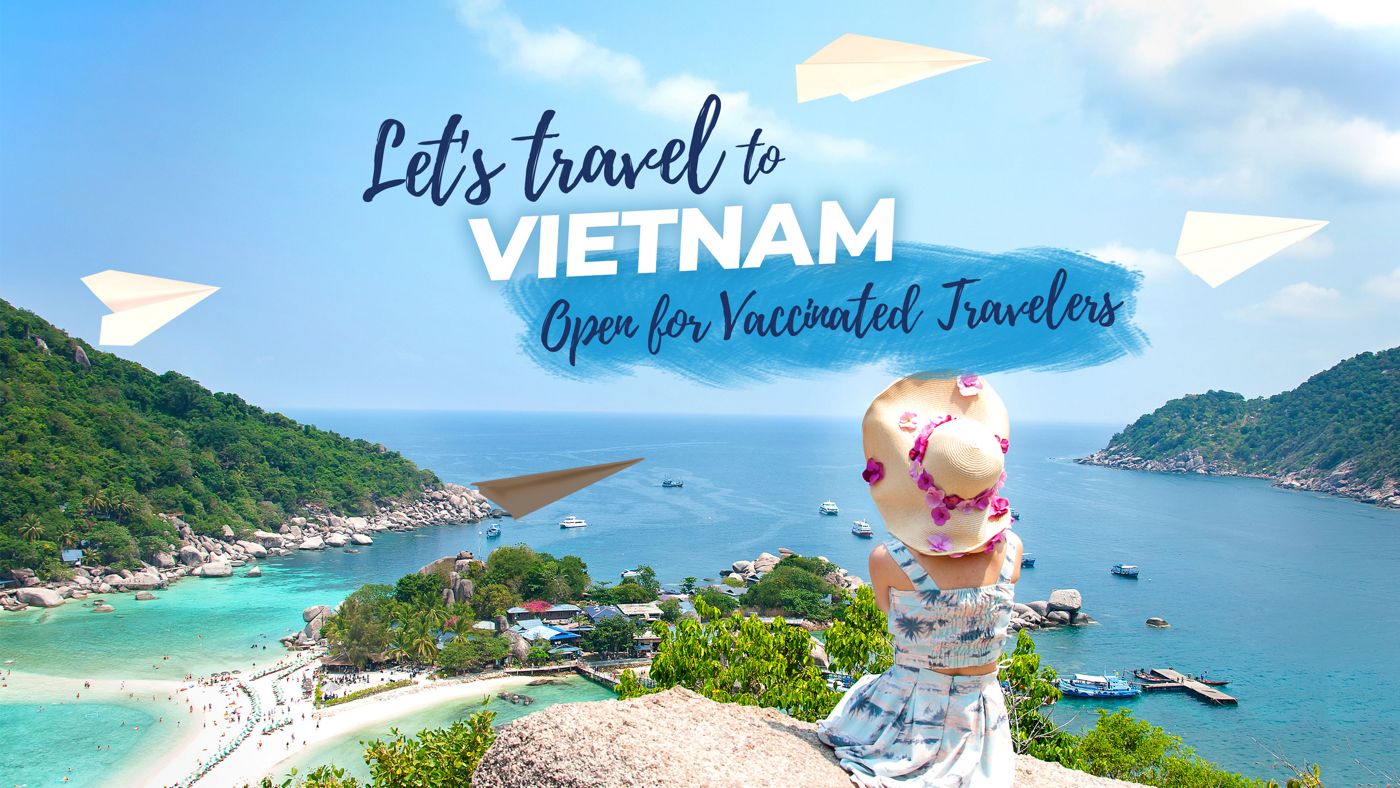 Vietravel Asia will always update the latest information on the epidemic situation and Vietnam's policies for international tourists.
COVID-19 situation in Vietnam
Since the start of the novel coronavirus (COVID-19) outbreak, Vietnam has closely monitored the situation and installed a series of proactive, comprehensive measures to combat the spread of the virus within the country and prepare its public health facilities. Past experience with other epidemics places Vietnam in a strong position to protect its population as well as visitors passing through. Below are the key actions were taken by Vietnam to prevent the spread of COVID-19: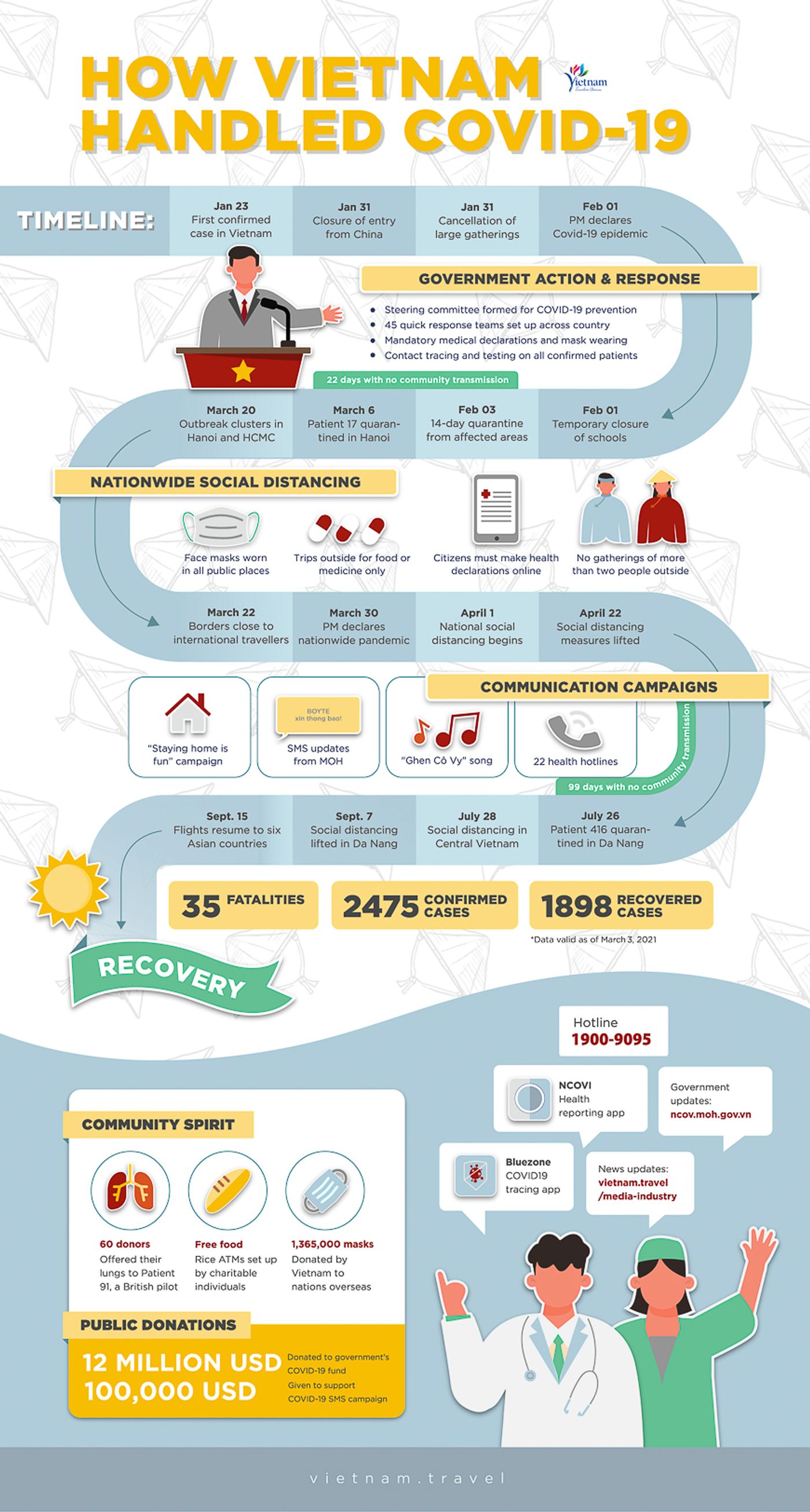 In addition to these, many private Vietnamese businesses, residential complexes and tourist accommodations have installed their own preventative measures to keep customers safe.
New Covid-19 tourism policies in Vietnam
Vietnam has temporarily recognised vaccination certificates or vaccine passports of 72 countries and territories worldwide. These documents will be used in Vietnam and holders of vaccination certificates or vaccine passports will have concentrated quarantine time reduced to only seven days in line with the guidance of the Vietnamese Ministry of Health.
These countries and territories include Poland, the United Arab Emirates (UAE), the Republic of Korea (RoK), Kazakhstan, Mongolia, Oman, Thailand, Romania, Japan, New Zealand, Brazil, Sri Lanka, the Czech Republic, Morocco, Saudi Arabia, Armenia, Germany, Russia, the UK, Austria, San Marino, Laos, Singapore, Belgium, Spain, Denmark, the US, Italy, Bulgaria, Slovakia, Norway, Sweden, Israel, France, Turkey, Azerbaijan, India, Switzerland, China, Pakistan, Ireland, Greece, Kuwait, Colombia, the Netherlands, Australia, Finland, Taiwan (China), Hungary, Belarus, Cambodia, Algeria, Canada, Indonesia, Nepal, Mexico, Bolivia, Croatia, Portugal, Turkmenistan, Palestine, Qatar, Libya, Egypt, Timor Leste, Ukraine, the Philippines, Malaysia, Luxembourg, Argentina, Jordan, and Brunei./.
Vietnam Covid Vaccine Passport – All you need to know
As Vietnam looks to boost the country's tourism industry after almost two years of closure, the government has announced its plans to reopen the resort island of Phu Quoc to vaccinated international visitors in late November.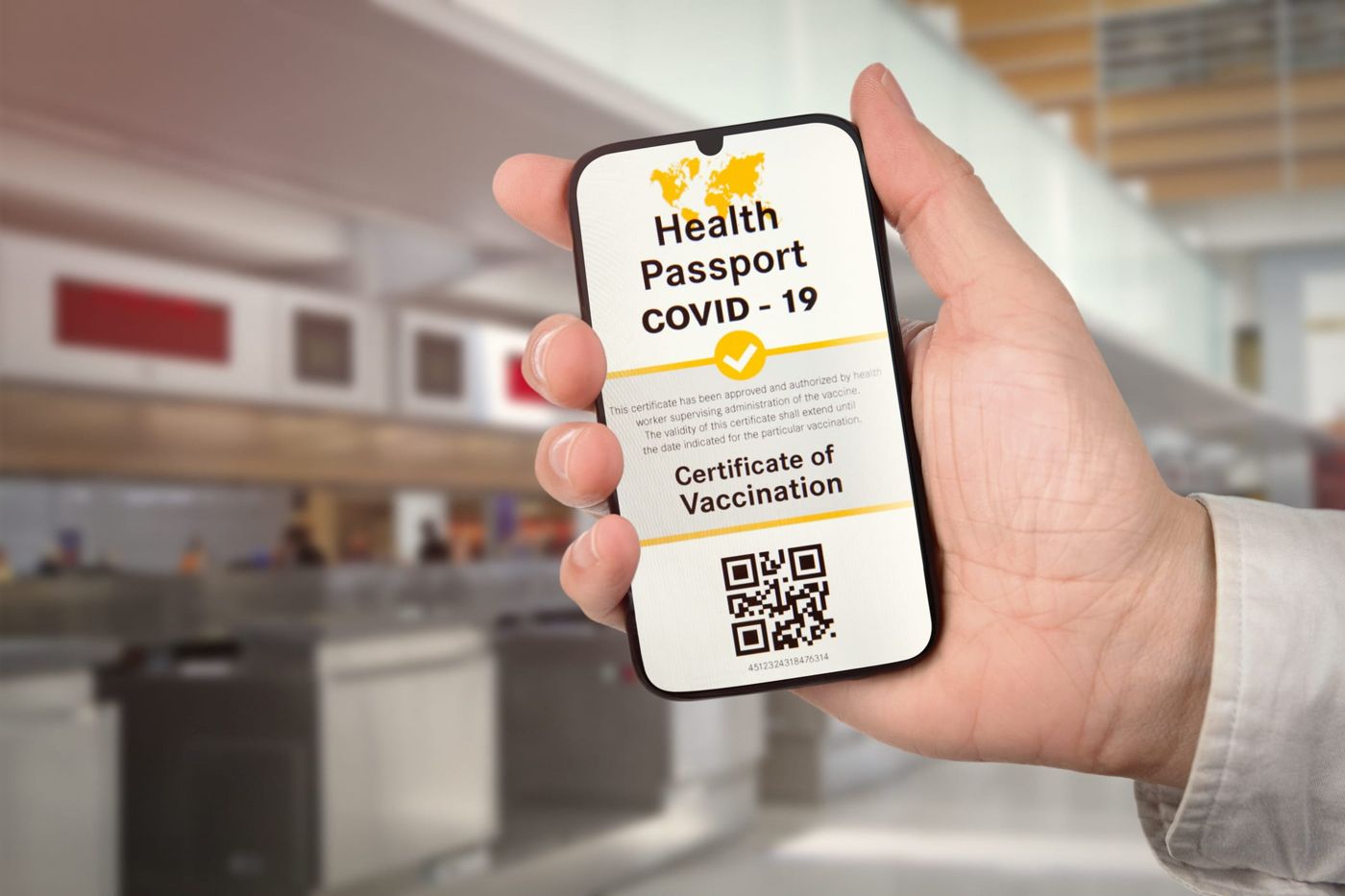 How do the Vaccine passports work in Vietnam?
To enter Phu Quoc, foreign tourists need to provide a Vaccination Certificate showing they have got two shots of a Covid vaccine approved by Vietnam. The second shot must have been taken between 14 days and 12 months before the date of entry.
Those who had Covid and have recovered must provide a Certificate of Recovery issued by competent authorities in the country where they have been treated. The discharge date must have been within the previous 12 months.
Besides, visitors must have a Negative PCR Test Result done within 72 hours before departure.
This program will only be applied to visitors who have registered to join Package Tours of travel agencies that are specifically authorized by the Department of Tourism.
When do they apply?
The pilot vaccine passport program will start in November 2021 within six months in two periods.
Which steps need to be taken to enter the country?
Before the flight
Visitors need to prepare the necessary documents and book package tours of authorized travel agencies if they want to go to Phu Quoc. Their names must be sent to the authorities by their agency at least 72 hours before the flight time.
Before the entry
Visitors are required to download Vietnam Safe Travel App (VST) and make a health declaration. After this, the travellers will receive a unique QR Code, which must be presented upon arrival in Vietnam. Parents or legal guardians may make health declarations on behalf of their children or infants. Entry to Vietnam will not be permitted until the Medical Declaration Form has been filled out.
During the entry
All the required documents mentioned above must be presented when visitors arrive at the port of entry.
After arriving in the country, visitors must comply with the Health Ministry's 5K message – Khau Trang (face masks), Khu Khuan (disinfection), Khoang Cach (distancing), Khong Tu Tap (no gatherings), and Khai Bao Y Te (health declarations).
Any tourists who have suspicious symptoms for COVID-19 at the entry point should follow quarantine measures.
Phu Quoc Travel Guide for Vaccinated Travellers
According to authorities, Phu Quoc aims to receive up to 5000 international arrivals between December and March from places with "a high safety record on Covid-19 prevention, like some parts of Europe, the Middle East, North-East Asia, Southeast Asia, North America, and Australia.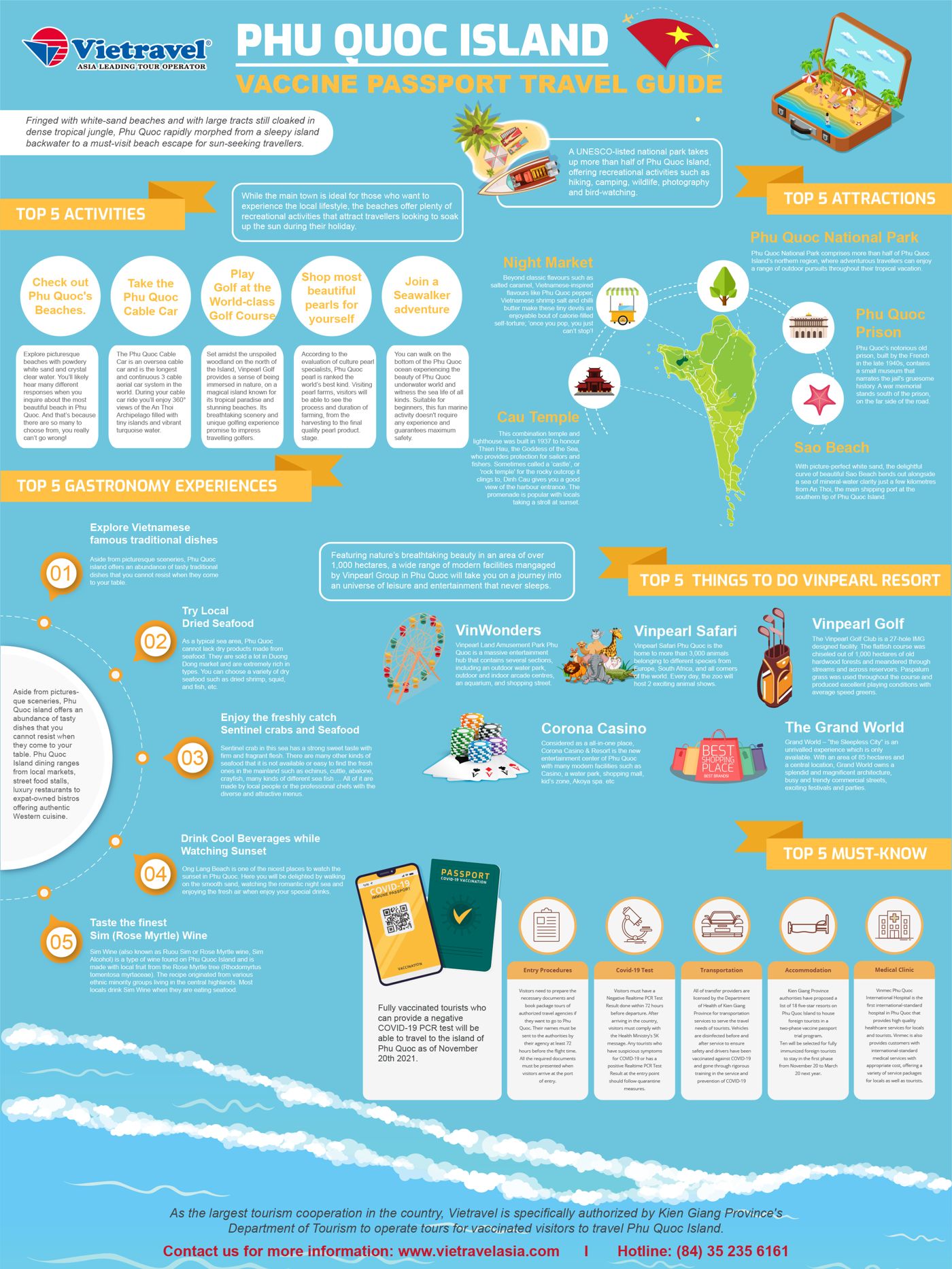 Vietravel Asia - the specifically authorized tour operator for "vaccine passport" tourist
As the largest tourism cooperation in the country, Vietravel is specifically authorized by the Department of Tourism to operate tours for vaccinated visitors to travel Phu Quoc Island.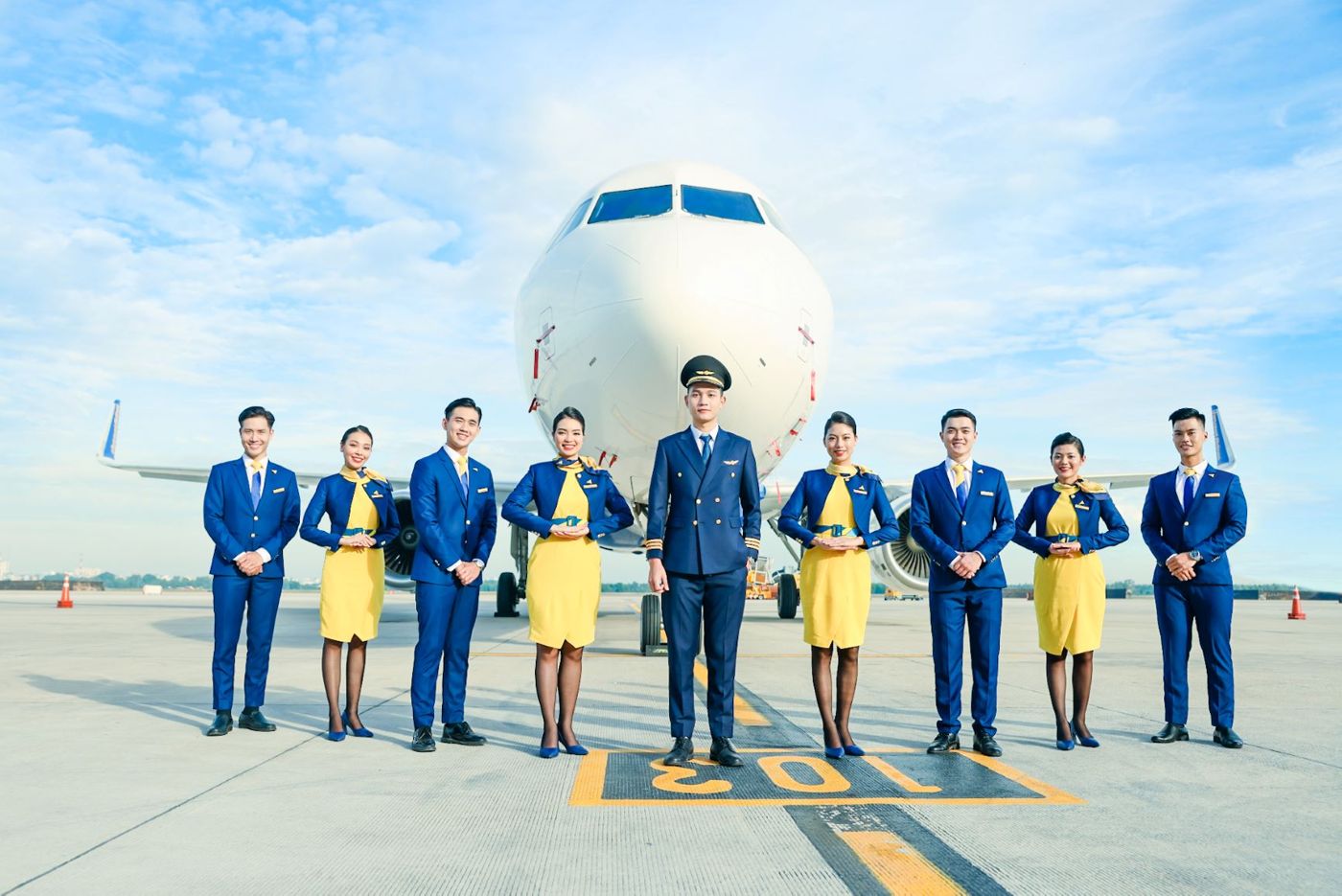 Please contact us for more information
Vietravel - Asia Leading Tour Operator
Hotline: (84) 35 235 61 61
Website: www.vietravelasia.com
#VietravelAsia #Vietravel #Vietnam #Vaccinenated_Travel