How to Make Mekong Delta-Style Crispy Banh Xeo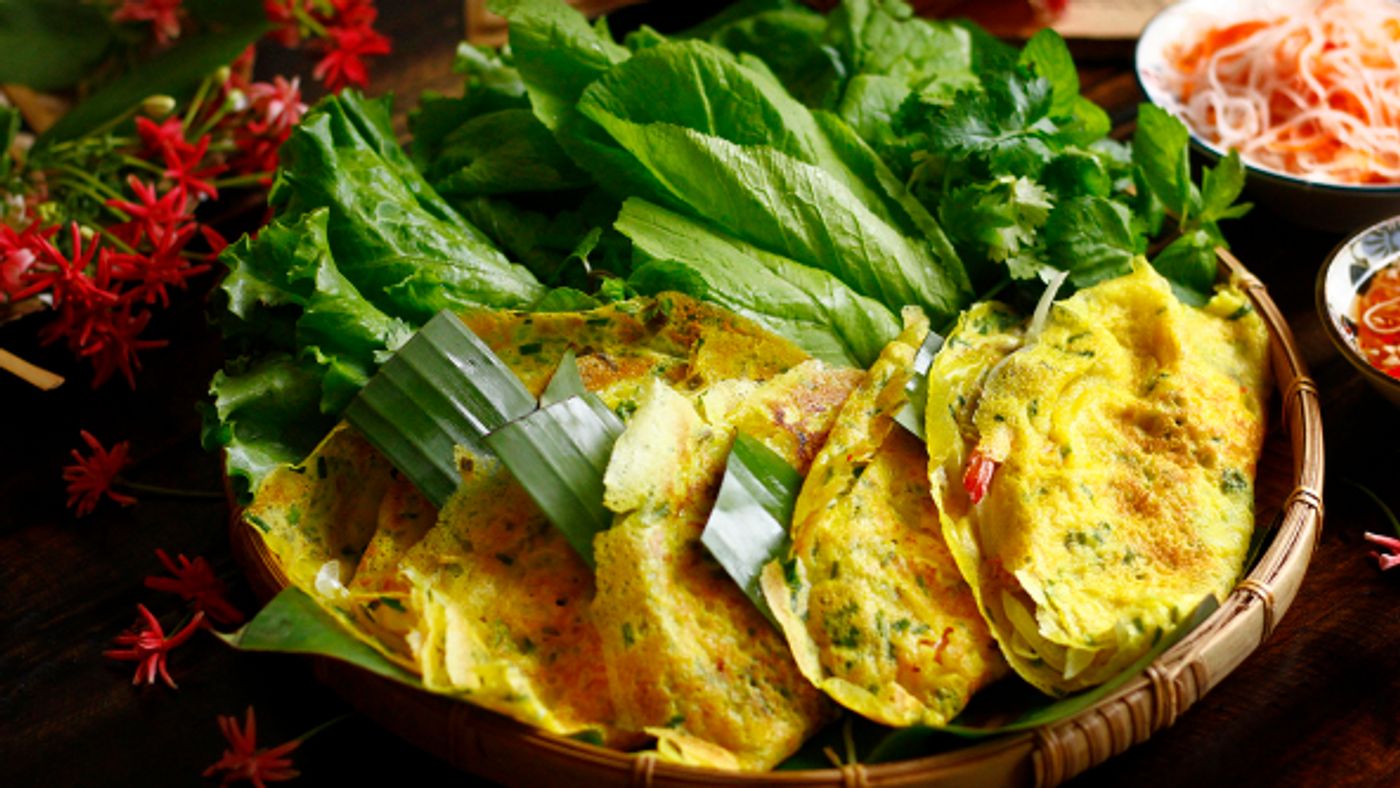 Indulge in the cultural essence of the Mekong Delta with Banh Xeo—a culinary masterpiece celebrated for its crispy, golden exterior and a decadent medley of stir-fried shrimp, meat, and bean sprouts, harmoniously paired with aromatic herbs. Explore the recipe below to recreate the authentic Mekong Delta-style Banh Xeo and savor the richness of this exquisite dish in your kitchen!
I. Ingredients:
a. For the Pancake Batter:
250g Vietnamese pancake flour mix
50g crispy fried flour mix
1 tsp turmeric powder
1 chicken egg
1 can of beer or carbonated mineral water (500 ml)
100 ml coconut milk
1/2 tsp salt
b. For the Pancake Filling:
200g shrimp
200g pork belly
200g bean sprouts
1 onion
c. For the Pickles:
1/2 white radish
1/2 carrot
d. Spices: Fish sauce, salt, sugar, stock powder, pepper, lime, garlic, chili
e. Vegetables: Mustard greens, lettuce, coriander, basil, scallions, chives
f. Cooking oil or lard
II. Instructions:
1. Preparation
a. Mixing the Pancake Batter
To achieve a crispy texture in the batter, follow these steps:
Utilize 250g of pancake flour and 50g of crispy fried flour. Combine these with 100ml of coconut milk and filtered water, producing a liquid volume of 600 - 650ml.
This batter quantity is ideal for 4 - 5 servings. Adjust the quantities accordingly if preparing a larger batch.
In a spacious bowl, amalgamate pancake flour, crispy fried flour, turmeric powder, eggs, coconut milk, carbonated water, 1/2 teaspoon of salt, and chopped scallions or chives.
Stir the ingredients thoroughly until dissolved. Allow the batter to rest for approximately 30 minutes, ensuring a crispy texture upon frying.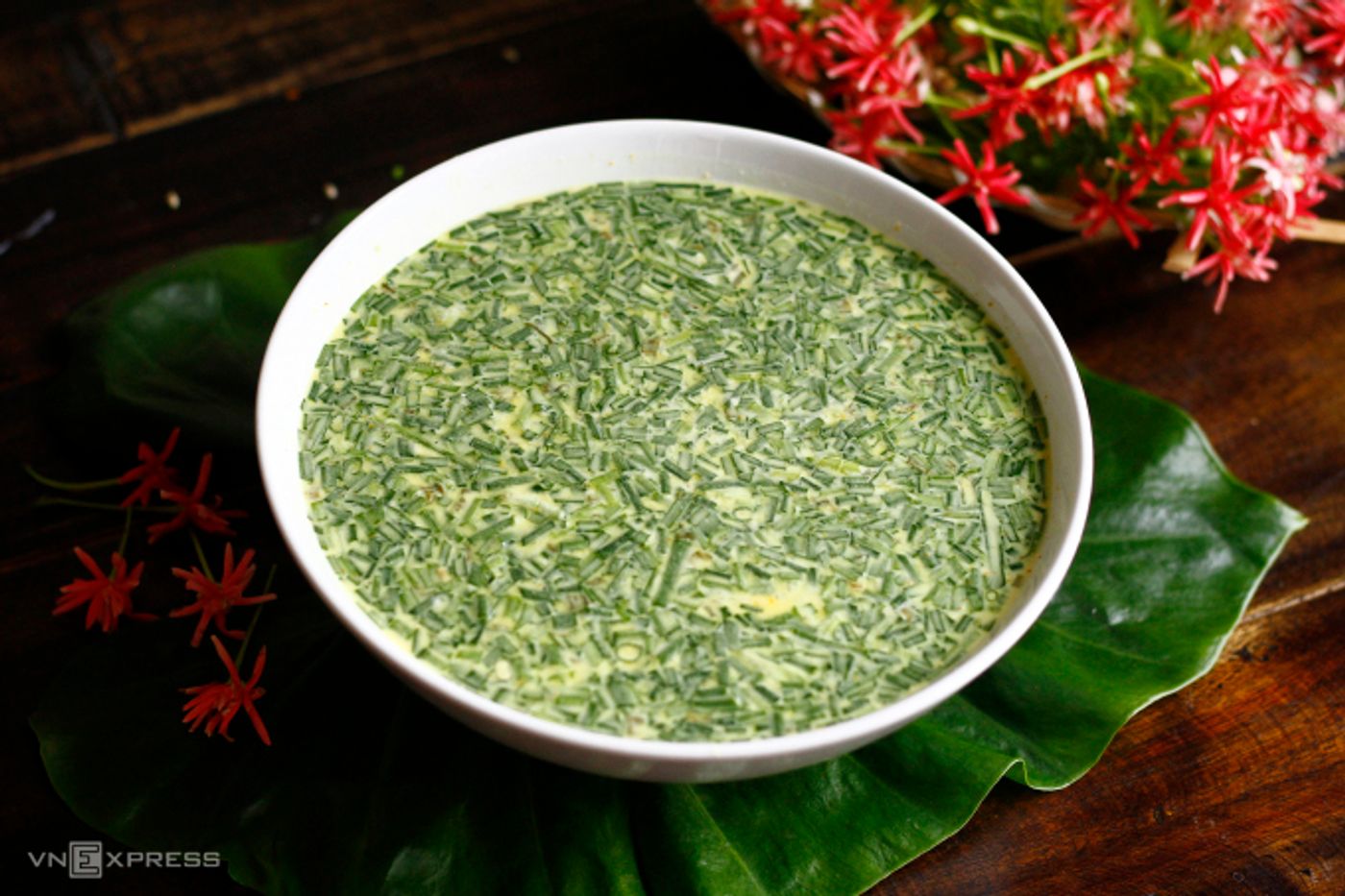 b. Preparing the Filling
Choose a fresh pork belly with a balanced mix of lean and fat, displaying a light pink hue. Alternatively, lean shoulder meat can be used as a substitute. Wash the meat thoroughly and cut it into thin pieces.
Marinate the meat by adding half a teaspoon each of fish sauce, salt, stock powder, and pepper.
For small shrimp, cut off the head and wash. If using large shrimp, peel them.
Peel and slice the onion. Ensure the bean sprouts are thoroughly rinsed. Wash and drain fresh vegetables such as mustard greens, lettuce, coriander, and basil.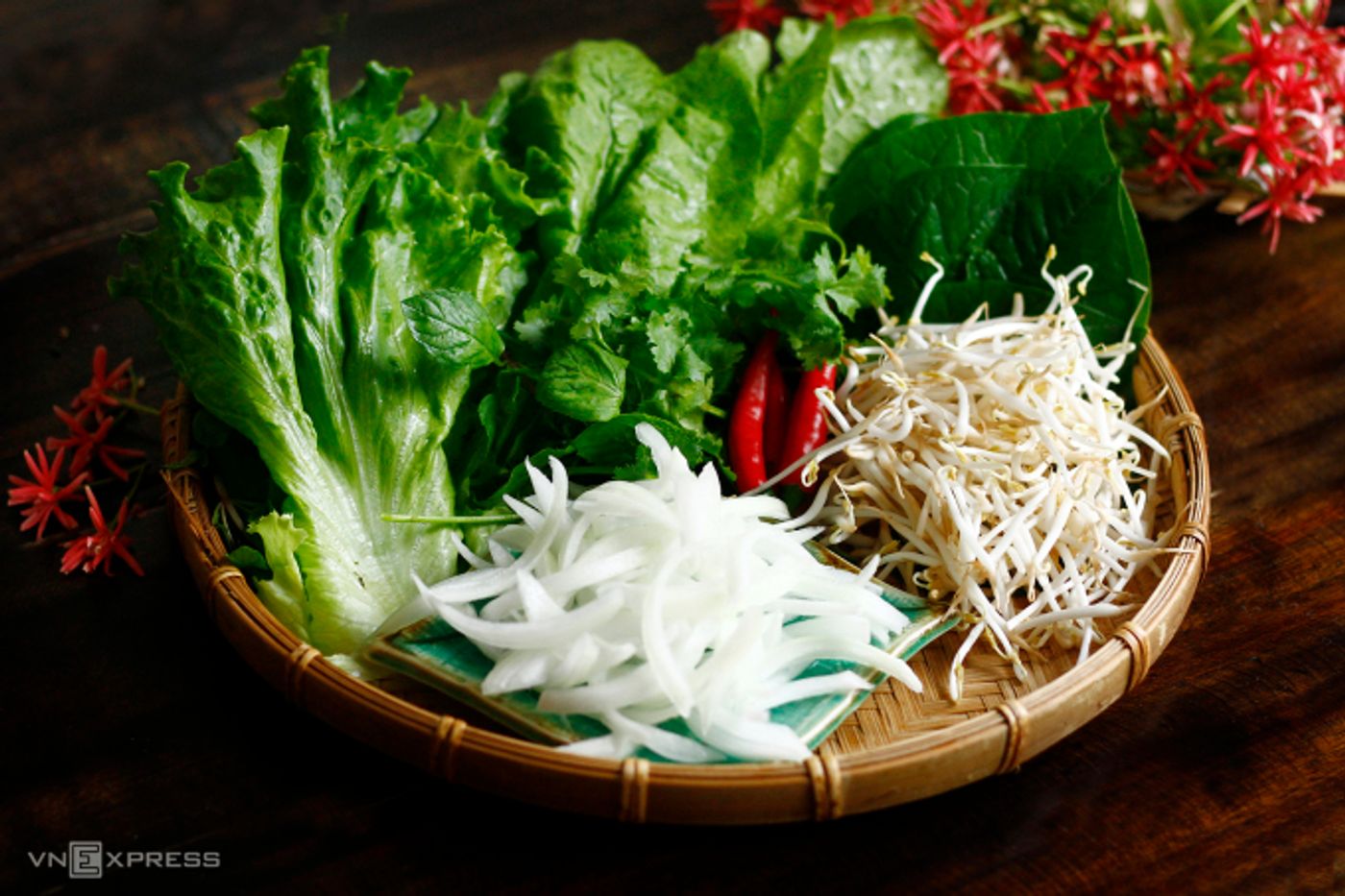 2. Cooking Process
a. Stir-frying the filling and assembling the pancakes
Begin by stir-frying the meat, then introduce the shrimp and cook until they achieve a vibrant red color. Season the mixture to taste and set the flavorful filling aside.
Check for Mekong Delta Package Tour.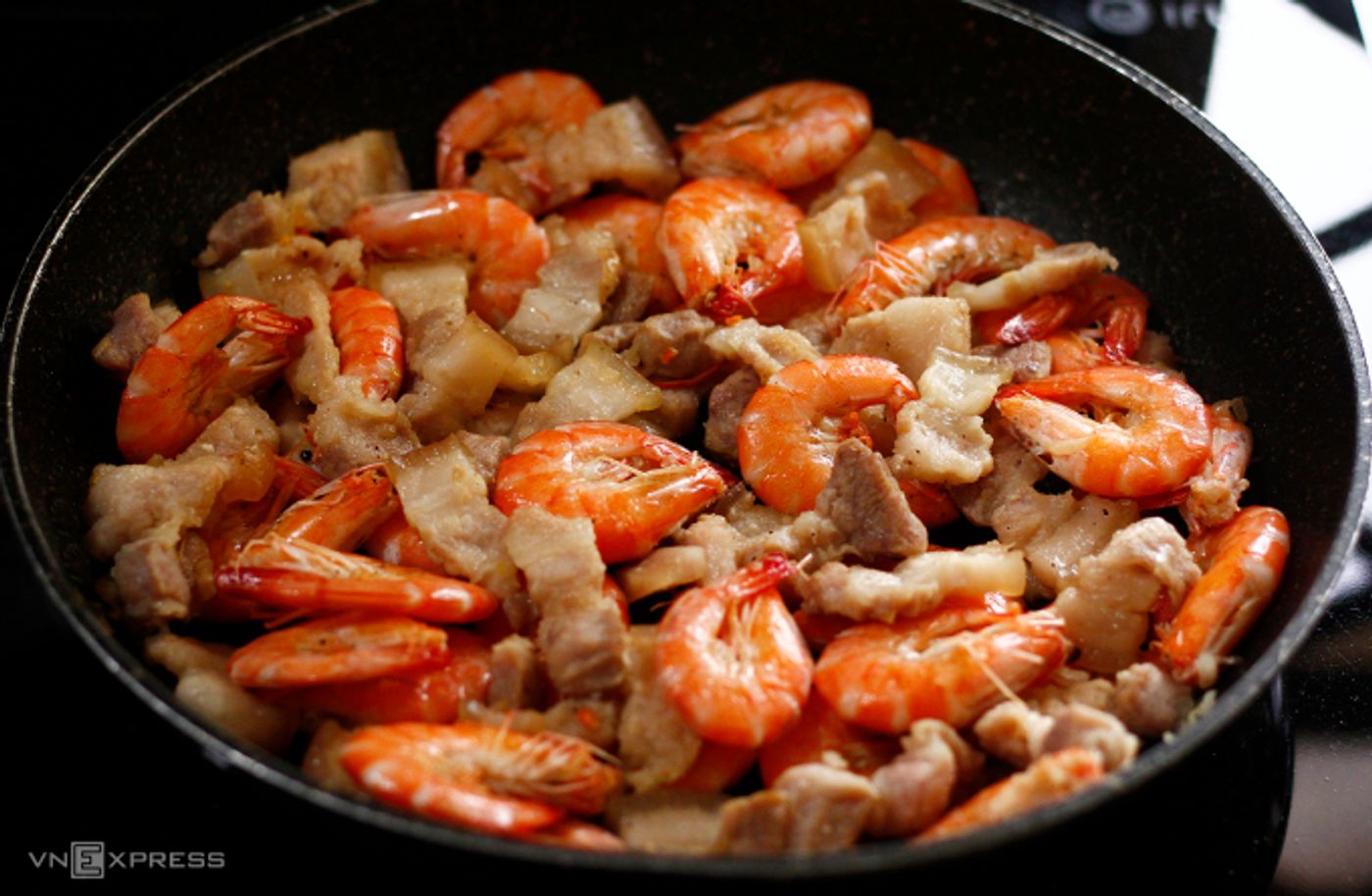 Continuously, place a pan on high heat. Brush a thin layer of oil or use a piece of lard to establish a non-stick surface. Gradually reduce the heat to medium, then ladle the batter into the pan, ensuring an even tilt to shape a round pancake.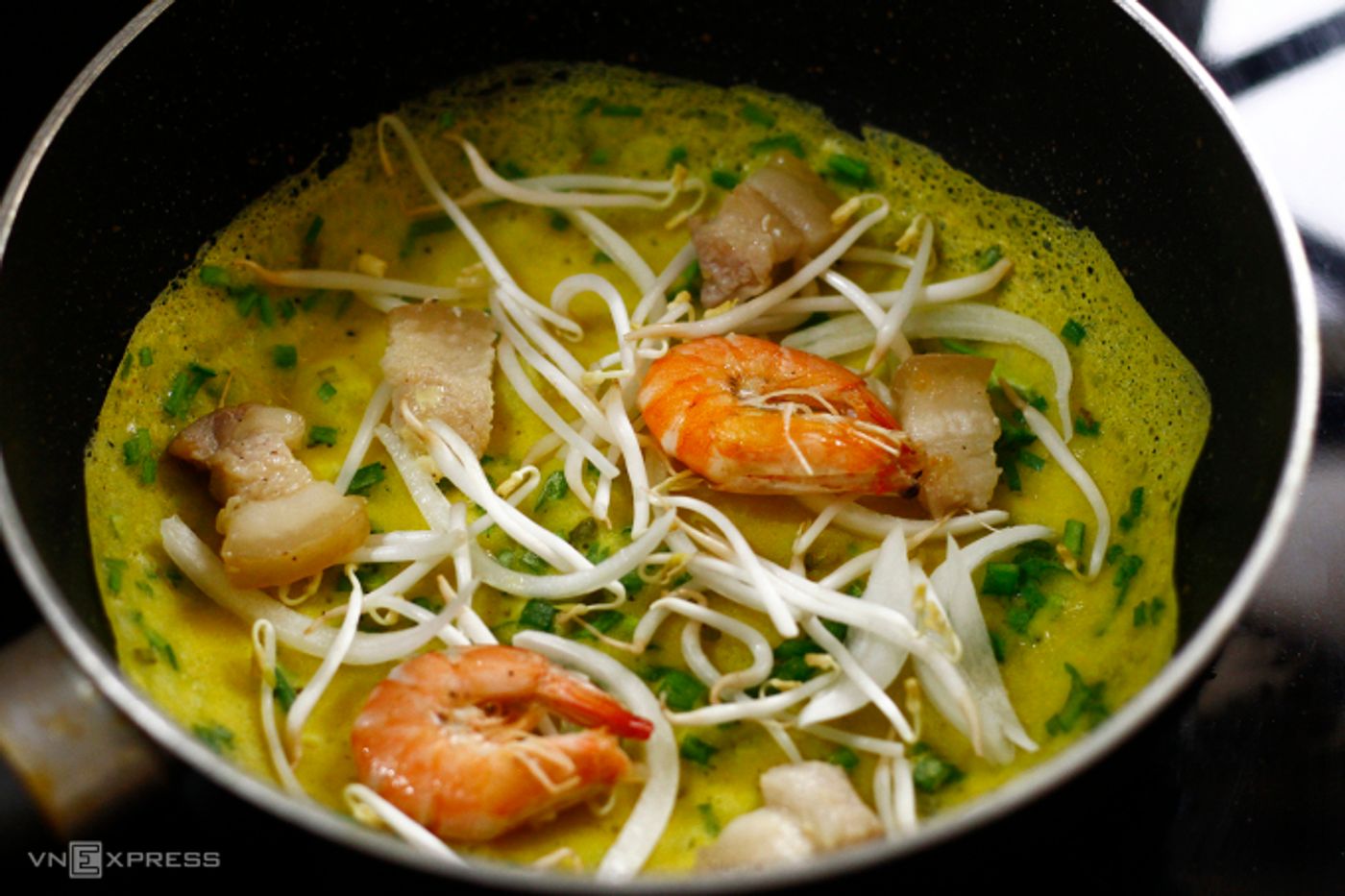 Add the meat, shrimp, some bean sprouts, and onions. Cover and allow the filling to cook for about 1 to 1.5 minutes.
Open the lid, and wait for the edges of the pancake to curl and lightly crisp. Apply a little more oil, then gently fold it in half to create a semi-circle shape, pressing down to enhance crispness.
Flip it and fry the other side until crispy. Place the banh xeo on a clean plate. Repeat the process until all the batter is used.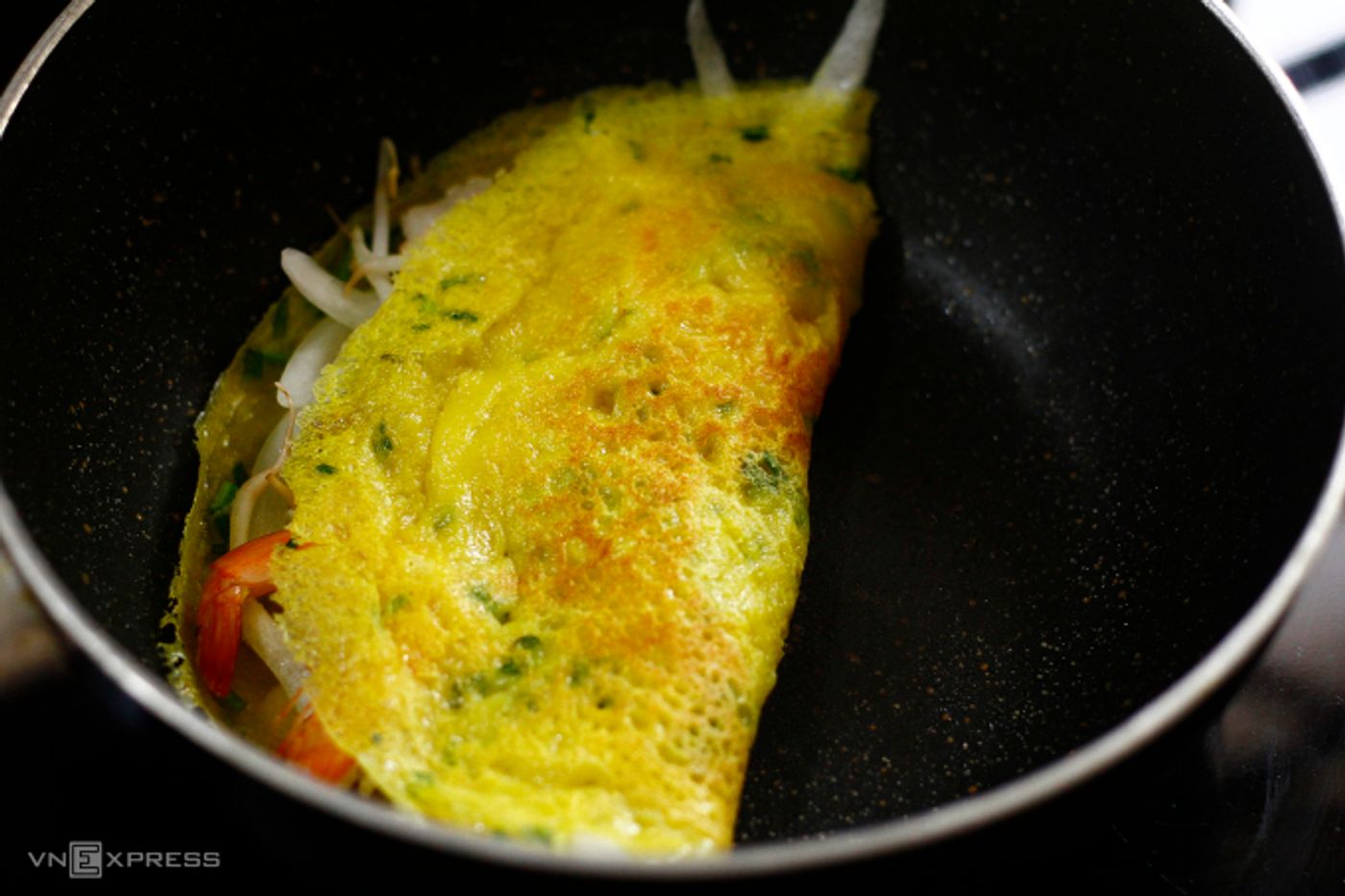 b. Dipping Sauce and Pickles
To prepare the dipping sauce, combine fish sauce, sugar, lime juice, and filtered water in a ratio of 1:1:1:5. In some regions, fresh coconut water is used instead of filtered water.
Stir until the sugar completely dissolves, then add garlic and chili for a harmonious blend of sweet, sour, spicy, and salty flavors, with hints of garlic and chili.
For the pickles, grate or slice white radish and carrots. Marinate them with a pinch of salt, sugar, and vinegar for 15 minutes to absorb the flavors.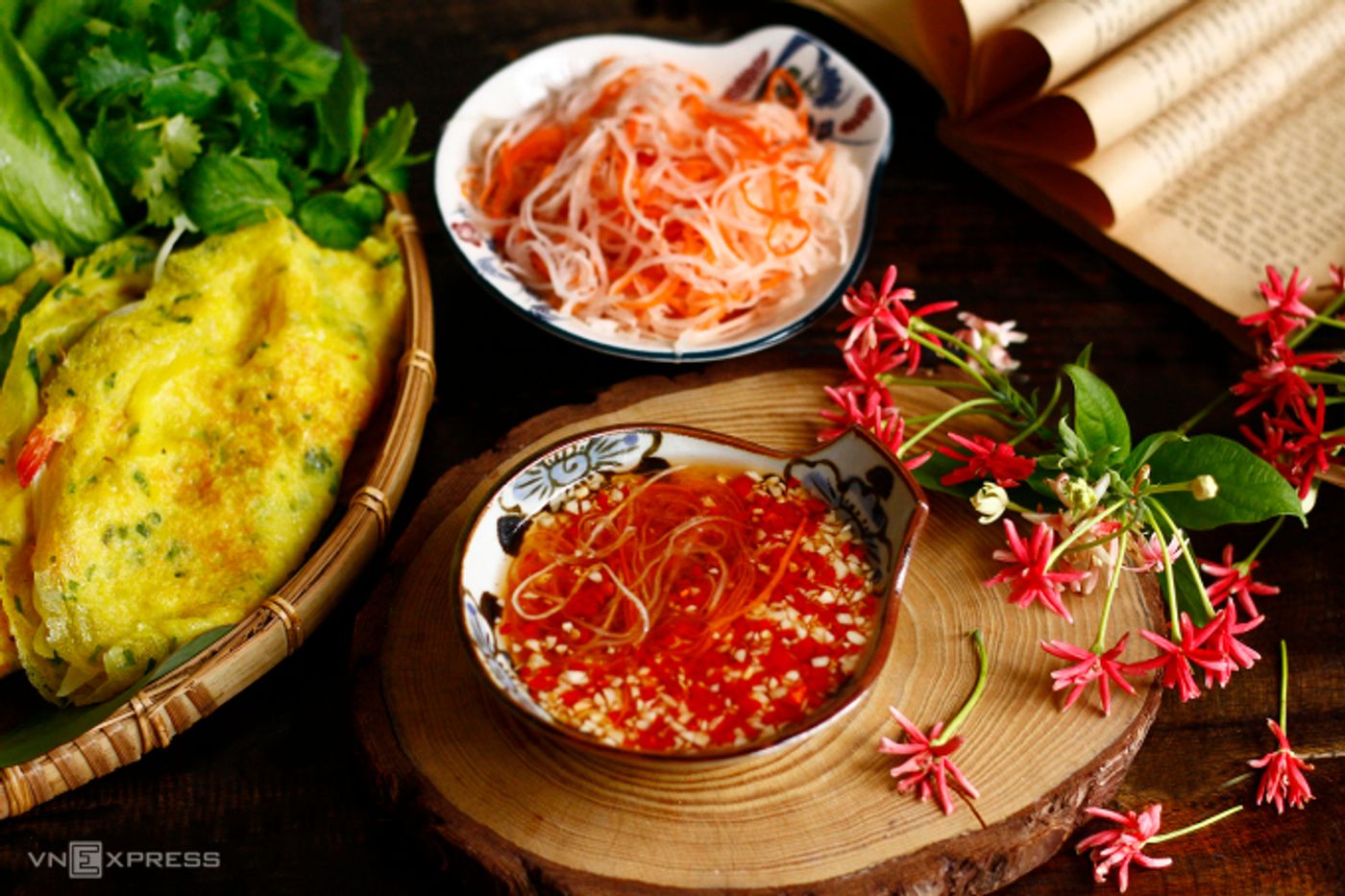 3. Presentation
Arrange the Banh Xeo pancakes on a tray, accompanied by fresh vegetables, herbs, pickles, and a side of sweet and sour fish sauce. For the best experience, enjoy Banh Xeo while it's hot. Grab a piece, wrap it in rice paper, dip it in the sweet and sour fish sauce, and relish the delightful combination.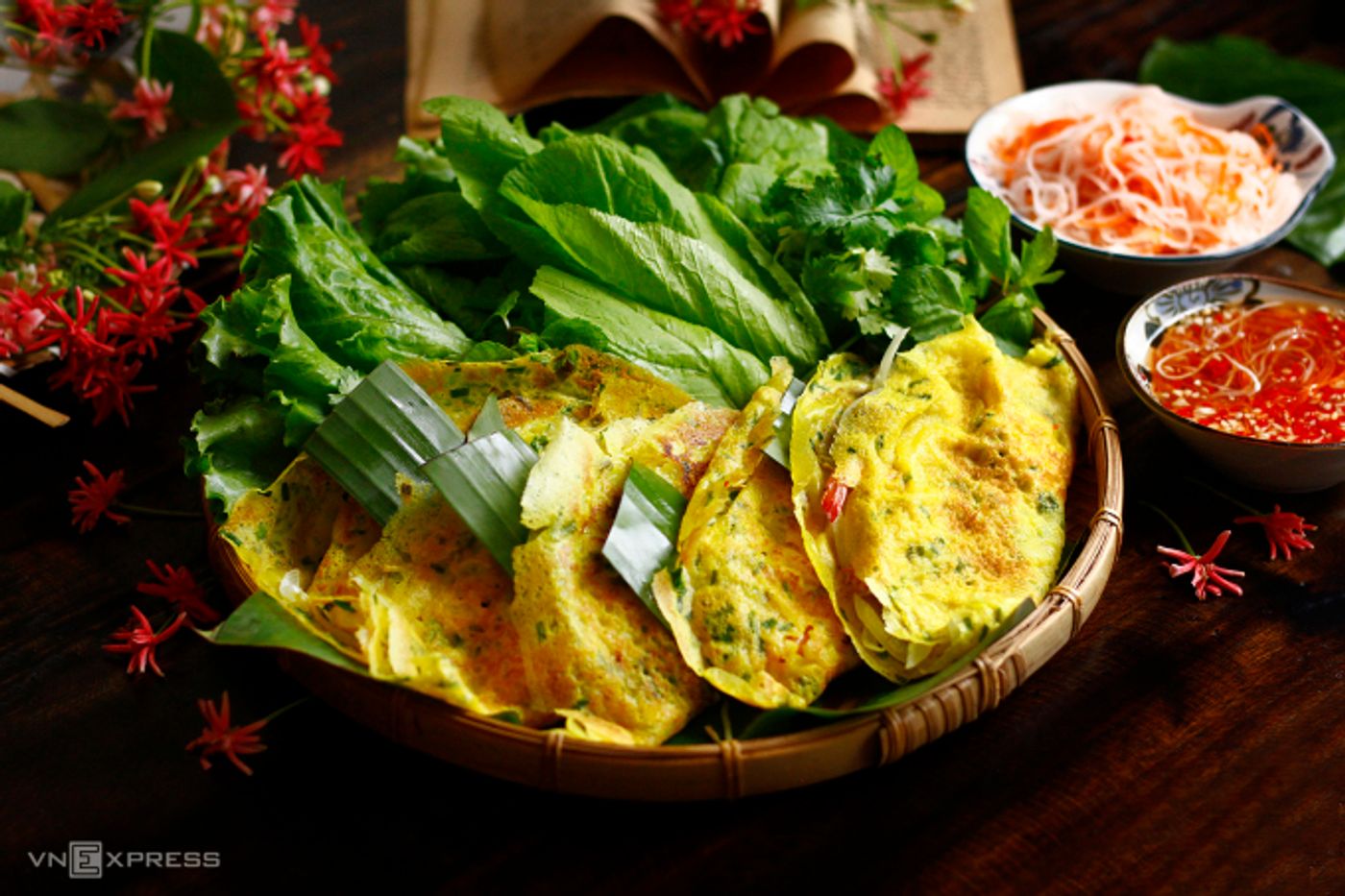 Finished Products:
These pancakes boast a thin, crispy, golden crust.
Inside, they are filled with the delightful combination of sweet shrimp, flavorful fatty pork, crunchy bean sprouts, and subtle hints of coconut milk and green onions.
Notes:
Mekong Delta-style pancakes are known for their large size, thin edges, and thicker center.
Filling choices are flexible, including shrimp, meat, seafood, eggs, and more.
Ensure a thin batter for crispiness; beer or carbonated water helps achieve the desired texture.
Traditionally, pancakes are lined with fresh banana leaves for a unique fragrance.
Serve with a variety of vegetables and herbs, enhancing the overall experience.
Plan your trip to Vietnam here.
As the Largest Aviation-Tourism corporation in the country, Vietravel consistently provides high-standard services at the most competitive prices so that you can discover the beauty of not only Vietnam but all of Southeast Asia.
Please contact us for more information
Vietravel – Asia's Leading Tour Operator
Hotline: (84) 35 235 61 61
Email: [email protected]
Website: www.vietravelasia.com
#VietravelAsia #Vietravel #Vietnam #BanhXeo #MekongDeltaFood