DA LAT TRAVEL GUIDE 2023 - All you need to know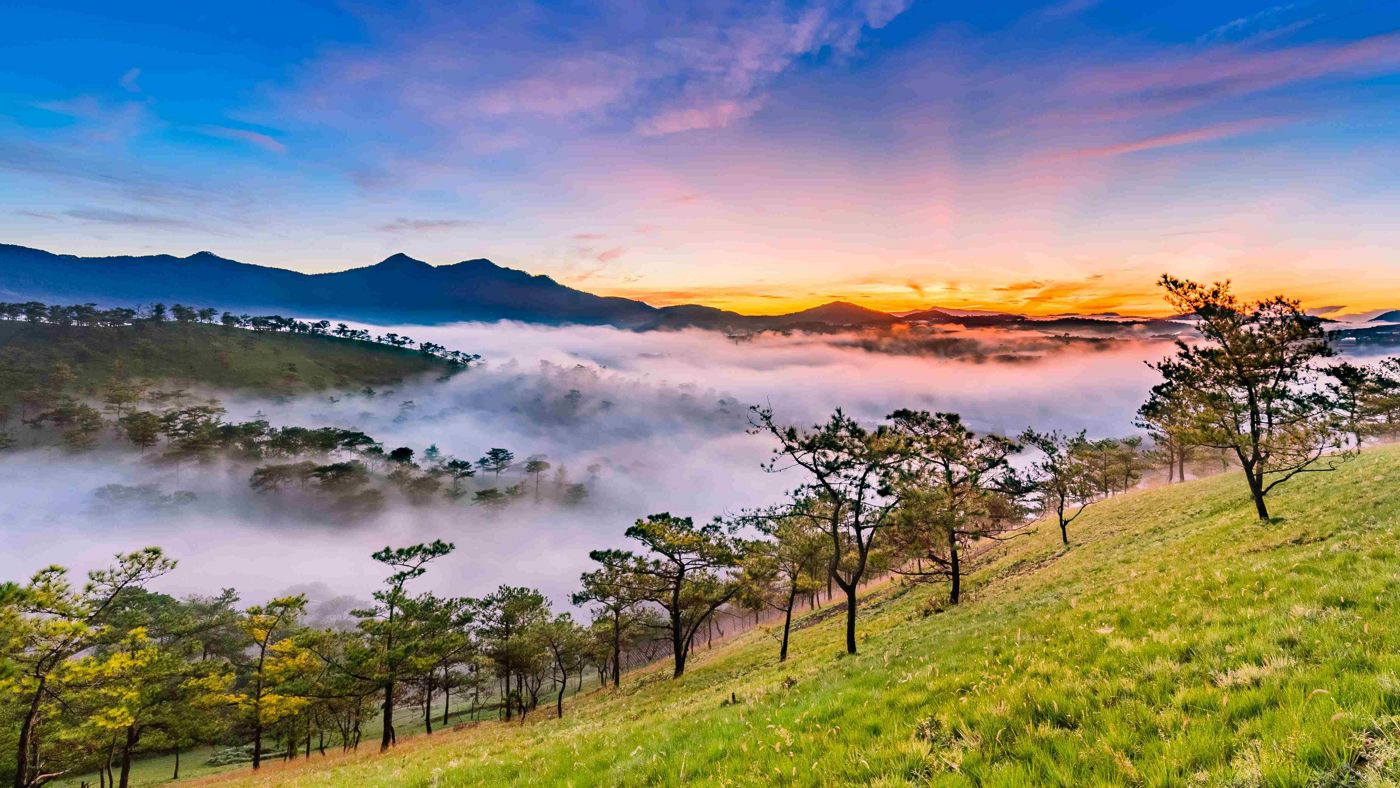 Explore the mind-blowing wonderland of the dreamy haven! Its cool spring-like weather, charming French-colonial villas, and lush farms filled with juicy strawberries and vibrant flowers make it a total game-changer. Unlock all the secrets with our definitive Da Lat travel guide, brought to you by Vietravel - Vietnam's Largest Aviation and Tourism Corporation!
Tap for more information about Vietnam Travel Guide
I. When is the best time to visit Da Lat? – Da Lat travel guide
If you're planning a trip to Da Lat, the golden time to hit the road is from December to early March. It's like Mother Nature's painting a picture-perfect landscape for you! With dry weather and temperatures hovering around 19°C to 24°C, you'll be strolling through stunning flower gardens in full bloom and soaking up the vibes of the famous bi-annual flower festival. Don't miss out on this floral extravaganza!
Check for Ho Chi Minh City Travel Guide
II. Where are the best places to visit in Da Lat?
Prepare to be mesmerized by the enchanting beauty of the floral city, nestled among picturesque landscapes and blooming flower fields. With Vietravel's Da Lat travel guide by your side, are you ready to embark on a journey to one of the most wonderful destinations?
1. Xuan Huong Lake
First, nestled smack dab in the heart of the beautiful Da Lat City, there's a hidden gem that locals and travelers alike can't get enough of - Xuan Huong Lake! This place is all about tranquility and captivating vibes. Take a leisurely stroll by the lake, soak in that fresh, clean air, or why not hop on a pedal boat, with the swan ride being the cherry on top, totally rad, right?
2. Valley of Love
Second, just 6 kilometers north of the center city, you'll stumble upon the magical Valley of Love - a dreamy oasis for locals and tourists, especially those lovey-dovey honeymooners! Walk a little further, and you'll be blown away by a kaleidoscope of colorful flowers and lush gardens, leading to the legendary Vong Canh Hill with jaw-dropping vistas. And hold on tight for a wild ride - horse-riding, jeep safari, and boat cruises await you on the dazzling lake.
3. Langbiang Mountain
Third, immerse yourself in the crowned jewel of Da Lat, standing tall like the city's rooftop with its epic twin peaks - Lang Biang (2167m) and Bidoup Ban (2287m). Get ready for astonishing views of lush valleys and sparkling Golden & Silver Streams. This spot is a dream come true for all you adventure junkies and nature enthusiasts out there! It's gonna be one wild ride!
4. Clay Tunnel
Next, brace yourself for an incredible trip through a green pine forest on a winding, romantic road that leads you to the legendary Clay Tunnel. Trust us, you don't wanna miss this gem when you're in Da Lat! You'll be blown away by the thousands of mind-blowing artworks crafted from basalt clay, giving the tunnel its unique, one-of-a-kind vibe!
5. Cau Dat Tea Hill
Furthermore, attention to all tea lovers! Prepare to be amazed by the breathtaking beauty of Cau Dat tea hill. Endless emerald-green tea farms stretch as far as the eye can see, with the air so fresh and crisp, you'll feel like you've entered a tea paradise! And that's not all - on your way to Cau Dat village, you'll be greeted by charming houses with a touch of French architecture, vibrant flower gardens, and the most unreal view of clouds dancing in the sun!
6. Tuyen Lam Lake
Now, check in the ultimate spot for chilling. They call it Paradise Lake for a reason - it's drop-dead gorgeous, nestled in a lush pine forest that'll have you feelin' all zen. You can soak up the romantic vibes, take a horse ride, climb some hills, fish, or even hop in a kayak for an adventure! And guess what? You can also catch a cable car to Truc Lam Pagoda, just a stone's throw away. It's the perfect combo for a day of pure bliss!
7. Datanla Falls
Also, discover the unreal beauty of Datanla Waterfalls - it's like seven majestic waterfalls tucked in a cozy pine forest! Not only can you trek your way to the falls, but hold on tight for the alpine slide ride, a roller coaster like no other! And once you're there, get ready for some heart-pounding fun - cliff jumping, canyoning, kayaking, high rope course, and even a scenic cable car ride! This place has it all, so buckle up for the thrill of a lifetime!
8. Da Lat Night Market
Finally, when the sun sets in Dalat, there's one spot you can't miss - the Dalat night market! Weekends turn this place into a wild party, with the central market area buzzing like a beehive! Everyone's out, shopping, chatting, and having a blast. Even on weekdays, it's still happening - mouth-watering scents fill the air as street vendors bring their A-game! So don't snooze, come check out this lively hotspot and soak up the city's electric vibes!
Embrace the wonders of Da Lat with Vietravel, your ultimate trusted companion! Book your epic day trip here and delve into the magic of this attractive destination!
III. How to travel to Da Lat? – Da Lat travel guide
Ready to hit up the city of flowers - Da Lat? Then follow Dalat Travel Guide for the smoothest and comfiest ride to this amazing destination! Let's roll!
1. By Air
First of all, getting to the beautiful city by air is a breeze! Just book a flight to Lien Khuong Airport, and you'll be flying high in no time. Once you land, you're just a hop, and jump away from exploring the stunning landscapes and vibrant culture of Da Lat!
Check out Vietravel Airlines's flight ticket here
2. By Bus or Vietravel's private car/ coach
In the second place, coming to Dalat by bus is a friendly-budget way! Take a comfortable coach and enjoy the scenic ride through winding roads and poetic landscapes. If you're looking for a more personalized experience, Vietravel's private car/ coach service is the way to go. With friendly drivers and customizable itineraries, you'll have the freedom to explore Da Lat at your own pace. Explore the best deals on chauffeured private vehicles from Vietravel, Asia's leading tour operator here.
Tap for more information about Phu Quoc Travel Guide
IV. How to get around Da Lat?
Getting around Da Lat is smooth sailing! Scroll down for useful tips from Vietravel's Da Lat travel guide.
1. Walking/ Bicycle
Firstly, you can take a chill to walk through the city streets, enjoying the fresh mountain vibes and killer views. But if you're feeling a bit wild, hop on a bike and ride like a boss! It's like floating on a cloud of freedom, uncovering all the hidden treasures of Da Lat. So, pick your style, walk or ride, and let's rock this adventure together!
2. Motorbike
Secondly, getting around Da Lat on a motorbike is like embarking on an adrenaline-pumping road odyssey! Feel the freedom as you zip through scenic routes, like a true road warrior in the highlands. Whether you're a road trip pro or a two-wheel rookie, this journey will have you grinning from ear to ear.
3. Vietravel's private car/bus:
Thirdly, hop on board our private cars or buses and buckle up for an adventure of a lifetime in the highland gem! Feel the excitement as you cruise through the city's scenic roads, wind through charming streets, and explore hidden gems like a boss. No worries about getting lost or stuck in traffic – Vietravel's got your back! So sit back, relax, and let the good times roll!
Tap for more information about Ha Long Bay Travel Guide
4. Taxis
Lastly, traveling around Da Lat by taxi is one of the most convenient and comfy ways. Opt for reliable taxi brands like Mai Linh or Vinasun, and you're all set to explore the city with ease. Just flag down one of these cabs, and the friendly drivers will take you to your desired destinations, whether it's the enchanting flower gardens, breathtaking waterfalls, or bustling night markets.
We've spilled all the insider secrets to uncover priceless treasures and navigate the streets. With our extensive Da Lat travel guide in hand, you'll be strutting through this incredible city like a true expert!
V. What to eat in Da Lat?
The culinary experience is an indispensable thing in your exciting trip. Here are a few suggested dishes from our in-depth Da Lat travel guide that will surely make you satisfied.
1. Banh Trang Nuong Da Lat - Dalat grilled rice paper
First and foremost, let us tell you about the bomb Vietnamese Pizza in Da Lat - Banh Trang Nuong! This mouthwatering treat is a must-try when you hit up this city. Picture this: grilled rice paper topped with butter, eggs, sausage, beef jerky, dry shrimp, green onions, and a spicy mayo sauce that's out of this world! It's like pizza, but with an Asian twist, and it won't break the bank either - only half a dollar! Wrap it up or slice it like a pizza, either way, you'll be in flavor town!
Where to eat:
• Banh Trang Nuong 61: 61 Nguyen Van Troi, Da Lat City;
• Banh Trang Nuong Bui Thi Xuan: 180 Bui Thi Xuan, Da Lat City.
2. Banh Mi Xiu Mai - Bread shumai
Second, when you're in Saigon, banh mi with meat is like a shining diamond, but let us tell you, in Da Lat, Banh Mi shumai is the real superstar! In that chilly weather, nothing beats sinking your teeth into hot, crispy bread straight from a charcoal stove. Plus, the broth is the bomb - made from simmered pork bones mixed with spices, topped with green onions for that extra pop of flavor and color. It's a taste explosion that'll warm your soul!
Where to eat:
• Banh trang nuong Co Dinh: 26 Tran Nhat Duat - Hoang Dieu, Da Lat City
• Quan Co Suong: 14 Anh Sang, Ward 1, Dalat City
3. Banh Can - Mini pancake
In addition, you gotta try these Banh Can or Da Lat mini pancakes - they're the real deal! Crispy crust, mouthwatering egg filling, and that killer onion fish sauce with a surprise shumai inside, it's a flavor explosion in your mouth! Perfect for a chilly day, and let me tell ya, it's the original signature dish of this dreamy city.
Where to eat:
• Banh Can Le: 27/44 Yersin, Ward 10, Da Lat City
• Banh Can Nha Chung: 13 Nha Chung, Da Lat City.
4. Banh Uot Long Ga - Chicken stuffed wet cake
Also, when you hit up this floral paradise, don't miss out on their signature dish, the mind-blowing Wet Cake with Chicken Intestine. It sounds weird, but trust me, it's a flavor explosion! The wet cake is steamed to perfection, soft and chewy, while the chicken is boiled and mixed with fresh veggies and herbs, all smothered in a sweet and sour fish sauce. Add some chili sauce and lemon squash for an extra kick of flavor. It's a taste sensation you won't wanna pass up!
Where to eat:
• Banh Uot Long Ga Trang: 15F Tang Bat Ho, Da Lat City
• Banh Uot Long Ga Hang 68: 68 Phan Dinh Phung, Da Lat City.
5. Sua Dau Nanh Nong - Hot soy milk
Finally, brace yourself for the cream of the crop in Da Lat's food scene - Sua Dau Nanh, the one-of-a-kind signature drink you can't find anywhere else. It's like sipping on a cozy hug from the city itself! Don't sleep on the hot soy milk - it's the enchanting magic that'll warm your soul in this cool weather.
Where to drink:
• Sua Dau Nanh Dung Beo: 2/2 Nguyen Van Cu, Da Lat City
• Sua Dau Nanh Hoa Sua: 64 Tang Bat Ho, Ward 1, Da Lat City.
This foodie heaven you gotta hit up at least once in your life! Steaming hot dishes, juicy fruits, and sweet treats in chilly weather await you – it's pure bliss! Book a Da Lat tour with Vietravel now for the ideal food adventure!
VI. Conclusion
In a nutshell, breathtaking landscapes, from rolling hills adorned with colorful flowers to tranquil lakes reflecting the clear blue sky, make Da Lat a true paradise on Central Highland. With Vietravel by your side, you're in for a ride! We've got your back with top-notch guides, cozy transportation, and killer itineraries that'll leave you awestruck. So, hop on board and get ready for an unforgettable journey that's smooth as silk!
Plan your Dalat adventure here
As the Largest Aviation-Tourism corporation in the country, Vietravel consistently provides high-standard services at the most competitive prices so that you can discover the beauty of not only Vietnam but all of Southeast Asia.
Please contact us for more information
Vietravel – Asia's Leading Tour Operator
Hotline: (84) 35 235 61 61
Email: [email protected]
Website: www.vietravelasia.com
#VietravelAsia #Vietravel #Vietnam