Culinary delights: 12 must-try dishes in Vietnam's Mekong Delta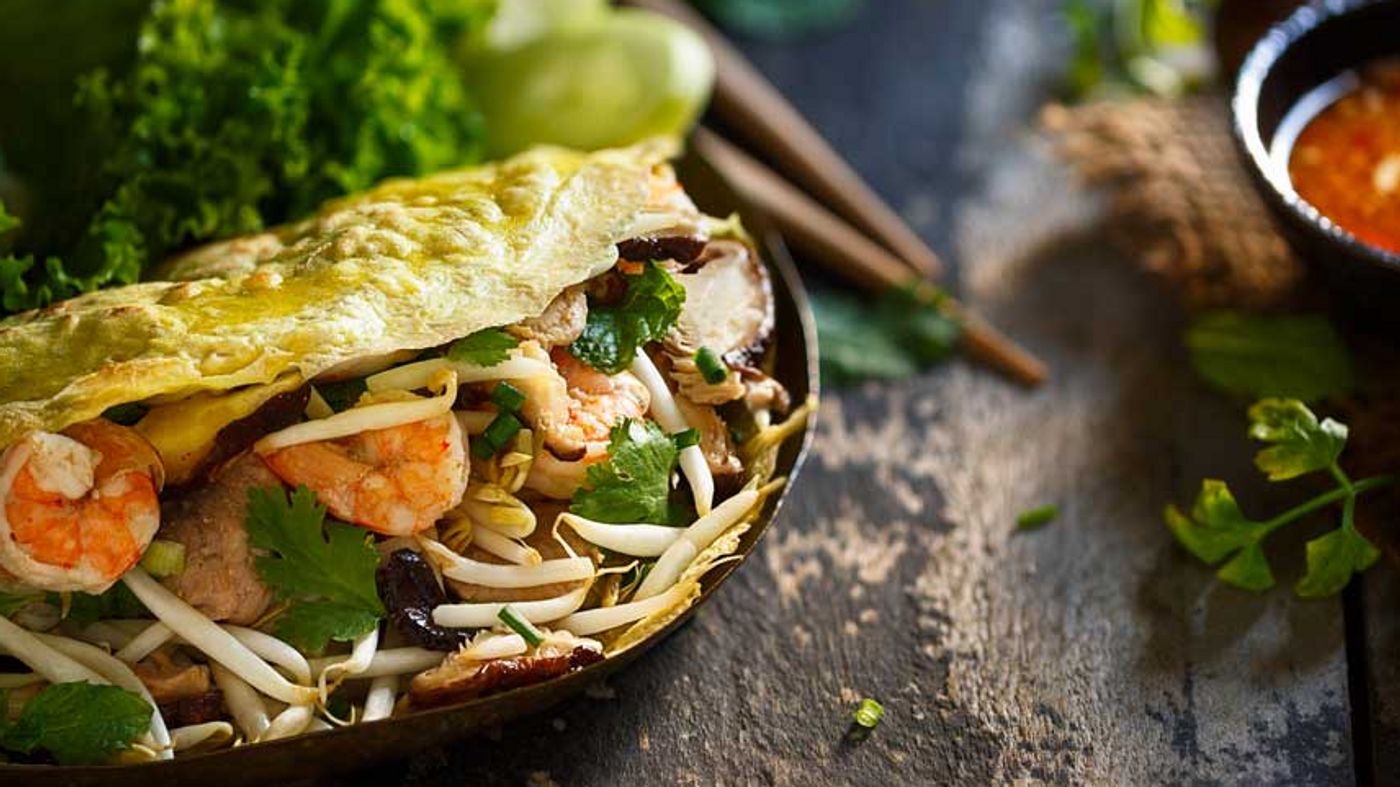 The Mekong Delta, a region blessed with a rich tapestry of natural resources and cultural diversity, offers a gastronomic adventure like no other. Rooted in traditional Vietnamese medicine, the local cuisine reflects a harmonious balance between Yin and Yang for optimal health. Influenced by the sub-equatorial climate, the Mekong Delta's food features a delightful contrast of citrusy and sweet flavors, distinct from the salty and spicy Northern cuisine. Here are 12 mouthwatering dishes that showcase the region's culinary prowess:
Canh Chua Ca (Sour fish soup)
Indulge in a time-honored delight that graces the table of Mekong Delta families. On a scorching afternoon, what could be more satisfying than treating yourself to a generous bowl of tamarind soup? Overflowing with bean sprouts, giant taro, and succulent freshwater fish, this traditional dish not only tantalizes your taste buds but also provides a refreshing escape from the heat. The tamarind's delightful sourness acts as a catalyst, infusing cool Yin energy into your body, creating a blissful contrast against the sub-equatorial warmth of the Mekong Delta. Crafted with freshwater fish easily sourced from the region's rivers, lakes, or canals, this soup promises a culinary journey into the heart of Delta tradition.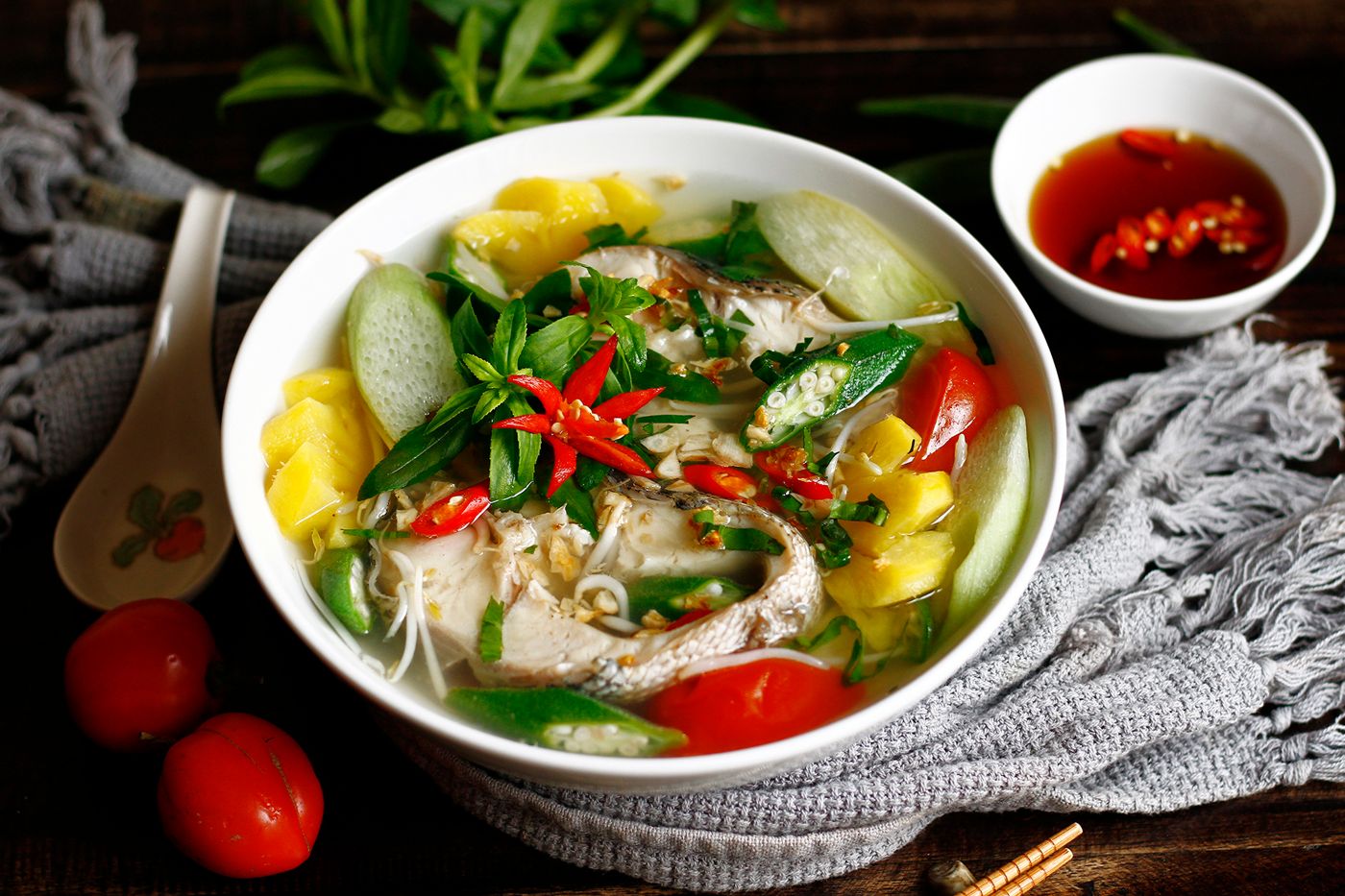 Ca Kho To (Braised fish)
Transport yourself back in time to an era when the art of braising fish in terracotta pots was a cherished tradition among the locals of the Mekong Delta. This culinary technique, a hallmark of the region's unique culture, transforms any freshwater fish into a delectable masterpiece. Imagine the rich aroma of fish sauce and an abundance of pepper infusing the dish, creating a symphony of flavors. To enhance the experience, you could introduce extra chili and coriander, cleverly masking any lingering fish odors.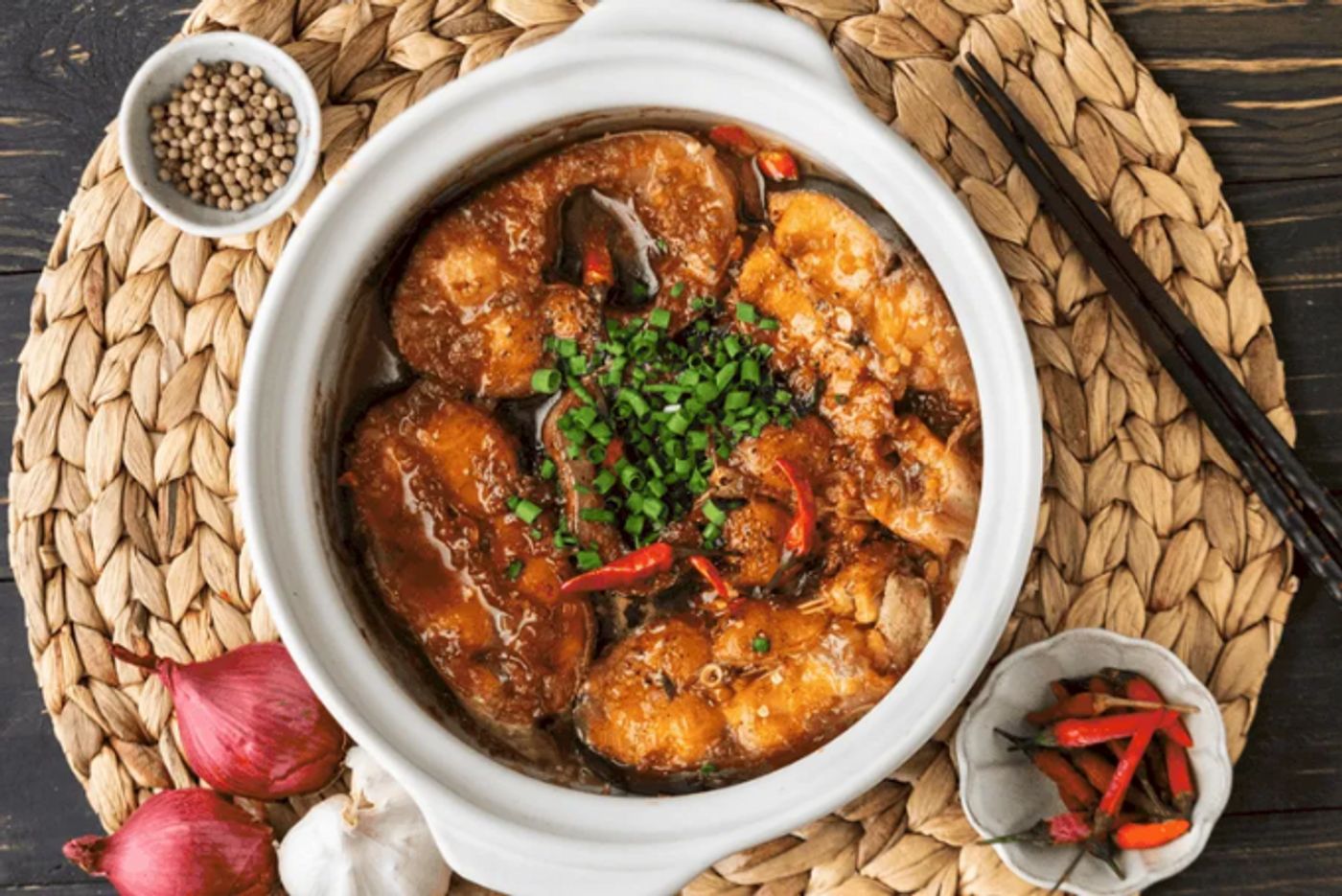 Bun Mam (Fermented fish soup noodles)
In addition, when arriving in the Mekong Delta, you cannot miss the exquisite dish known as fermented fish soup noodles, or bún mắm. Enchanting the taste buds, this Khmer delicacy is a testament to the region's cultural diversity, with the Khmer people forming a significant part of the Mekong Delta's vibrant mosaic. Nestled primarily in the provinces of Trà Vinh and Sóc Trăng, the heart of bún mắm's fame, this dish boasts a tantalizing medley of rice noodles, succulent prawns, flavorful fish, and a profusion of crisp vegetables. The pièce de résistance lies in the prahok soup, a concoction of mudfish paste that adds a distinctive depth of flavor, making this dish a culinary masterpiece revered throughout these Khmer-influenced regions.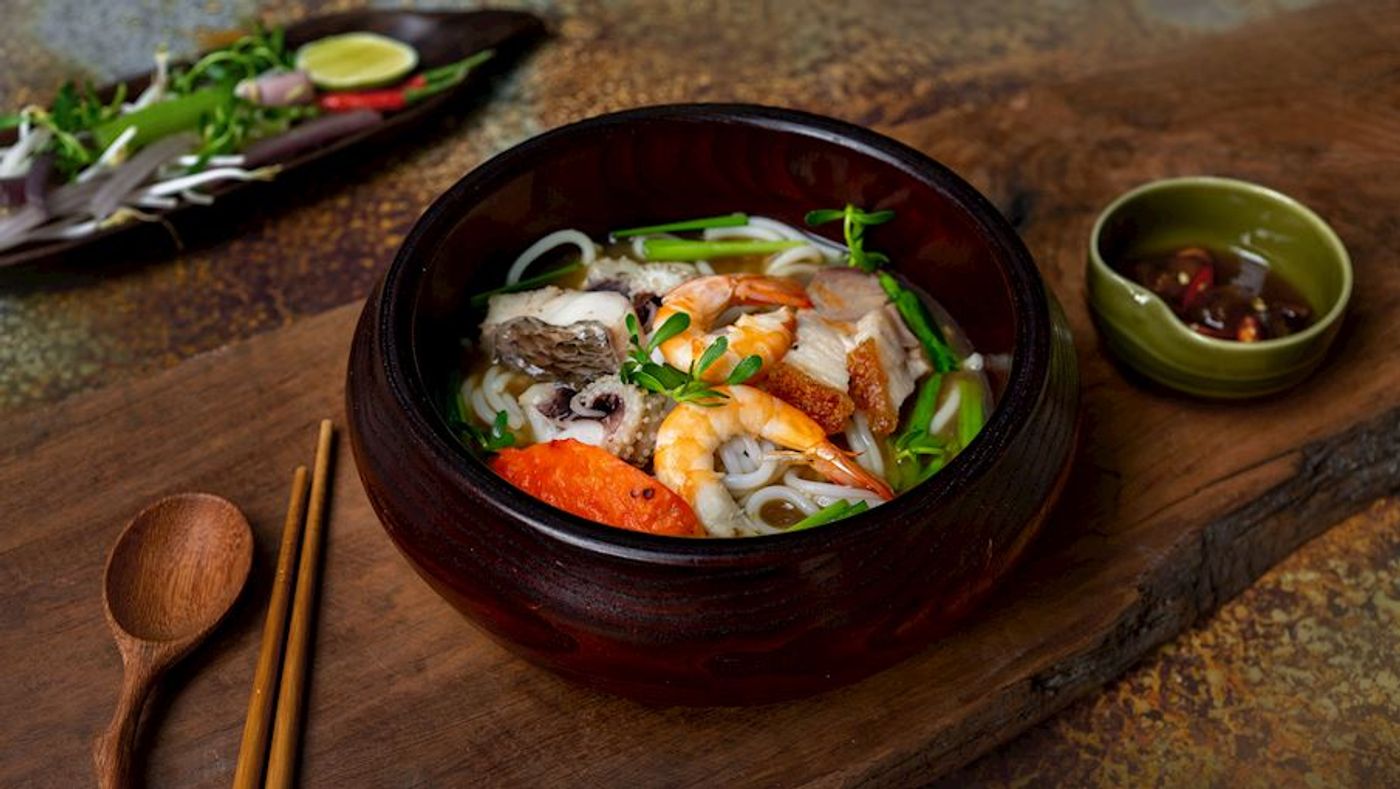 Che (Sweet pudding/soup)
Indulge your tooth in the irresistible sweetness of Chè – a culinary delight that will enchant you from the very first taste. Crafted with an array of plant-based ingredients, predominantly legumes, this tantalizing creation shares similarities with Chinese tong sui but unfolds as a uniquely sweet revelation, especially in the enchanting kitchens of the Mekong Delta. Here, Vietnamese chè takes sweetness to new heights, marrying the richness of coconut milk with a diverse range of flavors. Explore signature chè varieties from this region, such as the velvety chè bà ba, a coconut milk-infused delight with pandan leaf, sweet potato, and cassava, or savor the tropical essence of Chè Chuối, a heavenly blend of banana and sweet potato. For a refreshing twist, experience the zest of chè bưởi, where grapefruit peel adds a citrusy flourish to this extraordinary symphony of flavors.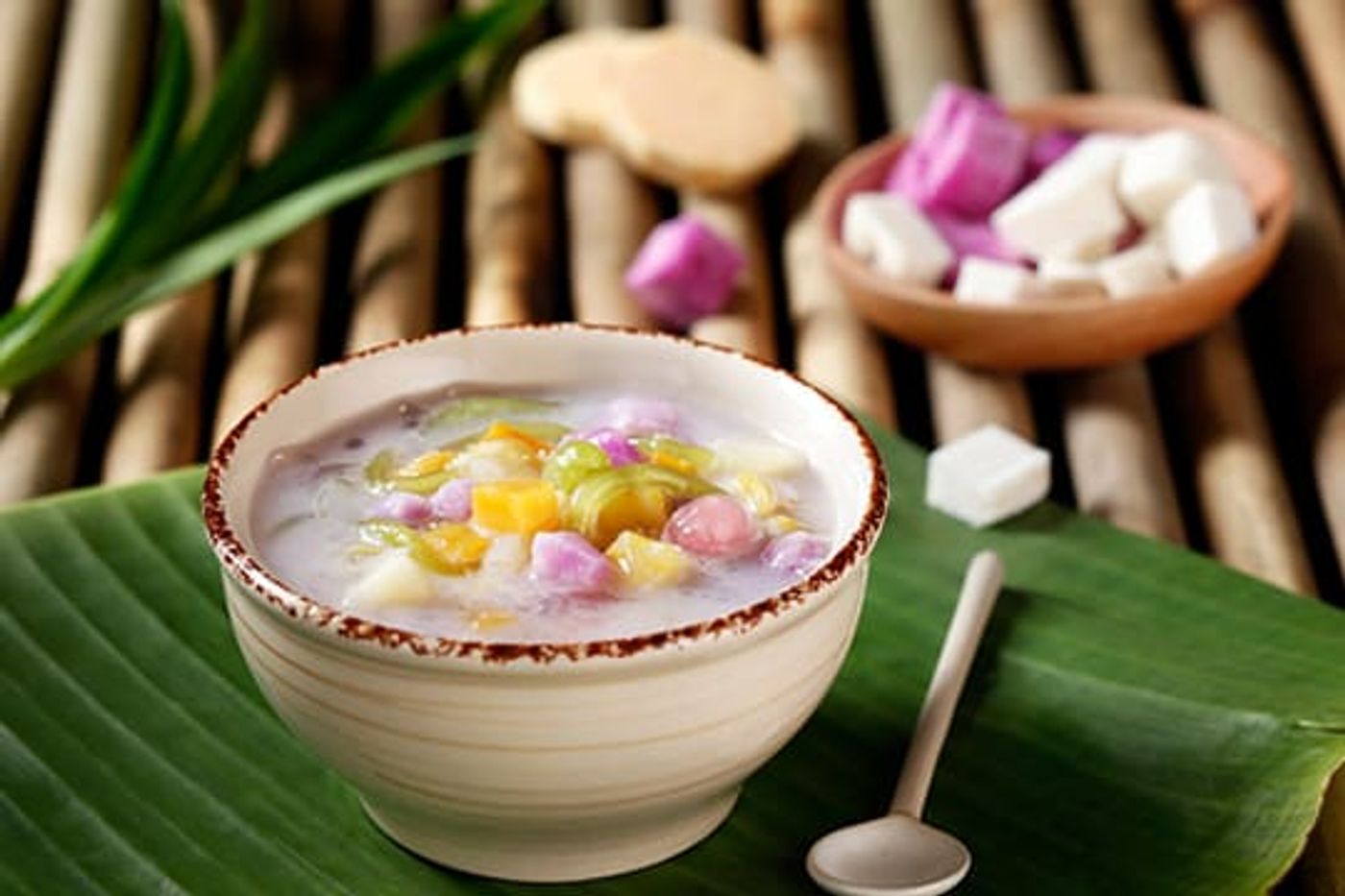 Bánh Xèo (Mekong Delta pancake)
The next star of Mekong Delta's culinary is Bánh Xèo, a delectable thin fried pancake crafted from a tantalizing blend of flour and turmeric powder. Bursting with savory fillings like pork, prawn, and crisp bean sprouts, this culinary masterpiece beckons your taste buds. Bánh xèo comes in various forms, with the central provinces favoring a smaller, thicker version paired with peanut sauce, while the Mekong Delta locals elevate their experience by savoring it with the rich and flavorful touch of fish sauce.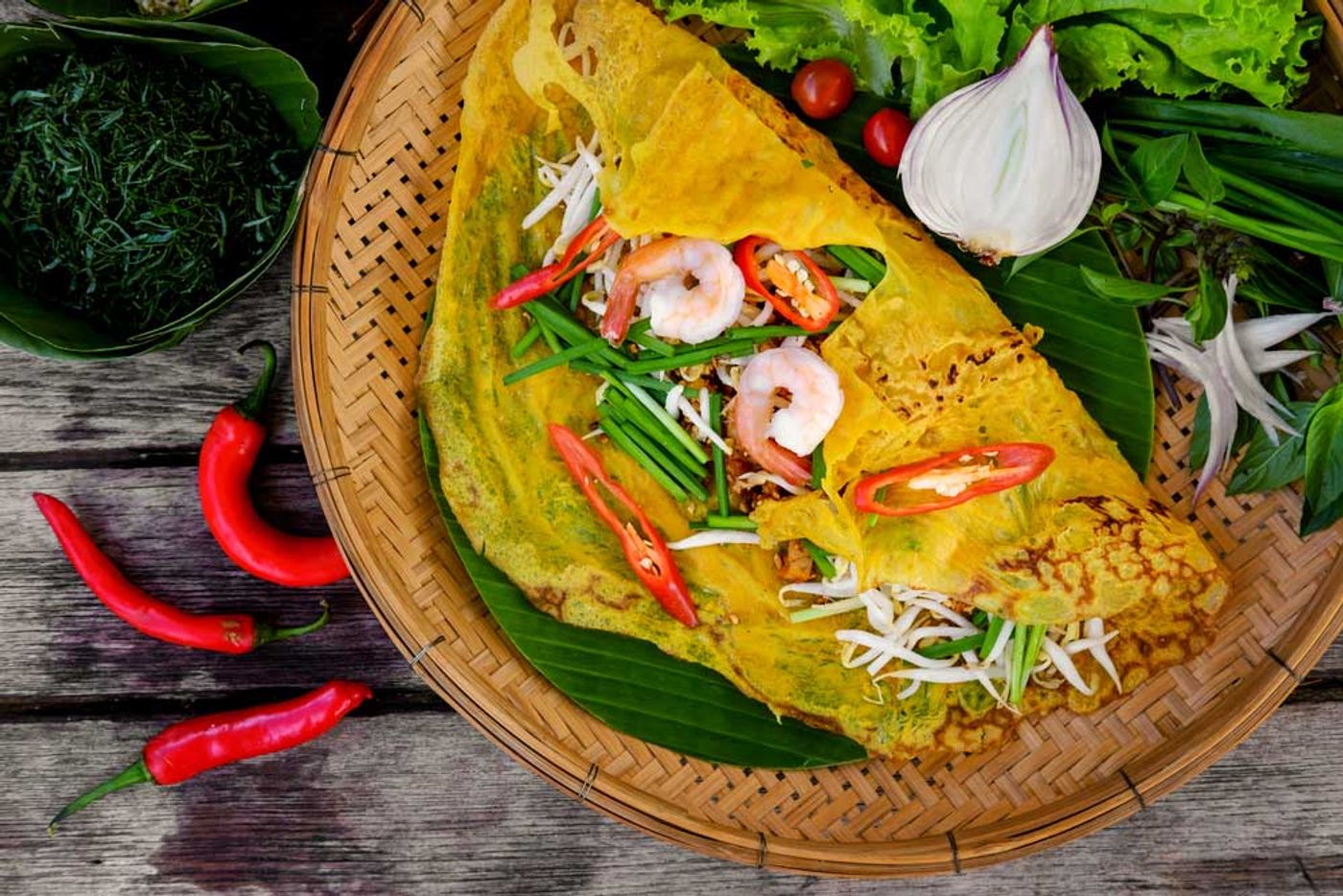 Bun Nuoc Leo (Rice noodles with fish broth)
Besides, delve into the rich tapestry of cross-cultural culinary traditions with Bún nước lèo, a rice noodle masterpiece steeped in the vibrant flavors of the Mekong Delta. This culinary gem traces its roots to Cambodia, where the Khmer people crafted a unique recipe featuring prawn, fish, and prahok (mudfish paste). As the Khmer journeyed into the southern reaches of Vietnam, they brought this special dish, evolving to incorporate the Vietnamese touch—infusing the broth with peeled tiny shrimp and succulent roasted pork. Immerse yourself in the Mekong Delta's culinary diversity by savoring both versions of this exquisite dish.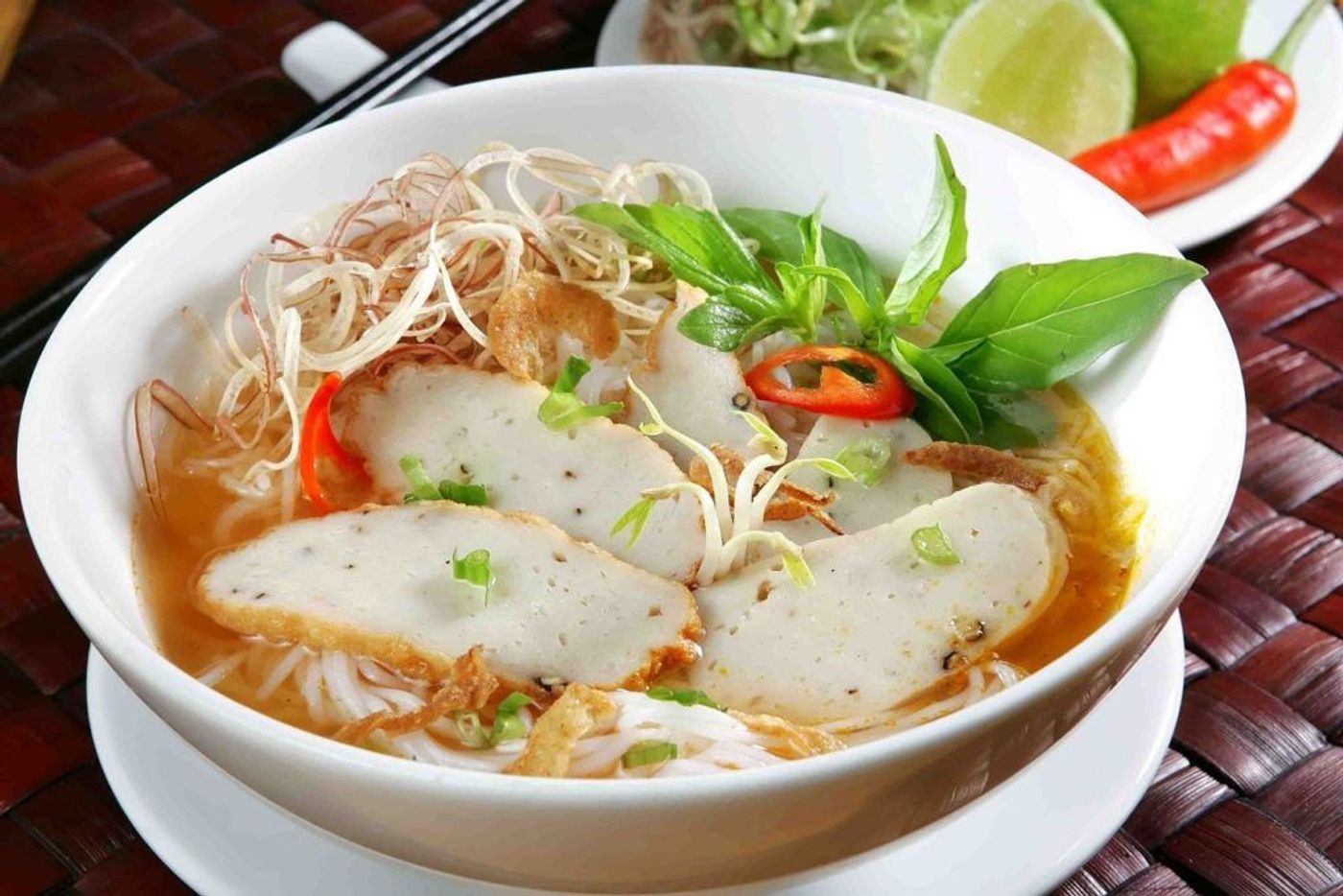 Banh Pia (Bakpia/Hokpia)
Bánh Pía is a Vietnamese delicacy that takes center stage during the Full Moon Festival. Unveiling its origins from Teochew refugees in Vietnam, this special pastry intricately weaves together crushed mung bean, luscious durian, and savory salted eggs within layers of delicate flour. Originally savored during the Full Moon Festival, the allure of bakpia has transcended seasonal boundaries, gracing palates year-round. Sóc Trăng, adorned with the legacy of the first Teochew settlers, stands as the epitome of bakpia excellence, inviting you to savor the timeless flavors of this delectable treat.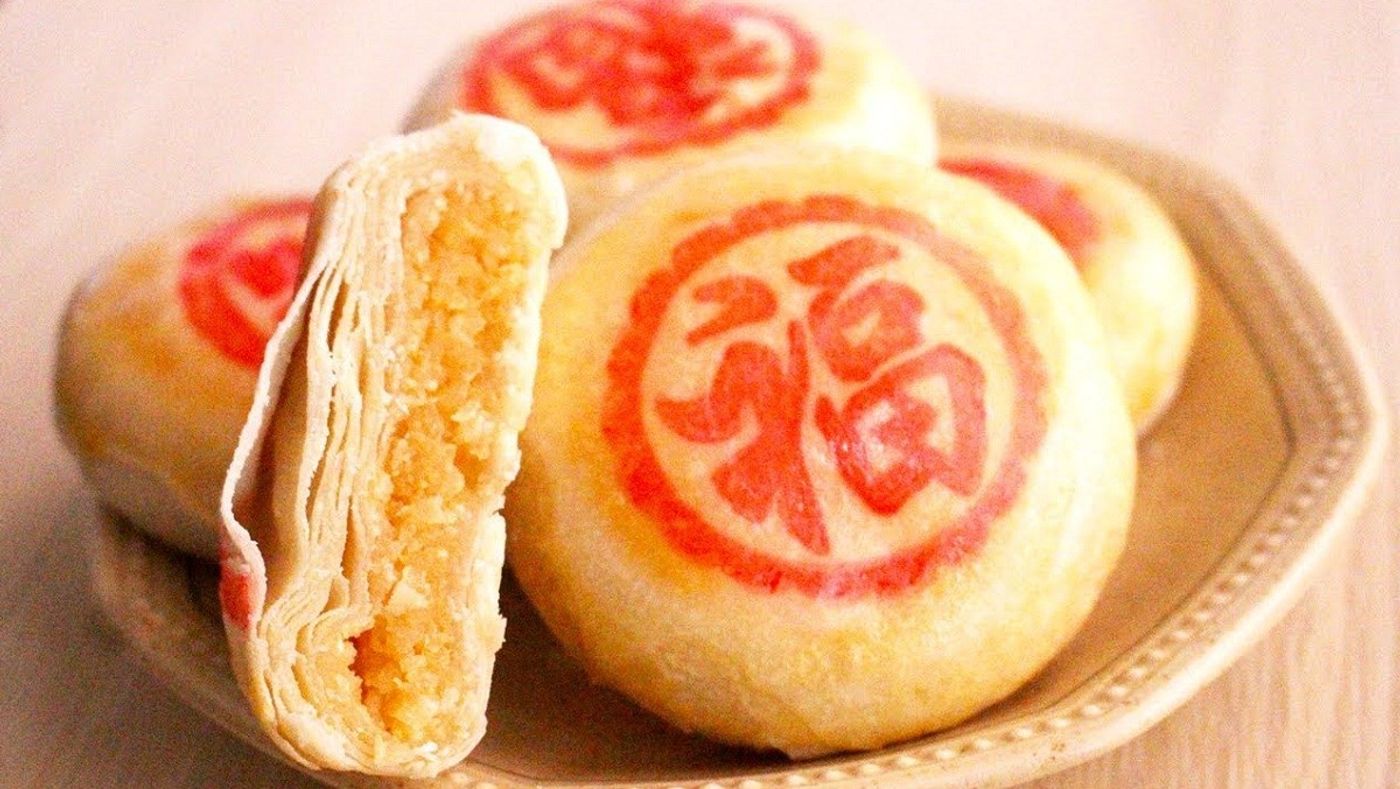 Coconut
Coming to Ben Tre, a kingdom of coconut, you will dive into the fresh and naturally sweet coconuts here. Famed for exporting Siamese coconuts to Vietnam and beyond, the province is the leading exporting coconut in Vietnam. Meanwhile, the province of Trà Vinh boasts a unique treasure—the coveted Kopyor coconut, renowned for its exceptionally thick flesh and premium price. The Sap Coconut stands apart with its unconventional composition, eschewing solid meat and transparent juice. Instead, this extraordinary species unveils a yogurt-like blend, a harmonious fusion of coconut juice and meat, resulting in a distinctive, edible wax. Once liberated, this exquisite concoction is artfully mixed with milk, sugar, and ice, presenting a delectable canvas for selected fruits, adorned with tantalizing toppings like jelly and pearls.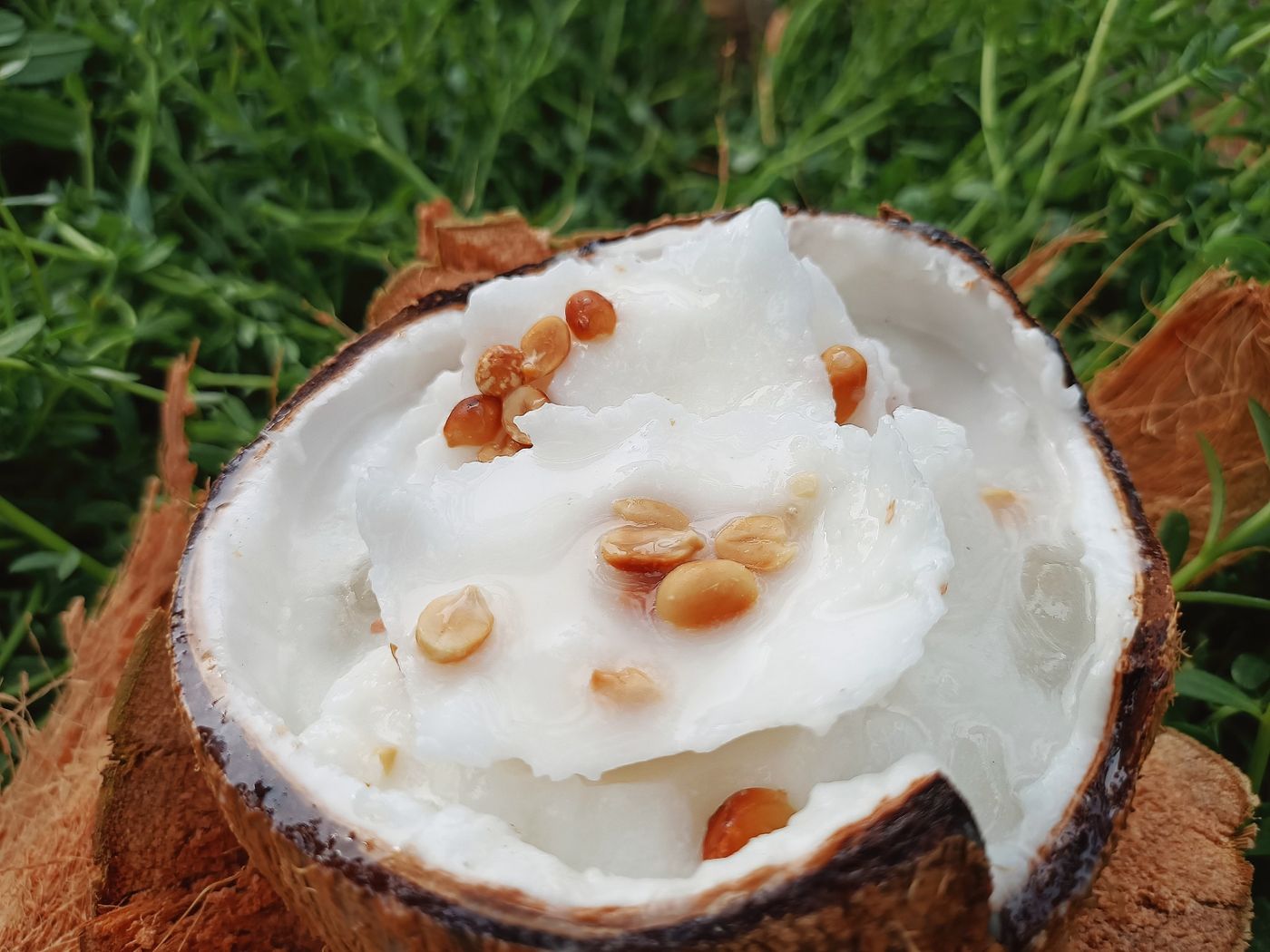 Bo Bia Ngot (Sweet popiah)
A culinary journey shaped by the vibrant presence of the Chinese community in the heart of the Mekong Delta. Delight in the fusion of cultures as the traditional Chinese snack, popiah, undergoes a flavorful metamorphosis in the hands of the Vietnamese. Localized to cater to the Delta's penchant for sweetness, popiah emerges as a beloved treat, weaving itself into the fabric of the Mekong Delta's cuisine. For many, childhood memories in this region are intimately intertwined with the allure of popiah—a delicate dance of coconut flesh, black sesame, and maltose wrapped in a delicate embrace of rice paper.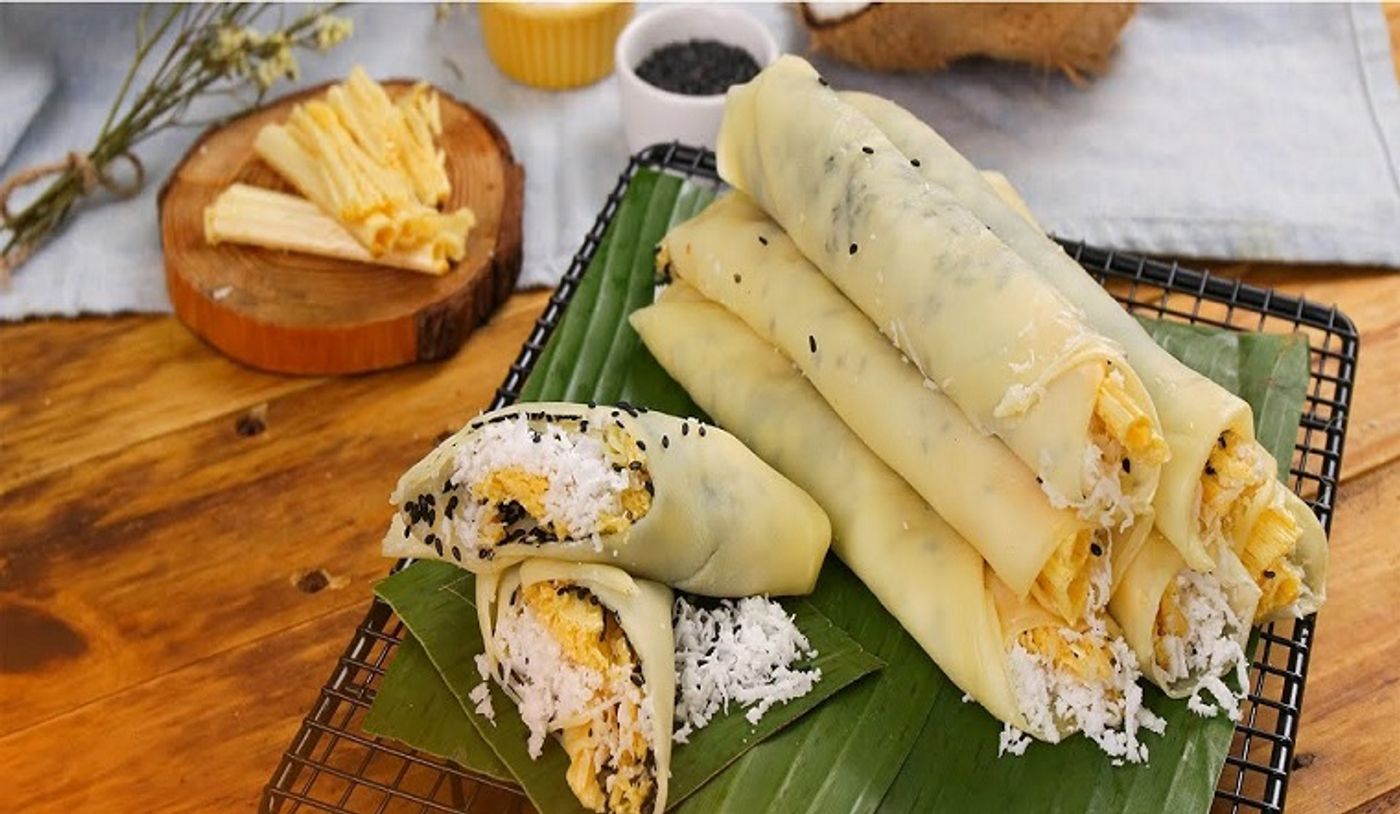 Banh Bo Thot Not (Baked honeycomb cake)
While honeycomb cakes grace tables across Vietnam, the palm sugar-infused version unveils its magic exclusively in An Giang province. Here, amidst the lush expanse of ice apple trees, the alchemy of flavors takes center stage. Experience a confection that dances on the palate—less saccharine, more velvety, and boasting an aroma that elevates the sensory experience. Beyond its gastronomic charm, palm sugar unveils its scientifically proven health benefits, standing in stark contrast to the ill effects of conventional sugars. Don't miss the chance to savor this extraordinary delicacy when your journey leads you to the enchanting province of An Giang.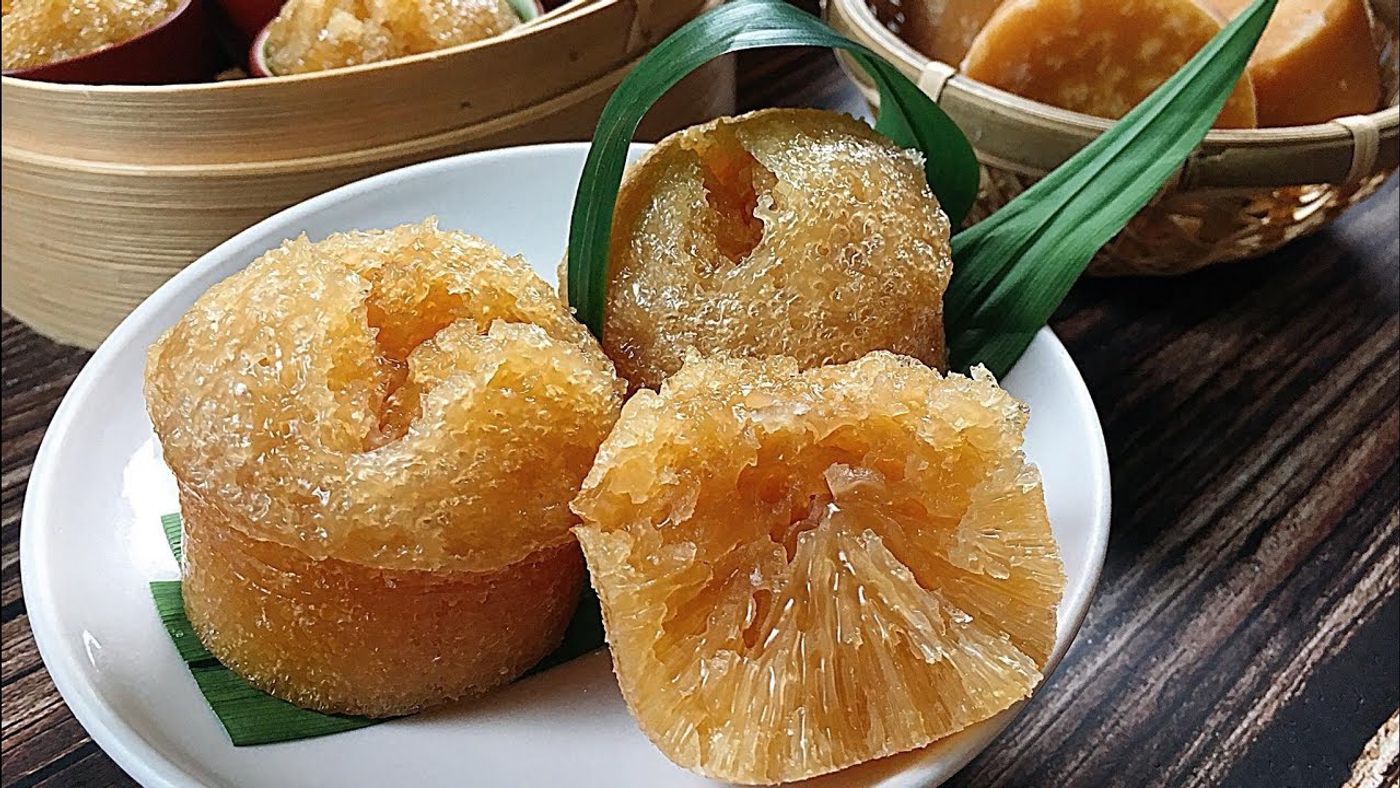 Crab Hotpot
The Crab Hotpot is an unmissable choice if you want to explore comprehensively Mekong Delta's cuisine. Brace yourself for a delightful surprise as the broth takes an unexpected turn, evolving into a savory porridge infused with the essence of herbs, crab meat, and juices. The ritual unfolds as diners meticulously add raw baluts and shredded crab, witnessing a symphony of flavors melding in the simmering pot. As the sweetness permeates the dish, the marriage of rice, crab, and balut transcends the ordinary, creating a culinary masterpiece that lingers in memory—a combination so extraordinary, that it's bound to leave an indelible mark on your palate.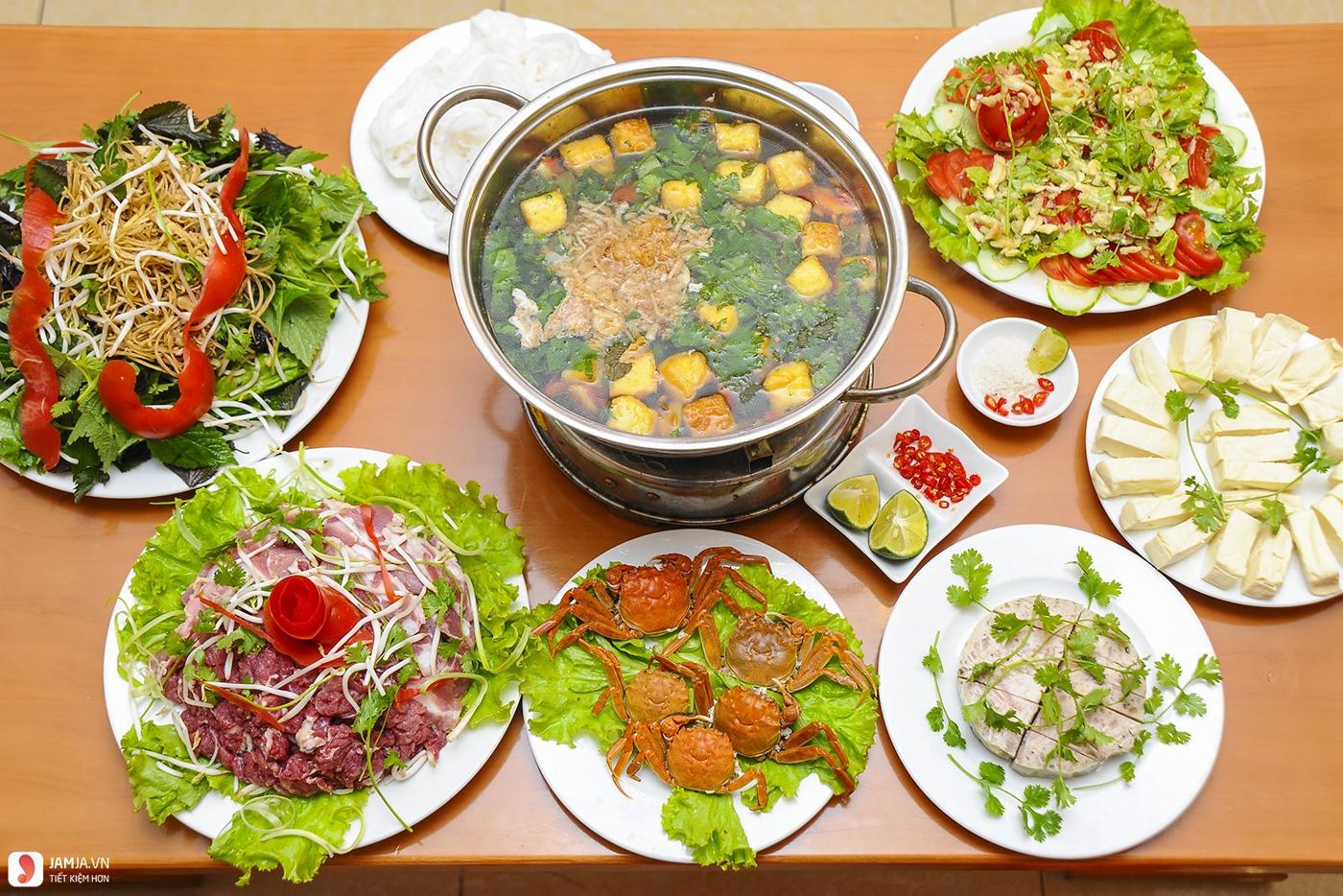 My Tho Noodle
Finally, My Tho Noodle is a traditional dish rooted in Chinese and Phnom Penh noodle soup traditions. Standing the test of time, this culinary gem has garnered global recognition, catapulted into the spotlight by none other than world-renowned chef Gordon Ramsay, who dared to replicate its exquisite flavors. Indulge in a culinary masterpiece where the essence of bones, vegetables, and dried squid intertwine, crafting a broth that elevates your taste experience. The noodles, crafted meticulously from new rice, are the heart of this gastronomic delight, living up to its title as the 'sister of Pho.' For those seeking a personalized touch, dive into the dry version, a symphony of flavors where ingredients harmonize with the noodles, complemented by soy sauce and oyster sauce. This culinary innovation ensures a sensory journey, catering to a diverse palate and enriching every diner's experience to the fullest.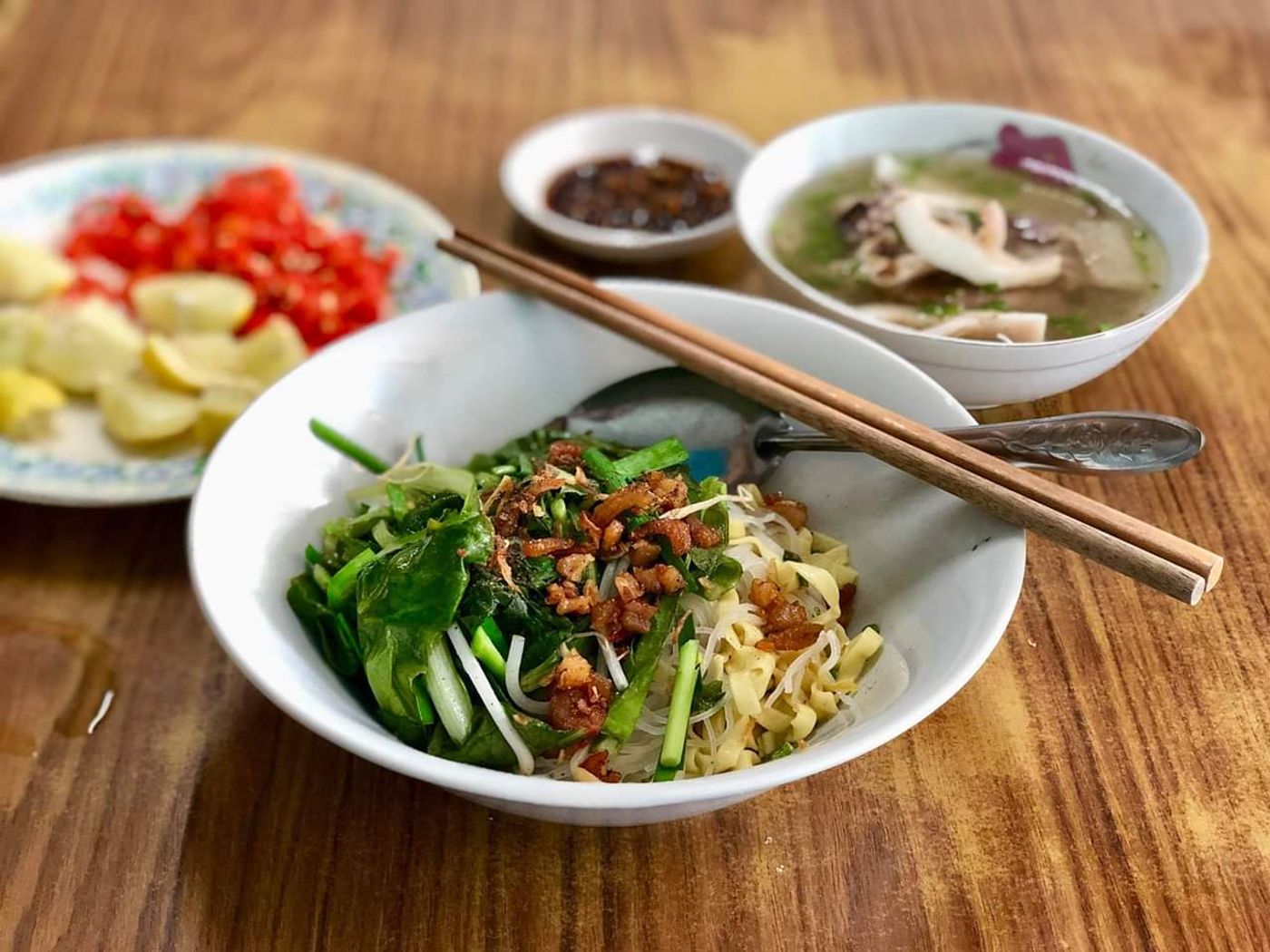 Embark on a culinary journey through the Mekong Delta, where each dish tells a story of tradition, culture, and the unique flavors of this enchanting region.
Plan your trip to Vietnam here.
As the Largest Aviation-Tourism corporation in the country, Vietravel consistently provides high-standard services at the most competitive prices so that you can discover the beauty of not only Vietnam but all of Southeast Asia.
Please contact us for more information
Vietravel – Asia's Leading Tour Operator
Hotline: (84) 35 235 61 61
Email: [email protected]
Website: www.vietravelasia.com
#VietravelAsia #Vietravel #Vietnam_travel #Food