Travel Requirements to Vietnam 2022
The Government of Vietnam has just decided to re-open the country and normalize visa procedures as the same as before 2020. Effective from March 15th, 2022. International travellers can enter Vietnam very easily. No test on arrival is required, no quarantine is needed, and vaccination is not a must. Please check the latest Vietnam Travel Requirements 2022 for all the details below.
I. VIETNAM ENTRY PROCEDURES
On April 27th, 2022, Vietnam's Ministry of Health announced that arrivals entering Vietnam via all border gates will no longer have to fill and submit health declaration forms. The country also scraped the Covid-19 testing requirement for all arrivals starting Sunday 15th May 2022. Travellers now only need Covid-19 Travel Insurance to enter the country:
Covid-19 Travel Insurance
Visitors must buy and show proof of medical or travel insurance within a minimum liability of $10,000 to cover any COVID-19-related treatment costs. However, all Vietravel travel packages are including this travel insurance (Coverage amount of $50,000 of COVID-19 medical expenses) so you don't have to buy it yourself when you travel with us.
II. VISA REQUIREMENTS
Regulations on the reception of international visitors to Vietnam under the document are now much easier than previous proposals. To enter the country, international visitors need to meet the following visa conditions:
1. Vietnam Visa Exemption List 2022
As Vietnam resumed its pre-Covid immigration policies from March 15, here are 24 countries whose citizens enjoy visa exemption (To stay beyond this number of days, you may apply for a visa extension upon your arrival in Vietnam).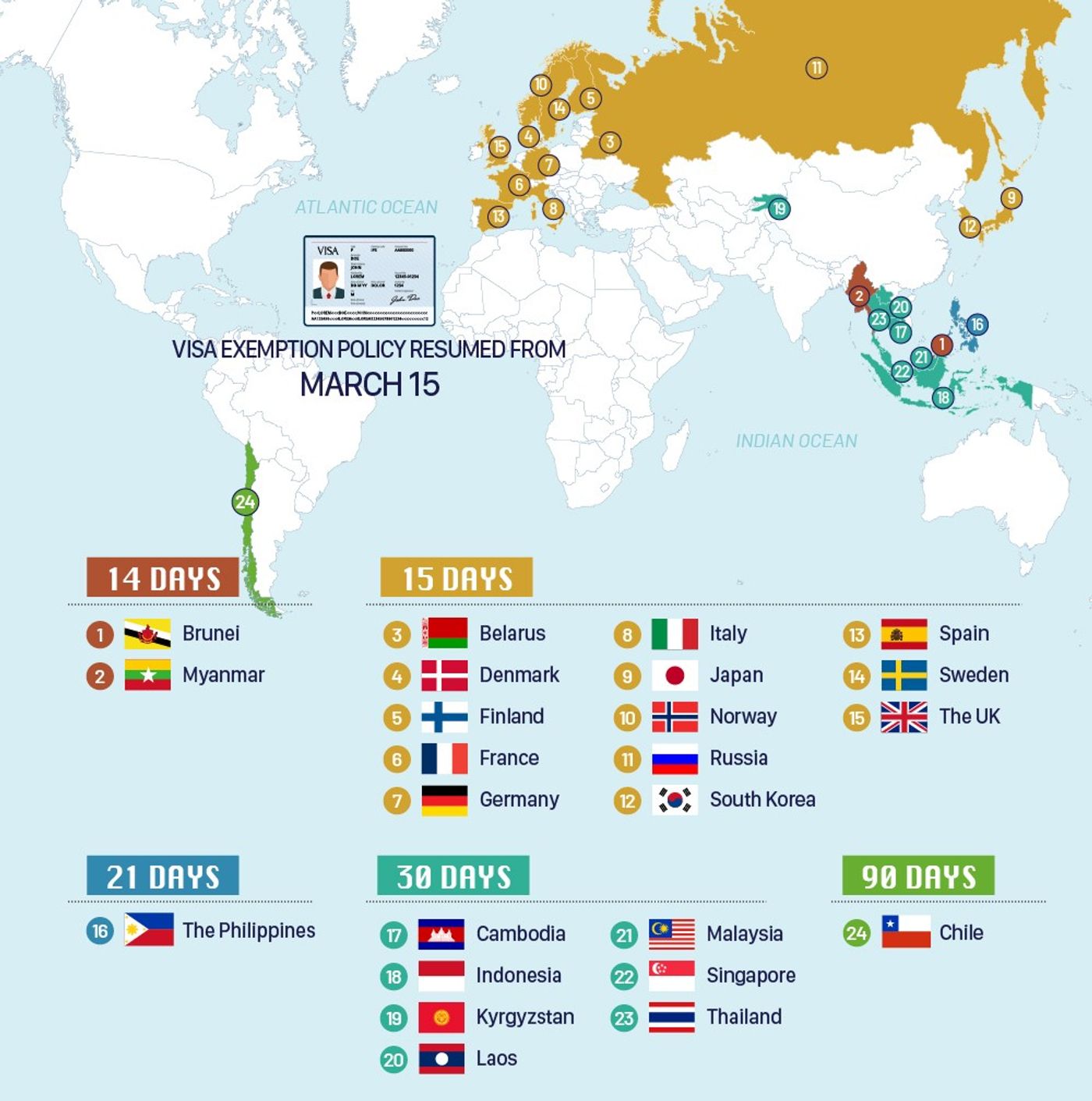 Note: The above information about the Vietnam visa exemption (updated on March 15, 2021) is provided for informational purposes only, please double-check with the official authorities in your current country before departure.
2. Vietnam Visa Requirements 2022


E-Visa
Effective March 15, 2022, the Vietnamese government has resumed pre-pandemic visa issuance policies. E-visa Vietnam is now available for citizens of 80 countries who are traveling to Vietnam for tourism purposes and stay in the country for no more than 30 days. E-visa fee is USD 25, the processing time is 3 working days. You will receive your code by email to print your visa.
List of 80 countries whose citizens were eligible to apply for e-visas to Vietnam: Argentina, Armenia, Azerbaijan, Ireland, Iceland, Austria, Poland, Belarus, Belgium, Portugal, Bosnia and Herzegovina, Brazil, Brunei Darussalam, Bulgaria, United Arab Emirates, Kazakhstan, Canada, Qatar, Germany, Chile, Colombia, India, Czech Republic, Andorra, Liechtenstein, Monaco, Croatia, Cuba, Denmark, Cyprus, Timor Leste, Estonia, Georgia, Republic of Korea, United States of America, Hungary, Greece, Italy, Latvia, Russia, United Kingdom of Great Britain and Northern Ireland, Lithuania, Luxembourg, Micronesia, Malta, Macedonia, Mexico, Myanmar, Moldova, Mongolia, Montenegro, Nauru, Japan, New Zealand, Australia, Palau, Panama, Finland, France, Fiji, Philippines, Marshall Islands, Salomons Islands, Romania, Western Samoa, San Marino, Serbia, Spain, Sweden, Switzerland, China (including Hong Kong SAR and Macau SAR passport holders, not apply to Chinese e-passport holders), Uruguay, Vanuatu, Venezuela, Netherlands, Norway, Slovakia, and Slovenia.
* Please note:
Tourists can apply for an extension once or multiple times, but the maximum stay is 90 days. After this period, they must leave the country and if they want to return to Viet Nam, they will have to apply for a visa again.
The list of international border gates that allow foreigners to enter and exit with electronic visas includes 8 aviation border gates, 16 land border gates, and 13 sea border gates.
Visa On Arrival / Take Visa at Vietnam Embassy in your country
An Approval Letter is a letter issued by Vietnam Immigration Department that allows you to enter and exit Vietnam for a given time period (1 month or 3 months – single/multiple entries). With the approval letter, you can pick up your visa upon arrival at one of three international airports in Vietnam (Hanoi, Ho Chi Minh City, and Da Nang) or at the Vietnam Embassy in your country.
If you book tours with Vietravel, we will support you get this Approval Letter with a service fee. In case your application is denied by Vietnam Immigration Department, we will refund this service fee. Processing time: 7 working days or more depending on your nationality.
Please note: The Embassy reserves the right to request further information and documentation from applicants and to deny approval for any visa application without necessarily providing an explanation for visa denial.
For Visa On Arrival: At the airport, the corresponding authorities will verify the details on the approval letter based on your passport and travel documents for you to get Visa Stamped (fee: $25) on your passport.
For getting Visa at Vietnam Embassy: At a Vietnam Embassy, the visa procedure will take around 7 days to process. Visa fees will depend on the type of visa for which you are applying. Travelers can get their visas processed at any Vietnam Embassy in any country in order to enter Vietnam for tourism.
Approval Letter
To get a Vietnam visa on arrival at the airport or Visa at Vietnam Embassy, travelers will need to obtain a visa approval letter beforehand, then get on the flight to Vietnam and get a visa stamped upon landing at Vietnam airport.
Details about the procedure for getting a visa on arrival in Vietnam airports and how to pick up a visa on arrival at each airport.
Prepare documents before getting a visa at the airport as below
- Original passport (being valid for at least 6 months following your date of entry and having at least 2 blank pages)
- The visa approval letter (printed on paper already)
- The Vietnamese visa Application Form (Form N1 – also known as the entry and exit form) with completed information and attached photo already.
- You can find and get it at Immigration Office at the airport, this form is attached together with the visa approval letter from, find the guide to complete Form N1.
Vietnam visa photo at the airport, the photo size, and requirements:
The 2 photos size should be 4 x 6 cm (standard Vietnam photography size) or 2 x 2 inches.
The photos should be identical, taken within the past 06 months.
The photos must be in color and printed on bond paper or professional photo paper.
They must be full face, front view with a solid, plain bright background.
A hat or headgear must be kept out unless it must be worn for religious purposes.
The outfit with the exception of religious attire should not be worn.
Dark glasses or nonprescription glasses with tinted lenses are not acceptable unless required for medical reasons.
In some exceptional cases, consistent objects like prescription glasses, a hearing device, wig or similar items are still accepted.
No smile. Just keep a neutral expression.
Stamping fee (25$/person using a 1 or 3-month single entry visa, and 50$/person using a 1 or 3-month multiple entry visa)Note: The international airports of Vietnam work 24/7, so you can get your visa stamped at any time of landing.
III. HEALTH AND SAFETY PRECAUTIONS FOR TRAVELERS
1. Travelers are required to comply with Vietnam Travel Requirements 2022:
Within 10 days from the date of entry, passengers self-monitor their health. If you have symptoms of SARS-CoV-2 infection (fever; cough; sore throat; runny nose, stuffy nose; body aches, fatigue, chills; decreased or lost taste; decreased or lost sense of smell; pain, headache; diarrhea; difficulty breathing; respiratory infection...) must immediately notify the nearest medical facility for guidance and timely management; take preventive measures: regularly wear a mask, disinfect hands with an antiseptic solution.
Comply with the Ministry of Health's 5K message: face masks - disinfection - distancing - no gatherings - health declarations.
Currently, flight restrictions have been reduced until the new update. However, please notice that all requirements might have resulted in changes requirements of the different destinations.
2. Vietnam's health hotline
Any travelers experiencing symptoms of the virus − fever, cough, and difficulty breathing − should immediately call Vietnam's health hotline: 1900 3228.
Vietnam has appointed 323 authorized testing facilities to carry out testing and diagnosis of COVID-19 disease. See the full list in Vietnamese.
Please note: These guidelines may change at any time based on conditions, as determined by the Vietnam government.
As the largest tourism cooperation in the country, Vietravel is proud to be trusted by more than 800,000 tourists to Vietnam every year. Within 27+ years of development, we always provide the best travel services at the best prices for you to discover the beauty of not just Vietnam but entire Southeast Asia.
Let's check out all Vietravel Top-picked Tours here
Please contact us for more information
Vietravel - Asia Leading Tour Operator
Hotline: (84) 35 235 61 61
Email: [email protected]
Website: www.vietravelasia.com
#VietravelAsia #Vietravel #Vietnam #SoutheastAsia #VietnamTour #VietnamTravel